New Delhi: Shares of state-owned IDBI Bank Ltd rose nearly 6 percent, its biggest intraday percentage gain since June 7 on reports that the government was planning to sell its 40-43% stake to Life Insurance Corporation of India.
Shares of IDBI bank closed 1.99 percent to 59.05 a piece on BSE. On the NSE the bank's shares closed 1.82 percent to 58.80 a piece.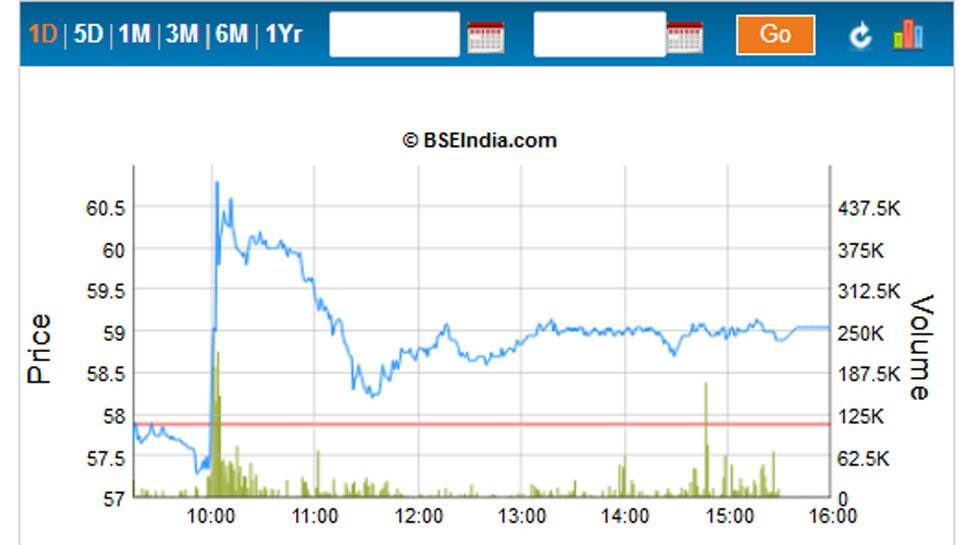 Chart courtesy: BSE
Government holds about 81 percent stake in IDBI Bank, while LIC holds 10.8 percent stake in the bank as per data available in the stock exchange.
Media reports said that LIC board has approved "initiative" to take a controlling stake in a bank.
The stake sale would fetch the government Rs 10,000 crore to Rs 11,000 crore, news agency NewsRise reported, citing an unnamed finance ministry official.
IDBI Bank's net loss widened to Rs 5,662.76 crore in the quarter ended March 2018 due to higher provisioning for non-performing assets (NPAs). The bank had reported a net loss of Rs 3,199.77 crore in the January-March quarter of 2016-17.
Total income during January-March quarter stood at Rs 7,913.82 crore against Rs 7,703.19 crore in the year-ago period, IDBI Bank said in a regulatory filing today.
Gross NPAs soared to 27.95 percent of its loans at March 2018-end compared with 21.25 percent at the end of March 2017. Similarly, net NPAs stood at 16.69 percent compared with 13.21 percent. In absolute terms, gross bad loans stood at Rs 55,588.26 crore against Rs 44,752.59 crore on March 31, 2017. Provisioning for NPAs were raised to Rs 10,773.30 crore in the fourth quarter of the fiscal ended March 2018, up from Rs 6,054.39 crore parked aside in the year-ago period.
With PTI Inputs