New Delhi: The benchmark BSE Sensex opened above 34,000 while NSE Nifty crossed 10,500 on Friday amidst good show of banking, pharma, auto and FMCG stocks.
The Sensitive Index (Sensex) of the BSE, which had closed at 33,969.64 points on Thursday, opened higher at 34,021.27 points.
Minutes into trading, it was quoting at 34,090.14 points, up by 120.50 points, or 0.35 percent.
At the National Stock Exchange (NSE), the broader 51-scrip Nifty, which had closed at 10,504.80 points, was quoting at 10,531.30 points, up by 26.50 points or 0.25 percent.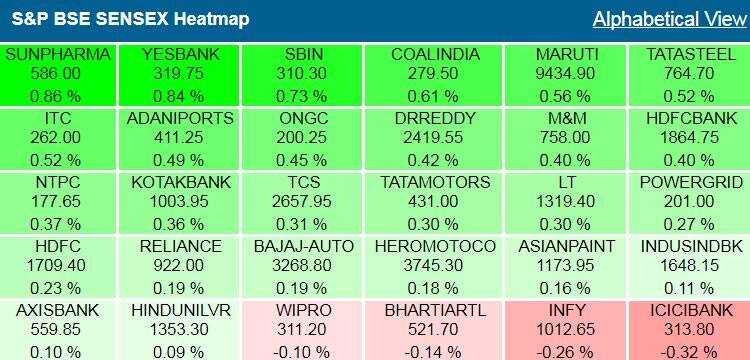 After three sessions of losses, the key Indian equity indices on Thursday recovered from the lows to close in the green as positive global cues, along with inflow of foreign funds and healthy buying in consumer durables, capital goods and metal stocks, lifted investors' risk-taking appetite.
The Sensex was up by 176.26 points or 0.52 percent at the Wednesday's closing. In the day's trade, the barometer 30-scrip sensitive index had touched a high of 33,995.40 points and a low of 33,802.13 points. The Nifty too was up by 61.60 points or 0.59 percent.
On Friday, Asian indices were mostly showing a positive trend. Japan's Nikkei 225 was trading in green, up by 0.36 percent, Hang Seng up by 0.15 percent while South Korea's Kospi was also up by 1 percent. China's Shanghai Composite index was quoting in green, up by 0.23 percent.
Nasdaq closed in green, up by 0.18 percent while FTSE 100 was also up by 0.32 percent at the closing on Thursday.