New Delhi: Noticed the artistic Google Doodle today? It honours the legendary singer Gauhar Jaan who was among the first performers to record music on 78 rpm records in the country. Some of the most famous songs sung by the talented singers are  'Mora Nahak Laye gavanava', 'Jabse Gaye mori sur huna live' and 'Ras ke Bhare Tore Nain mere Dard-e-jigar'.  Gauhar was also famous for performing bhajans (devotional songs).
June 26, 2018 marks her 145th birth anniversary and Google decided to pay tribute to her in the best way possible! 
Here is a grab of the Google Doodle today: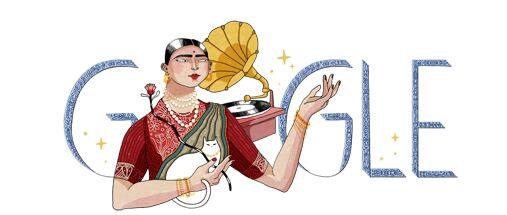 As per reports, Gauhar was born on June 26, 1873 as Angelina Yeoward. Her mother was an Indian while her father was an Armenian. Her mother was a noted singer and Kathak dancer in the city of Benaras.  
Gauhar was the first ever artist to record a song in India. The singer had a huge fan-following and breathed her last on January 17, 1930.