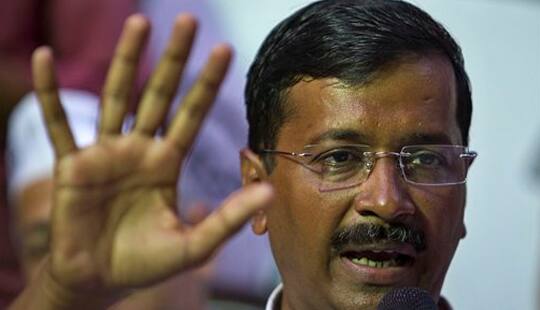 Zee Media Bureau
New Delhi: Aam Aadmi Party chief Arvind Kejriwal on Friday slammed the Centre over removal of Sanjeev Chaturvedi from the post of chief vigilance officer (CVO) of AIIMS.
Stepping up its attack, the AAP also called for the immediate sacking or resignation of Union Health Minister Harsh Vardhan.
Addressing a press conference, AAP`s National Convenor Arvind Kejriwal alleged that Chaturvedi was removed because he brought corruption cases of a senior IAS officer of Himachal Pradesh, who worked as a Deputy Director Administration in AIIMS, to light.
"Harsh Vardhan should be immediately sacked or should resign for removing an honest officer. The IAS officer against whom Chaturvedi had initiated the complaint is close to a senior BJP leader. Chaturvedi started taking action against the IAS officer which is why CBI could register cases against him. Because of these cases IAS officer could not become Chief Secretary of the state."
"The BJP leader had complained about Chaturvedi several times, but his complaints were examined and rejected," Kejriwal told a press conference.
He said that the logic given by Harsh Vardhan that Chaturvedi`s appointment required Chief Vigilance Commission`s approval was wrong as AIIMS is not included in the list of government institutions that require CVC`s nod for appointment of a CVO.
"If CVC`s approval was really an issue, the minister could have approached the CVC and obtained the same, rather than removing an honest officer. All you require is good intention and will," Kejriwal said.
The AAP leader added that there were attempts to remove the Haryana cadre Indian Forest Service Officer as the CVO from day one.
"Under influence of some powerful vested interests, there were attempts to remove Chaturvedi within a few months of his posting. The Parliamentary Standing Committee took umbrage and sought to know why it should not be treated as breach of privilege of the Parliament. Union Health Secretary had then given specific commitment to Parliamentary Standing Committee on June 6, 2012 that Sanjeev Chaturvedi would be posted as the CVO in AIIMS," Kejriwal said.
The AAP leader also alleged that since Charturvedi had initiated action against many officers, much senior to him, this was hurting people with "vested interests".
Kejriwal pointed out the case of a doctor of AIIMS who was sent to inspect facilities and infrastructure of Vinayaka Missions Medical College in Karikal by the Medical Council of India, and allegedly accepted lodging, boarding and other hospitality from the inspected college, contrary to the norms.
"Sanjeev Chaturvedi recommended imposition of major penalty on the doctor. The then Health Minister reduced it to minor penalty, but Harsh Vardhan has completely exonerated her and even withdrawn her penalty.
"Harsh Vardhan went out of his way to help because the doctor has been treating Sushma Swaraj for her diabetes for the last few years and is well known to her," the AAP leader claimed.
(With PTI inputs)