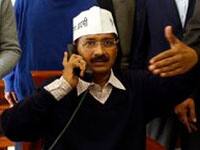 Zee Media Bureau
New Delhi: From being dubbed as a greenhorn and a rank outsider in politics, Aam Aadmi Party`s Arvind Kejriwal completed his ascent to the top of Delhi political circles on Saturday when he took oath as the seventh Chief Minister of the national capital.
The promise of delivering change was his poll-plank and he set-off on it immediately by shunting nine senior bureaucrats in key departments like water resources and transport, and shunning red beacon and private secuity officers.
Also Read:: Action-packed Day 1 in office for Arvind Kejriwal: 7 key points
Delhi got a glimpse of Kejriwal`s new style of governance when he spent six hours in office after being sworn-in and announced that by early next week the word would be in on his promised steps regarding slashing electricity tarriff and enhanced water supply to all parts of the national capital.
Also Read: Arvind Kejriwal becomes Delhi`s seventh chief minister: As it happened
He would prove his government`s majority in the assembly January 2, an official statement said.
In the Kejriwal government`s first cabinet meeting, it was decided that the first session of the new legislative assembly will be convened from Jan 1.
"The first session of the fifth legislative assembly of National Capital Territory of Delhi will be summoned from Jan 1 to Jan 7, 2014. The MLAs would be administered oath on the first day of the session. The government would move the vote of confidence on Jan 2. Election for speaker and deputy speaker will be held Jan 3," an official statement said.
Lt. Governor Najeeb Jung will address the House January 6. The house would then discuss the motion of thanks on his address, an official said.
A former revenue service official, 45-year-old Kejriwal, who broke from Anna Hazare`s campaign for Lokpal and helped Aam Aadmi Party make a stunning debut in electoral politics winning 28 of the 70 seats, took the oath of office and secrecy at a public ceremony in the historic Ramlila Maidan, the fast venue of the anti-graft campaigners more than two years ago.
With the tag of an outsider in established politics, Kejriwal immediately hit the street running with his cabinet deciding to shed vestiges of VIP culture like security and red beacon cars and official bungalows, opting instead for modest government flats.
The minority government will face a vote of confidence in the Assembly on January 2 to be followed by the election of Speaker and Deputy Speaker the following day.
Over a lakh people attended the ceremony from which leaders of outside supporter Congress, including outgoing Chief Minister Sheila Dikshit, other parties, his guru Hazare kept away. Posters proclaiming "Chief Minister today, Prime Minister tomorrow" appeared at the venue.
Along with Kejriwal, six others --- Manish Sisodia, Girish Soni, Rakhi Birla, Satyendra Jain, Saurabh Bharadwaj and Somnath Bharti -- took oath as ministers administered by Lt Governor Najeeb Jung.
Sporting his trademark Gandhi cap proclaiming that "I am an aam admi`, Kejriwal wore a blue pullover over bush shirt and trousers discarding the traditional `kurta-pyjama` of politicians.
BJP leader Harsh Vardhan, who would be the Leader of the Opposition in the new Assembly, was the lone prominent politician to be present. Kejriwal even praised him as an honest person. Shoiab Iqbal, JD(U) MLA, was also present.
In a short speech after the formalities were over, Kejriwal said the Aam Admi Party has come with a promise to provide governance different from the one given by corrupt parties.
Asserting that it is a very historic day, Kejriwal said,
"The oath we are taking today is not of Arvind Kejriwal and the other ministers but people of Delhi have taken the oath.
"The whole fight is not to make Arvind Kejriwal a Chief Minister but it is for a change of governance in Delhi".
The new Chief Minister said the huge responsibility thrust upon him has instilled a sense of fear in him. "I don`t claim to have a magic wand or remedies for all the ills but if the 1.5 crore people of Delhi join him there is no reason why all the problems can`t be solved," he said.
Asking his ministers to adopt service as a motto, Kejriwal cautioned them against getting arrogant with power.
"We should not get arrogant. Don`t get arrogant ever. Work for the people with service as the goal. We have not come here to become ministers. We were born to remove the arrogance of big parties. We should be wary that no other party has to take birth to dismantle us," he said.
Making anti-corruption his main plank, the new Chief Minister asked people not to turn away officials asking bribes but to help in catching them red-handed by laying a trap.
Conscious of the minority status of his government, he appealed to all the parties including the BJP and Congress to support his government in all its right steps. However, he made it clear that he was not bothered about the confidence vote the government has to face by January 3, saying he is ready to face the people if it is defeated.
"We will get back to power with a thumping majority," he said to a thunderous applause from the huge crowd that had gathered from the capital and the surrounding areas in the National Capital Region.
Talking about his mentor Anna Hazare, Kejriwal said, "Anna used to say that politics is dirty. Two-and-a-half years back, Annaji held a 13-day fast to remove corruption and to get the Janlokpal bill passed.
"In these last two years, we did every possible thing. We fasted, agitated but nothing happened. Gradually it became clear that without changing country`s politics we cannot get rid of corruption," Kejriwal said.
"I used to suggest Anna that if we want to clean the system, then we will have to get down in this `dirty politics`," he said
"Two years ago we could not think of such a revolution that we could remove corrupt parties. But its nature`s miracle. It is only a beginning," he said.
Riding on AAP`s success in Delhi, he said, "In the next five years if we take the right steps I think India can become a golden bird".
Flaunting his `aam admi` (common man) credentials, Kejriwal, who lives in a modest flat in Kaushambi in Ghaziabad district of Uttar Pradesh, took a metro train to Delhi to reach Barakhamba station, a distance of 20 kms from where he drove in his Maruti car to Ramlila Maidan.
Straight from the oath ceremony, Kejriwal went to Rajghat, the memorial of Mahatma Gandhi, a short distance away and paid homage.
Born in Siwani in Haryana, Kejriwal becomes the second youngest Chief Minister of Delhi. Chaudhry Brahm Prakash was the youngest Chief Minsiter at 34 when he took over in 1952.
After a series of meetings with officials, Kejriwal promised action on free water supply and cutting down of power rates in the next few days.
Kejriwal also promised to get back on the issue of the steep increase in the price of compressed and piped natural gas effected on Thursday.
He assured officials that there will be no witch-hunt against officials who work honestly and in people`s interest.
"No minister or official in Delhi government will be allowed to use red beacon," Kejriwal said after chairing the first cabinet meeting.
The cabinet also decided that no Personal Security Officer and escort vehicle will be be provided to any official.
"Security is to be allowed based on threat perception," he said.
In its manifesto, AAP had promised to end VIP culture in Delhi.
In its manifesto, AAP had promised to slash power tariff by 50 per cent besides carrying out scrutiny of the accounts of private power distribution companies.
Kejriwal said word is being spread that there would be a witch-hunt against officials and a sense of fear has been created among them.
"In my meeting with the officials, I told them you work with honesty and in the interest of people, I will protect you," he said.
Kejriwal, who lives in Kausambi in Ghaziabad district of Uttar Pradesh, said his team was looking for a house in Delhi and he would shift there in two-three days.
The Chief Minister also held a meeting with Delhi Police Commissioner B S Bassi and Indraprastha Gas Ltd Managing Director Narendra Kumar.