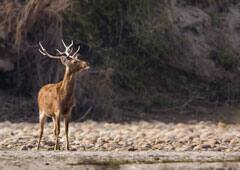 Kaziranga (Assam): The seventh census of Eastern swamp deer began today in the four ranges of Kaziranga National Park.
Altogether 50 officials, forest guards and other employees of the Park along with 25 elephants have been engaged for the census which is held twice a year, Park Research Officer Robindra Sarma said.
Besides the Park authorities and forest department, the census would be conducted with the joint assistance of Wildlife Trust of India and the ONGC.
The eastern swamp deer, is one of the three endangered deer species existing in the world, and is found only in Kaziranga.
According to the census of December 2013, 836 swamp deers were found in the Park.
The census would be conducted in the Park`s four ranges Agaratoli, Kohora, Bagori and Burapahar ranges and these have been further divided into 20 compartments with 10 compartments for Kohora, four each for Agratoli and Bagori and two compartments for Burapahar range.
It will also be conducted in the additional areas of the northern bank range also this time.
The census of the Eastern Swamp Deer began in 2011 and is held twice a year once before mating and again after the mating season is over.