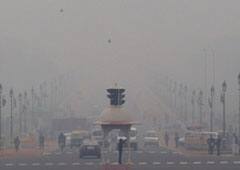 Zee Media Bureau
New Delhi: India on Thursday rejected the World Health Organisation (WHO) report that showed New Delhi`s as the most polluted city in the world.
The India`s Air Monitoring Centre rubbished the WHO`s finding saying that the UN agency had overestimated levels in the national capital.
WHO report revealed that the air pollution in New Delhi was almost three times as high as the reading for Beijing and 10 times that of London.
Based on the study of 1600 cities across 91 countries, the report showed that New Delhi has the dirtiest air with an annual average of 153 micrograms of small particulates, known as PM 2.5, per cubic metre.
WHO used the database that covers the period from 2008 to 2013, with the majority of values for the years 2011 and 2012.
Sunita Narain, Director General of Centre for Science and Environment (CSE) said that the latest urban air quality database released by the World Health Organization reconfirms that most Indian cities are becoming death traps because of very high air pollution levels.
Last year, a World Bank report that surveyed 132 countries ranked India 126th for environment performance and last for air pollution.
With Agency Inputs