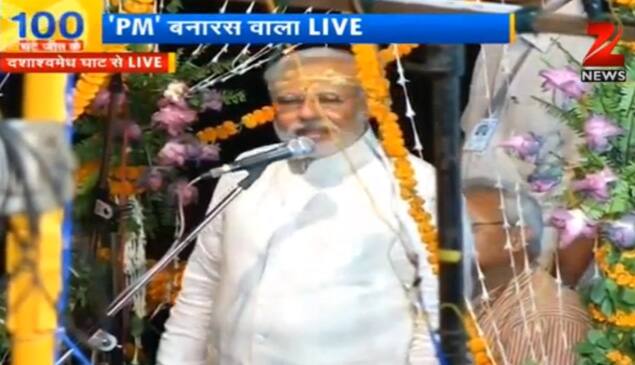 Zee Media Bureau/Ajith Vijay Kumar/Sushmita Dutta
10:52 pm: After attending `Ganga Aarti` in Varanasi, Narendra Modi reaches New Delhi.
9:30 pm:In a series of tweets, Narendra Modi expressed his gratitude towards the people of Varanasi and BJP workers:
Feeling blessed after visiting Varanasi. Sought blessings of Baba Vishwanath & Maa Ganga. I thanked people of Varanasi for their affection.

— Narendra Modi (@narendramodi) May 17, 2014
I thank Karyakartas for the warm welcome in Delhi earlier today pic.twitter.com/NGkPAtiZ8g

— Narendra Modi (@narendramodi) May 17, 2014
Need of the hour is to restore the glory of the Ganga. Today Maa Ganga is calling us, her children to make the river clean once again.

— Narendra Modi (@narendramodi) May 17, 2014
When I see the pitiable condition of Ganga I feel pained but I feel it is Maa Ganga who has decided I have to do something for Her.

— Narendra Modi (@narendramodi) May 17, 2014
8:35 pm: Narendra Modi concludes his speech
8:20 pm: The people of the country have given a tight slap to all those parties which are not with the NDA. Now all these parties may end up forming an alliance just to attain the status of a formally recognisable opposition: Modi
8:17 pm: We should live for the country. We can change situation, we can change the world: Modi.
8:16 pm: Country`s leadership for the first time has came into hands of those born after 1947, says Modi.
8:15 pm: My happiness cannot be weighed in political measure. It is like a child in mother`s lap: Modi
8:11 pm: Now I won`t let Varanasi be dirtied: Modi.
8:10 pm: Modi says, we have to begin cleaning India from Varanasi.
8:05 pm: If we have to celebrate Mahatma Gandhi`s 150th birth anniversary we have to clean India: Modi.
8:02 pm:Modi says one thing that Mahatma Gandhi never compromised was cleanliness. Can we not fulfill this wish from Kashi? Let the country see this.
7:55 pm: I was not allowed to speak to my voters but they still made me win by a huge margin, says Modi.
7:45 pm: Modi says, think it was my fortune to serve Ma Ganga. I have come here to work for you and make Varanasi, a spiritual centre of world
7:43 pm:When I came to Varanasi I came as a candidate but when I filled my form I became a son of this place: Modi
7:42 pm: "Is pavitra dharti ko naman karta hoon, aur yahaan kay math-daataon ka bhi naman karta hoon," says Narendra Modi in his thanksgiving speech on the banks of the Ganga river.
7:41 pm: Narendra Modi addressing the crowd at `Dashashwamedh ghat` after the conclusion of `Ganga Aarti.
7:40 pm: Rajnath Singh invites Narendra Modi to address the crowd.
7:35 pm:I thank the people of Varanasi for choosing Narendra Modi as their Lok Sabha candidate: Rajnath
7:34 pm: I thank the peopl of Varanasi for giving such a huge victory to Modi ji, says Rajnath Singh as `Ganga Aarti` ends.
7:31 pm Rajnath Singh delivers a political speech from Dasaswamedh ghat in Varanasi, says Modi will make India an economic super power.
7:30 pm The half-an-hour long `Ganga Aarti` at Dashashwamedh Ghat in Varanasi comes to an end.
7:25 pm Former cop and social worker Kiran Bedi wrote on microblogging website twitter:
Varanasi and Uttar Pradesh on world map! The day UP changes India changes! All focus on the State will promote development and prosperity!

— Kiran Bedi (@thekiranbedi) May 17, 2014
7:20 pm: Amid recitals of Vedic hymns and blowing of conch shells `Ganga Arti` is being held at `Dashashwamedh Ghat`, Modi and other BJP leaders attending the `puja`.
7:14 pm: PM designate Narendra Modi along with BJP president Rajnath Singh and Amit Shah attends the mesmerizing `Ganga Aarti` at `Dashashwamedh ghat` while Priestess performing the `puja`.
7:15 pm: Narendra Modi performs `jalabhishek` (offering of Ganga water on the gold plated Shiva linga) after which he offered concoction of honey, jaggery, crushed sugar, ghee, curd, milk and `bhasma` to the reigning deity of Kashi.
He completed the puja by offering `bel patra` and lotus flowers to `Maa Ganga`.
7:10 pm: Narendra Modi at `Dashashwamedh ghat` attends `Ganga Aarti` along with Rajnath Singh and Amit Shah in Varanasi amid chants of `sanskrit mantras`.
7:02 pm: Narendra Modi, Rajnath Singh and Amit Shah reach `Ganga ghat` for `Aarti`. Priests will perform `Aarti` on the banks of the Ganges.
6:55 pm: Narendra Modi reaches `Dashashwamedh ghat` to attend the `Ganga Aarti`.
6:30 pm: Narendra Modi`s convoy leaves for `Dashashwamedh ghat`. A large number of security personnel have been deployed at the `Ghat` where the `Ganga Arati` attracts huge crowds on a daily basis and which also witnessed a bomb explosion in 2010 which had killed two persons and left several others injured.
6:12 pm: Narendra Modi march towards the famed `Dashashwamedh ghat` to attend the `Ganga Aarti` after offering prayers at Kashi Vishwanath temple.
6:07 pm: Narendra Modi performs `rudrabhishek puja` of Lord Shiva at Kashi Vishwanath temple along with Rajnath Singh, Amit Shah and eleven `pandits`.
5:43 pm: Narendra Modi arrives in Kashi Vishwanath temple to perform `rudrabhishek puja` of Lord Shiva.
5:33 pm: Narendra Modi to visit Kashi Vishwanath temple shortly and then will attend the `Ganga Aarti`.
5:25 pm: Modi arrives in Police Lines, Varanasi. Tight security arrangements have been put in place.
5:00 pm: Narendra Modi arrives in Varanasi along with Rajnath Singh to celebrate his Lok Sabha elections victory.
4:20 pm Narendra Modi to arrive at Varanasi`s Babatpur airport shortly.
3:45 pm Amit Shah, the architect of BJP`s landslide victory in Uttar Pradesh, is also on the plane with Modi and Rajnath to Varanasi.
3:35 pm After having denied him permission for an election rally and another event in the city May 10, the Varanasi administration has rolled out the red carpet to welcome PM-designate Narendra Modi.
3:25 pm BJP president Rajnath is accompanying Modi to Varanasi. He tweeted:
Going to Varanasi with Shri @narendramodi for 'Baba Vishwanath Darshan' and 'Ganga Aarti' in the evening.

— Rajnath Singh (@BJPRajnathSingh) May 17, 2014
3:10 pm Narendra Modi has left for Varanasi after victory celebrations at BJP HQ in Delhi. First on his itinerary there would be prayers at the Kashi Vishwanath Temple.
The city is all decked up to welcome their new hero, their new hope for a better tomorrow.
Later, Modi will attend the `Ganga Aarti` at the famed Dashashwamedh ghat.
2:25 pm Read: BJP parliamentary board lauds Narendra Modi for successful campaign
1:50 pm Addressing the gathering, Narendra Modi said, "Thank people of India. I also thank friends in the media for efforts towards voter awareness."
1:47 pm Rajnath Singh said BJP`s parliamentary party will met at 12 pm on May 20 to elect the leader, adding that it was formality that needs to be carried out. The NDA partners will meet after that, he said.
Details about Narendra Modi`s oath taking ceremony will be announced after the parliamentary party meet on May 20, the BJP president said.
1:45 pm All senior members of the BJP share stage with Narendra Modi at BJP HQ. Rajnath Singh says that Narendra Modi was praised by the parliamentary board for the leadership he gave to party`s poll campaign.
1:20 pm BJP parliamentary board meeting ends.
1:10 pm All members of the BJP`s parliamentary board congratulated Narendra Modi for the spectacular victory of the party in Lok Sabha polls 2014. Party veteran LK Advani led from the front to felicitate Modi with a bouquet and a warm hug.
12:45 pm The parliamentary board meeting has begun at BJP headquarters. Crucial decisions on government formation are expected to be taken by the highest decision making body of the party.
The party has to decide when to call a meeting of the newly-elected MPs to formally choose Narendra Modi as the parliamentary party leader. That will be followed by a meeting of the NDA where he will be elected as leader of the coalition.
The grouping will then approach President Pranab Mukherjee to convey to him the election of their leader and appoint him as the Prime Minister.
12:15 pm Addressing the party workers, Modi said that victory became possible due to the hard work of party workers. "Lotus has shined again in Delhi", he said.
12 pm Narendra Modi reached BJP HQ. Hundreds of party workers danced on the road and chanted `Modi Modi`. "Lotus has shined again in Delhi", he said.
11:50 am In what is symbolic in more ways than one, Narendra Modi`s route to BJP HQ will take him through Akbar Road (Congress HQ) and Janpath (Sonia Gandhi`s residence).
11:25 am Accompanied by hundreds of supporters in tens of cars and bikes, the cavalcade of Narendra Modi is passing through Dhaula Kuan and will take the Sardar Patel Road to enter central Delhi.
11:10 am: Modi`s cavalcade is moving towards central Delhi. It may stop at a few places to allow him to greet assembled crowds.
10:55 am: Dressed in blue, Modi waved to the crowd for a while before getting into his car, surrounded by his security guards.
10:50 am: Narendra Modi has arrived in Delhi. An army of BJP workers, led by party president Rajnath Singh, received him at the airport and accorded him a red carpet welcome.
Modi`s victory march has begun from the airport. Named `Vijay Yatra`, the 14-kilometre journey will take him to the BJP HQ in central Delhi.
Thousands of people have gathered along the route that will take Modi`s cavalcade through NH8, Sardar Patel Marg, Mother Teresa Crescent, Teen Murti Marg, Akbar Road and Jan.
The ultimate `outsider` has come home. Narendra Modi arrived in his new karma bhoomi, Delhi, on Saturday to a welcome which matches his success in delivering a stunning victory for the BJP.
Chided as `chai-wallah` and for long considered unfit to be part of the elite who run India from Lutyen`s Delhi, Narendra Modi`s arrival as the Prime Minister holds the potential to change the `culture` of country's power centre.
A man, whose father used to sell tea and mother worked as a house maid; someone who is not a member of any powerful old boys` club, has been put at the highest pedestal of power by the faceless but determined millions.
They have chosen someone who has fought his hard way up; someone who finds solace at his mother`s feet... an `Aam Aadmi` as the next Prime Minister.