The grand ceremony comes to an end with a melodious and soothening performance by a female violinist.
Malala concludes her acceptance speech by calling for a beginning to end all that is uncalled for and unfair for children as she says, "Let this end with us.. And let us build a better future right here right now".
Let this be the last time that a boy or a girl spends their childhood in a factory. Let this be the last time that a girl gets forced into early child marriage: Malala
Let this be the last time that an innocent child loses their life in war. Let this be the last time that a classroom remains empty: Malala
Let this be the last time that a girl is told education is a crime and not a right. Let this be the last time that a child remains out of school: Malala
The empty classrooms, the lost childhoods, wasted potential—let these things end with us: Malala

Dear brothers and sisters, the so-called world of adults may understand it, but we children don't. Why is it that countries which we call "strong" are so powerful in creating wars but so weak in bringing peace? Why is it that giving guns is so easy but giving books is so hard? Why is it that making tanks is so easy, but building schools is so difficult? questions the youngest Nobel Laureate.

Though I appear as one girl, one person, who is 5 foot 2 inches tall, if you include my high heels. I am not a lone voice, I am many. I am Shazia.

I am Kainat Riaz. I am Kainat Somro. I am Mezon. I am Amina.

I am those 66 million girls who are out of school.

"It is the voice of those 66 million girls." #nobelprize2014 http://t.co/87fkHgpt3m

— The Nobel Prize (@NobelPrize) December 10, 2014

We survived. And since that day, our voices have only grown louder. I tell my story, not because it is unique, but because it is not. It is the story of many girls: Malala

Recounting the fateful day of October 9, 2012 when she was shot at by Talibani militants, Malala says, "The terrorists tried to stop us and attacked me and my friends on 9th October 2012, but their bullets could not win."
As far as I know, I am just a committed and stubborn person who wants to see every child getting quality education: Malala
In a show of respect for India's Kailash satyarthi, Malala  said that she was "honoured to receive this award together with Kailash Satyarthi, who has been a champion of children's rights for a long time. Twice as long, in fact, than I have been alive".
" I am also glad that we can stand together and show the world that an Indian and a Pakistani can be united in peace and together work for children's rights," Malala adds.
In one such remark, Malala says she is the youngest Nobel laureate. But she is also the only Nobel Peace Prize awardee who fights with her younger brothers, evoking laughter from the gathering.
Malala  has mixed her speech with dollops of humour, causing the crowd there to break in cheers and claps every now and then.
"I am very proud to be the first Pashtun, the first Pakistani, and the first young person to receive this award: Malala
​This award is not just for me. It is for those forgotten children who want education: Malala
Malala starts her speech by greeting all the dignitaries present there and then she goes on to thank her father "for not clipping her wings", her mother for inspiring her.
After a musical hiatus, Malala is called on the stage to deliver her Nobel lecture.
Kailash concludes his Nobel lecture with these words, "Let us march from darkness to light. Let us march!"
I call for a march from exploitation to education, from poverty to shared prosperity, a march from slavery to liberty, and a march from violence to peace: Satyarthi
Let us democratise knowledge. Let us universalise justice: Satyarthi
Together, let us globalise compassion, for our children! I call upon you in this room, and all across the world: Satyarthi
Today, I see thousands of Mahatma Gandhis, Martin Luther Kings, and Nelson Mandelas marching forward and calling on us. The boys and girls have joined. I have joined in. We ask you to join too: Satyarthi
​I refuse to accept that all the temples and mosques and churches and prayer houses have no place for the dreams of our children. I refuse to accept that the world is so poor, when just one week of global spending on armies is enough to bring all of our children into classrooms. I refuse to accept that all the laws and constitutions, and the judges and the police are not able to protect our children. I refuse to accept that the shackles of slavery can ever be stronger than the quest for freedom: Satyarthi
I refuse to accept … just one week of global spending on armies is enough to bring all of our children into classrooms. @k_satyarthi

— The Nobel Prize (@NobelPrize) December 10, 2014
Taking the incident in good humour, Satyarthi says, "I don't know if something like this has happened before with any other Nobel laureate. But one good thing has happened here. A Pakistani daughter has met an Indian father here."
"And something is missing now.. my speech papers are missing," says Satyarthi sparking a collective laughter from the gathering..
Having finished a part of his Nobel lecture, Satyarthi suddenly finds his speech papers are missing and confesses it with a smile. 

Feel the child inside you. Listen to that child. #nobelprize2014 http://t.co/fExfvRUOlq

— The Nobel Prize (@NobelPrize) December 10, 2014

 

I want you to see and feel this TODAY inside you. My dear sisters and brothers, may I ask you to close your eyes and put your hand close to your heart for a moment?   Can you feel the child inside you? Now, listen to this child. I am sure you can!

Describing one such instance, Satyarthi said, "Twenty years ago, in the foothills of the Himalayas, I met a small, skinny boy. He asked me: "Is the world so poor that it cannot give me a toy and a book, instead of forcing me to take a tool or gun?"

Satyarthi then goes on to narrate short but elegiac stories of his encounters with world's oppressed children who asked him innocent heart-breaking questions.

I represent here the sound of silence. The cry of innocence. And, the face of invisibility. I have come here to share the voices and dreams of our children, our children, because they are all our children. I have looked into their frightened and exhausted eyes. And I have heard their urgent questions: Kailash

Friends, the Nobel Committee generously invited me to deliver a "lecture". Respectfully, I am unable to do that: Kailash

I represent here the sound of silence. The cry of innocence. And, the face of invisibility. I have come here to share the voices and dreams of our children, our children, because they are all our children: Kailash

The single aim of my life is that every child is: free to be a child, free to grow and develop, free to eat, sleep, see daylight, free to laugh and cry, free to play, free to learn, free to go to school, and above all, free to dream.

There is no greater violence than to deny the dreams of our children.

With a warm heart I recall how thousands of times, I have been liberated, each time I have freed a child from slavery. In the first smile of freedom on their beautiful faces, I see the Gods smiling. I have been feeling a sense of salvation every time I have emancipated a child: Satyarthi

Satyarthi then recites two shlokas in Sanskrit that translate to:
 "Let's walk together. In the pursuit of global progress, not a single person should be left out or left behind in any corner of the world, from East to West, from South to North".
"Let's speak together, let our minds come together! Learning from the experiences of our ancestors, let us together create knowledge for all that benefits all".
Satyarthi starts his speech by greeting the members of the Norwegian Nobel Committee,  Tom Harkin, and reiterating Malala as "my dear daughter".
Indian Nobel laureate Kailash Satyarthi - the messiah of 85000 children's smiles - is now on the stage to begin his Nobel lecture.
 Sarod maestro Amjad Ali Khan is now performing.
After Satyarthi's felicitation, Pakistani braveheart Malala Yousufzai is called on the stage and is awarded the Nobel medal and diploma.
Look at @k_satyarthi Nobel Diploma! #nobelprize2014 pic.twitter.com/nvYAXR7Uc5

— The Nobel Prize (@NobelPrize) December 10, 2014
Now, Jagland calls Kailash Satyarthi - the messiah of thousands of smiles - onto the stage and awards him the Nobel medal and diploma.
Here is Malala Yousafzai's @MalalaFund Nobel Diploma: #nobelprize2014 pic.twitter.com/LOSyZ15E1p

— The Nobel Prize (@NobelPrize) December 10, 2014
After Jagland's address, it is the time for some music as Pakistani singer Rahat Fateh Ali Khan is presenting a qawwali.
We need people like Satyarthi and Yousafzai to show that it helps to fight: ​Jagland​
Sharing India's Kailash Satyarthi's dream,  Jagland says how the Indian Nobel Laureate believes that "child labour can be eliminated within his lifetime. Everyone here shares this hope".
Talking about Malala, Jagland says nothing "should be further from Islam than using suicide bombs against their co-religionists or shooting at a young girl whose only demand was to be allowed to go to school".
.@k_satyarthi and Malala are precisely the people whom Alfred Nobel in his will calls "champions of peace".
— The Nobel Prize (@NobelPrize) December 10, 2014
Dear Nobel Peace Laureates, a stronger expression of Alfred Nobel's fraternity between nations would be difficult to find other than you two. We are honoured to have you here: Nobel committee chairman Jagland
The ceremony begins with chairman of the Norwegian Nobel Committee Thorbjørn Jagland adressing the audience. He starts by introducing Satyarthi and Malala as he says, "world conscience can find no better expression than through Kailash Satyarthi and Malala Yousafzai".
In few minutes, Nobel Peace Prize Award ceremony is to begin. India's Kailash Satyarthi and Pakistan's Malala Yousafzai have arrived at Oslo City Hall in Norway.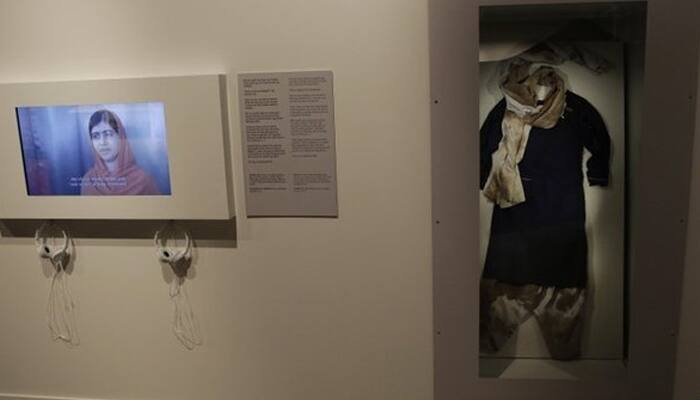 The brave heart from Pakistan Malala Yousufzai's blood-stained schol uniform which she was wearing when Talibani gunmen shot three bullets into her head, are on display in Oslo.
Malala Yousafzai's blood-stained clothes to be displayed in Oslo
Kailash and Malala's rendezvous with school kids at Oslo comes to an end with a girl named Angelina dedicating a song to the Nobel winners.

"All that children are asking for is quality education and schools.. There are 66 million girls who are deprived of education. Even if some of us remain deprived of our rights then we would not be able to progress. Let us help each other and see the day when every child gets quality education," says Malala.

Malala says that had she been a common girl in Pakistan, she "would have been married at 13 or 14, then become a mother, a grandmother and that would be it". But she said that she started raising her voice and speaking up for children's education. "Everyone must get a quality education".

Answering another question, Kailash said, "Each time I go to rescue a child I think he is the most beautiful child on earth, that he is my own child... Even if one single child was enslaved, the world would not be free".
On being asked about how did he begin his "Bachpan Bachao Andolan", Kailash said he started helping children when was mere 11-years of age and formed a book bank of more than 2000 books for all those who could not afford books. 
Seated among a bunch of school kids with cherubic faces and curious minds, Kailash Satyarthi and Malala Yousufzai are taking questions from children in Norway.
Nobel Prize: 20 Interesting Facts You May Not Know
Speaking to Zee News, Malala's father Ziauddin Yousafzai said that it was a historic occasion for Malala, for Pakistan, for girls and women and for a cause - the same cause for which Kailash Satyarthi too, is fighting.
In a beautiful remark celebrating the elegance and significance of a girl child, Kailash said, "Whenever a child takes birth, the Almighty smiles. And whenever a girl child is born, the Almighty doesn't just smile but puts a signature on it heralding that he wants to continue this universe. So whenever a daughter is born, Almighty's signatures are born..Malala is my daughter".
Speaking on sharing the award with Malala Yousfzai of Pakistan, Satyarthi reiterated that she was like his daughter and that thousands of such daughters be born.
Hailing India's culture and tradition, Satyarthi added that peace prevails in every grain  of India and that we have been conveying the message of peace for thousands of years.
In an exclusive interview to Zee News, Satyarthi said that he would like to dedicate the Nobel Peace Prize to all the underprivileged children and also to all the Indians. The Nobel laureate added that the award was the most special of all - 11 awards - he has received so far as it honours all those children who are suffering and mired in child labour or trafficking.
The Nobel Peace Prize for 2014 will be awarded to child rights activists India's Kailash Satyarthi and Pakistan's Malala Yousufzai today in Oslo City Hall at 1:00 pm Central Europe Time (CET).
10 things to know about Noble Prize winner Kailash Satyarthi
Satyarthi, 60, and Malala, 17, will share USD 1.1 million Nobel Peace Prize and also receive Nobel medals and documents.
After the Nobel Peace Prize is awarded, it will be followed by the Nobel Banquet at Grand Hotel at 7:00 pm CET.
Yesterday, both Malala and Satyarthi shared the stage to address a joint press conference at the Norwegian Nobel Institute in Oslo, where both of them called themselves lucky and honoured to have received the award with each other.

"Malala's like my daughter. She is the bravest child one can think of. I am lucky to be sharing the award with her," said Kailash Satyarthi. Whereas Malala reciprocated his gesture by saying, "I am honoured to sit with my father" pointing towards Kailash Satyarthi. 
Press conference of Kailash Satyarthi, Malala Yousufzai in Oslo: As it happened
The Norwegian Nobel Committee chose to honour Satyarthi and Malala with the Nobel Peace Prize 2014 "for their struggle against the suppression of children and young people and for the right of all children to education".
The committee noted that the Nobel Peace Prize for this year honoured the fact that a Muslim (Malala Yousafzai) and a Hindu (Kailash Satyarthi) a Pakistani and an Indian, had joined in what it called a common struggle for education and extremism.
Satyarthi is the eight Indian to receive the prestigious Nobel Prize. Here are others who achieved the same feat.
Satyarthi's "Bachpan Bachao Aandolan" has saved almost 80,000 children from child labour, slavery and trafficking while Malala shot to fame after she was shot by Taliban for writing against them and promoting girl children's education in Pakistan.