New Delhi: Netaji Subhas Chandra Bose did not complained of any sort of pain or suffering while he was admitted to a military hopsital in Taihoku after crash. 'I want to sleep' were last words of Netaji before he breathed his last at around 9.30 pm on August 18, 1945.
According to the declassified government documents,  one person named - Juichi Nakamura, who an eyewitness of the Netaji's last moments at the military hospital,  he was taken to a room where Netaji, in a critically injured condition, was lying on a bed. His body was covered with bandages and he could see blood spots in bandages on head. 
Nakamura said that he could see Netaji's eyes, nose and mouth as it were not covered. Nakamura said that he also saw Col Rehman in the hospital, a close aide of Netaji. 
Nakamura said that after a gap of about 10 minutes he saw Netaji's head fell forward on his chest and that was the last. All the soldiers present in the hospital room stood in a line and saluted Netaji. Col Rehman came close to bed and prayed for about 5-6 minutes.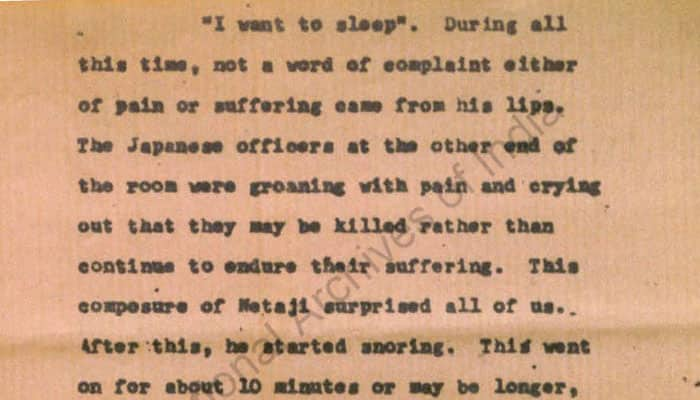 Juichi Nakamura's statement was sent to the M Kutty, Under Secretary  (MEA) by JN Dixit from Indian Embassy in Tokyo on October 10, 1964.