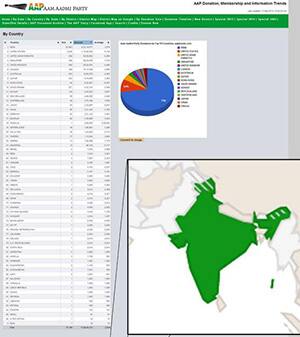 Zee Media Bureau
New Delhi: In an embarrassing botch up, a map on the website of Aam Aadmi Party (AAP) showed parts of Kashmir as a part of Pakistan.
Though the map, on the donations page of the AAP, has now been removed from the website, yet it has already been circulated on Twitter, putting Arvind Kejriwal`s party into another trouble.
Lately, the AAP has been in the news for the wrong reasons; be it Arvind Kejriwal`s leaked video showing him fixing the viewpoint of his interview or him committing a gaffe at a rally when he paid homage to four RTI activists, out of which three happen to be alive.
Response by Twitteratis on the recent blunder by the AAP:
@MrUTurn if this is realy true thn not only EC shd cancell thia party but Govt of India shd BAN this Anti India Oraganisational setup.

— ?Swaroop Vaidya? (@swaroopvaidya78) March 10, 2014
@mruturn @swaroopvaidya78 not only Kashmir to Pakistan, but Akshaichin &parts of Arunachal as China. Its criminal negligence

— ???? Ganesh ???? (@ganeshmahnar) March 11, 2014
@MrUTurn AAP has removed Map aftr collecting Crores in donations by showing Illegal Map Of India

MUST SCRUTINIZE THEIR FUNDS
#AAPwedsAajTak

— MrUTurn (@MrUTurn) March 11, 2014