Zee Media Bureau/Kamna Arora
New Delhi: Acting on a tip off, a group of NGOs intercepted trucks carrying cattle for slaughter in Delhi on Saturday night.
As per reports, around 30 trucks smuggling cattle to the slaughter house were passing through the busy ITO circle in central Delhi at around 9:30 pm when they were intercepted by the NGOs.
Given the heavy traffic on the busy road, only few trucks could be stopped. The rest managed to flee.
Members of the NGOs, who work for animal rights, were shocked to see the condition in which the animals were being transported. The cattle were stuffed into the trucks – one on top of other.
Some animals were found with broken legs, some had chilly powder in their eyes and others were found to be under the spell of sedatives, which had rendered them unconscious.
People were seen arranging water for the animals much before the MCD sent a water tanker. However, as no MCD employee was present, common people took to themselves to provide water to the battered animals.
And medical help is yet to reach the animals.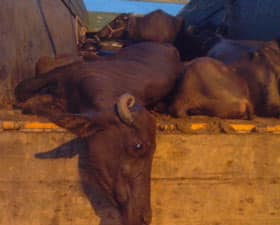 The plight of the animals raised tensions in the area. A mob of agitated people broke wind-shield of the trucks and late torched one in protest.
Fire tenders rushed to the spot but left after they doused the fire and without helping in the rescue of the animals.
The assembled crowd also raised slogans against the police. ACP Anil Kapoor was present at the spot but he said that he is not in a position to give any answers on the matter.
The police have barricaded the entire area. The incident has led to a huge traffic jam on the busy Ring Road.