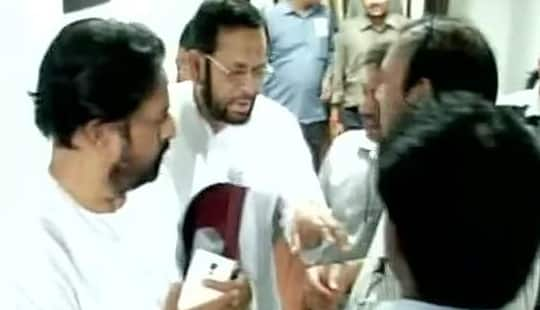 Zee Media Bureau/Deepak Nagpal
New Delhi: TMC and TDP MPs got engaged in an ugly scuffle inside Parliament complex on Tuesday, over the issue of office space.
As per reports, MPs belonging to the Trinamool Congress removed the nameplates of Telegu Desam Party parliamentarians from Room No 5 on the ground floor of the circular building in Parliament. They later forcibly occupied the room.
The TMC MPs claimed that the room had been allotted to their party and hence, their action was justified.
TMC MPs allegedly remove nameplates of TDP MPs from a Parliament room,claim room was originally allotted to TMC pic.twitter.com/osck4jM4lL

— ANI (@ANI_news) August 12, 2014
The MPs of the two parties even flung nameplates while fighting for the office space.
TDP MPs, who slammed their counterparts from the TMC for unruly and uncultured behaviour, complained to the Parliamentary Affairs Minister Venkaiah Naidu about the incident.
Reports said following the scuffle, Lok Sabha Speaker Sumitra Mahajan held a meeting with MPs of both the parties to resolve the matter.