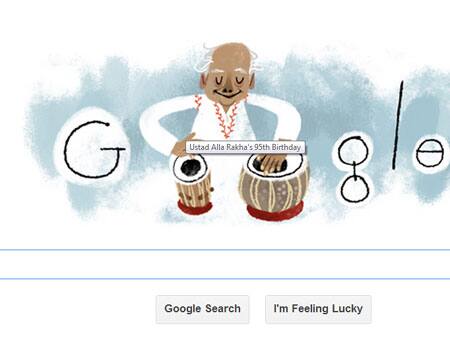 Zee Media Burea/ShrutiSaxena
New Delhi: One of the noted tabla players, Ustad Alla Rakha was honoured on his 95th birthday Tuesday by search giant Google with a classy doodle.
The doodle depicts Ustad Alla Rakha tapping the tabla with a smile on his lips. The two Os on the Google logo are turned into a tabla.
Qureshi Alla Rakha Khan, popularly known as Alla Rakha, was born in Paghwal, Jammu. Abbaji helped in raising the popularity of the art of tabla and Indian classical music across the globe.
Alla Rakha started his career as an accompanist in Lahore and then as an All India Radio staffer in Bombay in 1940. Later, he also composed music for some Hindi movies.
According to Wikipedia, Ustad Alla Rakha was honoured with the Padma Shri in 1977 and the Sangeet Natak Akademi Award in 1982. His three sons - Zakir Hussain, Fazal Qureshi, and Taufiq Qureshi - are also respected tabla players.
Abbaji died on February3, 2000 at his Simla House residence on Nepean Sea Road following a heart attack.