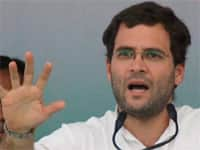 Zee Media Bureau/Deepak Nagpal
Itanagar: Congress vice-president Rahul Gandhi on Tuesday slammed the "ideology" of attacking migrants in various parts of India, while addressing a rally in Arunachal Pradesh.
Speaking to his supporters at Hapoli, Rahul raked up the death of Arunachal boy Nido Taniam in Delhi and said, "An Arunachal boy was killed in Delhi. India belongs to all, every religion, caste, community."
"We should create an India in which all of you feel that wherever we go, we will be welcomed with open arms... Such an ideology which attacks North Indians in Maharashtra, Northeast people in Delhi... this is the ideology of opposition," the Congress leader said.
Rahul also Tuesday touched upon his favourite theme of women empowerment.
Rahul said, "A lot of work has been done for women in the Northeast. All of India should get inspired by the way you treat women."
He noted that Itanagar has the first women police station in the Northeast.
Rahul further pitched for reservation for women in Parliament.
"Women should get reservation, that`s why we are discussing a law for 33 percent reservation in Parliament," the Congress leader said.
Rahul further stressed that gram panchayats needed to be strengthened and that "we must listen to panchayat representatives".
"There can be change only when there is devolution of power, when people and panchayats are empowered. That`s why Congress gets your support," he said.
He also reminded the people that "Indira Gandhi gave Arunachal Pradesh the status of a Union Territory in 1972, and Rajiv Gandhi (later) made it a full state."
Rahul Gandhi is in the Northeast for a two-day tour ahead of the upcoming General Elections.
He next travels to Meghalaya where he would hold a rally at Resubelpara in North Garo Hills district in support of Congress candidate Daryl William Momin, who is contesting against veteran PA Sangma.
On Wednesday, the Congress scion would travel to Manipur, where he would address a rally at Wangjing in Thoubal district.