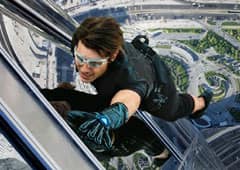 Zee Media Bureau
New York: One cannot forget the scene from the movie "Mission Impossible - Ghost Protocol " where actor Tom Cruise swings from world`s tallest building, Burj Khalifa in Dubai wearing adherent gloves.
Coming back to real life,`Gecko gloves` may soon be a reality as the US Defence Advanced Research Projects Agency (DARPA) is developing special gloves - under Z-Man project - that would let soldiers scale vertical walls.
The gloves are coated with a specialised cloth called `Geckskin` based on gecko`s paws.
"Geckos can climb on a wide variety of smooth surfaces like glass, with adhesive pressures of 15-30 pounds per square inch for each limb," explained researchers from Cambridge Massachusetts` Draper Laboratory who developed these gloves.
They cling to the surfaces the same way as the gecko`s paws do, impregnated with a reversible adhesive elastomer.
A live demonstration of a 218-pound researcher with 50 pounds of recording gear scaled a 25-feet-tall glass wall took place to show how the gloves worked.
"DARPA looked at gecko for inspiration in overcoming some of the manoeuvre challenges that the US forces face in urban environments," Matt Goodman, programme manager at DARPA for Z-Man project, was quoted as saying.
The Z-Man project aims to develop biologically-inspired climbing aids to enable war-fighters to scale vertical walls constructed from typical building materials, while carrying a full combat load and without the use of ropes or ladders, media reports said.