In today's follow up meeting on the situation due to the Earthquake, reviewed progress of relief & rescue work in India & Nepal.

— Narendra Modi (@narendramodi) April 27, 2015
Took stock of the evacuation of those stranded in Nepal. Also took stock of provision of relief supplies & material to affected areas.

— Narendra Modi (@narendramodi) April 27, 2015
PM Shri @narendramodi's follow-up meeting to review situation following earthquake in Nepal pic.twitter.com/LWoPiuDuGB

— PIB India (@PIB_India) April 27, 2015
PM Shri @narendramodi chairing the follow-up meeting to review situation following earthquake in Nepal pic.twitter.com/jVBsFVsCwV

— PIB India (@PIB_India) April 27, 2015
#NepalEarthquake Different emotions on arrival at Palam from Kathmandu by IAF IL-76 a/c today. pic.twitter.com/3IY50zC3O8

— Sitanshu Kar (@SpokespersonMoD) April 27, 2015
The United States of America (USA) is sending a total of $10 million in relief to help the victims of the Nepal earthquake, US Secretary of State John Kerry said. He sent his "deepest condolences" to the people of Nepal and said he had been shocked by the "gut-wrenching" images of the death and destruction.
Fresh tremors felt in Nepal.
NDRF teams have rescued 11 persons and recovered 62 bodies so far in their Nepal operations: ANI 
#NepalEarthquake Casualty Evacuation: A fine example of synergy that IAF has built with Nepal Army personnel. pic.twitter.com/fLi29Ka5oW

— Sitanshu Kar (@SpokespersonMoD) April 27, 2015
Operation Maitri: Indian Air Force (IAF) has continued to evacuate stranded people from earthquake-hit Nepal- , says Ministry of Defence's update till 6pm. The release reads — 
"Stepping up efforts to help Nepal which was struck by severe earthquakes, The Indian Air Force is providing relief to the people in distress in Nepal. 5 tonnes of milk, light vehicles, RO Plant, Oxygen regenerators, Medicines, Blankets, tents, 14 tonnes of food (ITC Noodles). 03 National Disaster Relief Force (NDRF) teams, 02 Field Hospitals, 02 Air Force Communication Centre Vehicles and Medicine are being sent. 
Today, 04 C-17 Globemaster III, 03 C-130J Super Hercules, 03 IL-76 and 02 AN-32 aircraft were pressed into action from morning to night carrying relief material. 
Extensive helicopter operations have also commenced. A total of 87 casualties have been evacuated to a safer places and 3.5 tonnes of relief load have been air dropped in inaccessible places. 
A total of 2305 stranded persons have been evacuated from Kathmandu to India. 
With weather improving in Nepal today, the Indian Air Force(IAF) along with Indian Army today fanned out to remote areas while continuing with transporting essential items from various bases to Kathmandu and evacuating distressed persons to India." 
The Indian Red Cross was quick to respond with help. Dr SP Agarwal, the Secretary General, Indian Red Cross Society immediately got in touch with the Secretary General, Nepal Red Cross Society and assured him with all possible support. Thereafter he attended a meeting with the Secretary, Health, Government of India.  The Indian Red Cross Society was asked to by the Indian Government to support with a large water purification machine with capacity of delivering 3000 litres of clean drinking water per hour along with trained personnel. It was also asked to support with 100 stretchers which were obtained from the partner organization, St. John Ambulance (India).
For information on Nepal earthquake, one can contact Ministry of External Affairs, Control Room at controlroom@mea.gov.in
World Health Organization (WHO) has handed over four emergency health kits comprising medicines and medical supplies and USD 1,75,000 for immediate health needs in Nepal.
Individuals/organisatoins wishing to contribute to #NepalQuakeRelief may contact Maj Gen Anurag Gupta - 8527892258; email: ritanu@yahoo.com

— Vikas Swarup (@MEAIndia) April 27, 2015
CSSR (Collapsed Structure Search and Rescue) and sniffer dogs are being used: Sandeep Rathore (IG, NDRF)
Three more NDRF teams have landed today making it 13 teams there, 3 more are to go making it 16: Sandeep Rathore (IG, NDRF)
We are working on 4 locations, on Nepali army's direction. Operations are on going: Sandeep Rathore (IG, NDRF)  
Review meeting under PM Modi for Nepal earthquake underway at 7 RCR: Report 
#NepalEarthquake First Pictures-3: Rescue and Relief operations by India at Dhunche. IAF's MI-17 heptrs in action. pic.twitter.com/iuTAZgWejs

— Sitanshu Kar (@SpokespersonMoD) April 27, 2015
#NepalEarthquake First Pic.-2 Rescue and Relief Operations at Dhunche by India. pic.twitter.com/Q0LzTLw59i

— Sitanshu Kar (@SpokespersonMoD) April 27, 2015
#NepalEarthquake First pictures of the rescue and relief operations mounted by India in Nepal-1. pic.twitter.com/a4ZyZYeITy

— Sitanshu Kar (@SpokespersonMoD) April 27, 2015
Individuals/organisatoins wishing to contribute to #NepalQuakeRelief may contact Maj Gen Anurag Gupta - 8527892258; email: ritanu@yahoo.com

— Vikas Swarup (@MEAIndia) April 27, 2015
Indian Air Force has shifted out MI 17 helicopters from Kathmandu airport to a nearby place to reduce congestion: RK Mathur, Defence Secretary
PM Modi has assured the Spanish Foreign Minister that India will provide all possible help to Spanish nationals in Nepal.
Assured the Spanish Foreign Minister that India will provide all possible help to Spanish nationals in Nepal. http://t.co/UPu6OAIgFr

— Narendra Modi (@narendramodi) April 27, 2015
Spain has sought India's help in evacuating its nationals from Nepal.
Also Read - Spain seeks India's help in getting its nationals out of Nepal
Air India cancelled its Delhi-Khajuraho flight on Monday and diverted it to Kathmandu to evacuate stranded people in quake-ravaged Nepal.
Also Read- AI Delhi-Khajuraho flight cancelled, diverted to Kathmandu
Roughly 5400 Indians evacuated so far: Foreign Secretary
We are getting requests to bring back nationals of other countries & have brought them back in some cases: Foreign Secretary
30 foreign nationals brought back from Nepal: Foreign Secretary
Hope from tomorrow, more share of road movement than air; but primary relief mode will remain by air: Foreign Secretary
About 100 buses at Samauli, 25 at Mahinder Nagar, 35 at Raxaul: Foreign Secretary
Congress president Sonia Gandhi writes to Nepal Prime Minister Sushil Koirala; expresses grief over earthquake.
Cong Prez Sonia Gandhi writes to Nepal PM Koirala, expresses grief over devastation caused by #NepalEarthquake pic.twitter.com/KEkj5CsAa4

— ANI (@ANI_news) April 27, 2015
National disaster helpline number 1078 made operational. People can dial using STD code 011.
21 trucks have been sent by the UP government with food, water medicines, and a medical team of 47 people: Foreign Secretary
Rescued about 337 persons via helicopters: Defence Secretary
72 casualties in India so far: Home Secretary
NDRF team able to save 180 in Darbhanga, Bihar: Home Secretary
Air Force prepared to work through the night to extend maximum possible help: Defence Secretary
Also Read - Air Force prepared to achieve maximum possible in Nepal: Defence 
Opening of road route to Nepal expands capability of relief and rescue effort - FS at combined briefing pic.twitter.com/wSpulhcZFd

— Vikas Swarup (@MEAIndia) April 27, 2015
Big change today from yesterday, more movement on the ground: Foreign Secretary
Three additional NDRF teams going in today: Foreign Secretary
Helicopters dropped commodities in Pokhra for first time today: Foreign Secretary
Around 1600 Indians expected to be brought back today: Foreign Secretary
Food, medicines taken; milk, food, oxygen regenerators, blankets being moved: Foreign Secretary
Five military aircraft gone; 4 more to go by end of day: Foreign Secretary 
 Bollywood actor Amitabh Bachchan mourns the loss of lives in the earthquakes that have rocked Nepal and India in the last three days.  
Also Read- Amitabh Bachchan prays for people's safety as fresh tremors rock India, Nepal
Prime Minister Narendra Modi has donated one month's salary for assistance to those affected by the recent earthquake: PMO
PM has donated one month's salary to the Prime Minister's National Relief Fund, for assistance to those affected by the recent earthquake.

— PMO India (@PMOIndia) April 27, 2015
USGS reports 5.1 intensity earthquake 5km South-West of West Bengal's Mirik.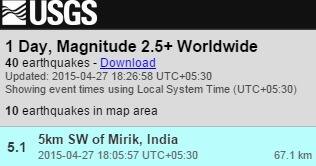 Fresh tremors reported from various parts of West Bengal and Bihar.
As part of Indian Army's 'Operation Maitri' on Monday, the road from Kathmandu to Pokhara has been opened up by Engineer Task Force and satellite communication link between Nepalese Army Head Quarters and Indian Army Engineer Task Force has been established: Ministry of Defence 's 5pm update  
A movement control team has been setup in Kathmandu to direct relief convoys to affected areas and a multi-national coordination centre has been established at Pokhara.
As desired by Nepal Army, Two task force head quarters set up -1 in Kathmandu under Major General Sandhu and another in Barpak under Brigadier Gamlin: Sitanshu Kar, spokesperson, MoD
Private carrier SpiceJet has cut its base fare for evening flights to Kathmandu to Re 1 for two days starting Monday. It will also mount two more special planes to aid evacuation of travellers stranded in earthquake-devastated Nepal.
         Also Read - SpiceJet cuts fare, to operate 2 more flights to Kathmandu
Two more ALH Dhruv and two Cheetahs aircrafts are being inducted to Pokhara to expedite rescue efforts.
The NDRF team has gone all out in its rescue efforts, tweets Vikas Swarup, spokesperson, Ministry of External Affairs
Assistance at a time of need. India's NDRF teams in action on ground for rescue and relief #IndiaWithNepal #OpMaitri pic.twitter.com/oaTwGBwdg4

— Vikas Swarup (@MEAIndia) April 27, 2015
Total 2246 people have been evacuated so far from Kathmandu.
#NepalEarthquake 1 IL-76 of IAF brings back 213 persons frm KTM to Palam. Landed at 5.15 PM, taking the total number of evacuees to 2246.

— Sitanshu Kar (@SpokespersonMoD) April 27, 2015
Team of health experts from Delhi's AIIMS and Safdarjung Hospital being sent to Nepal to assess situation arising due to mortality.
The Indian Army has further enhanced its engineering efforts by inducting 40 personnel, five earth moving equipment and some power generators to expedite the rescue operations.
'Operation Maitri' task force headquarter has been set up at Kathmandu, tweets Sitanshu Kar, spokesperson, Ministry of Defence.
There is a need to find donors of prefab toilets to cater for sanitation of all staying in open in Nepal: MoS for external affairs General (retd) VK Singh
101 more passengers have been brought back from Kathmandu to Palam on an ​Antonov-32 aircraft.
#NepalEarthquake 2 Antonov-32 aircraft bring back 101 passengers from Kathmandu to Palam.

— Sitanshu Kar (@SpokespersonMoD) April 27, 2015
Indian Air force's MI-17 have conducted 6 sorties on Monday evacuated 87 casualties and carried relief load of 3.5 tons.  
Two Indian Army Aviation ALH helicopters have moved to Pokhara to aid in rescue and relief operations, tweets Sitanshu Kar, spokesperson, Ministry of Defence.
UN`s World Food Programme says it was preparing a large-scale aid operation to earthquake-ravaged Nepal, with a first plane set to arrive on Tuesday.
Indian carriers continue to face air traffic congestion and parking constraints at Nepal's Tribhuvan International Airport, leading to delayed departures and arrivals.
The Indian government is pro-actively using Twitter and Facebook to reach out to those affected in quake-ravaged Nepal.
Reuters quotes a senior Interior Ministry official as saying that authorities have not been able to establish contact with some of the worst affected areas in Nepal, and that the death toll could reach 5,000.
The famous 5th century Pashupatinath Temple in Nepal has survived the massive 7.9 magnitude earthquake that flattened several World Heritages like iconic Dharhara tower and Darbar Square in Nepal.


Also Read:

Pashupatinath Temple unharmed in Nepal's devastating quake
At least 40 Indian mountaineers remained trapped today at Everest Camp I and II, cut off from the Base Camp following avalanches triggered by the massive earthquake on Saturday.


Also Read:

40 Indians trapped at Everest Camp I, II
More than 150 mountaineers are still stranded in two camp sites of Mount Everest following the earthquake in Nepal. The toll in the quake-triggered avalanche on Mount Everest has climbed to 19. The nationalities of all the victims are not yet known. 


Also Read:

Nepal earthquake: Over 150 stranded in Everest camps
The number of people killed in Nepal by the Himalayan country`s worst earthquake in eight decades has risen to 3,726, a Home Ministry official said.
Prabhat Singh, a senior official of the Indian High Commission, tells PTI: "M17 Indian choppers have been pressed in to evacuate people from the inner parts of Sindhupal Chowk, Gorkha and Nuwakot districts. Rescue operations in Bhaktapur and Kathmandu are also being carried out by the Indian authorities."
Chaos prevails at Nepal's the Tribhuvan International Airport with hundreds waiting to be evacuated from the earthquake-ravaged country. 


Also Read:

 Chaos reigns at Nepal's only international airport
C-17 Globemaster III aircraft of IAF returns fails to land in Kathmandu.


#NepalEarthquake IAF's C-17 a/c carrying relief material that got airborne this morning returns to Palam due to 'congestion' at Kathmandu.

— Sitanshu Kar (@SpokespersonMoD) April 27, 2015

A total of 2,500 Indians have been brought back from earthquake-hit Nepal since Saturday, and more are expected to land this evening, the Defence Ministry said.
Two Indian mountaineers - Hemant Gupta and Payo Murmu, who were stuck up at 22,000 ft height of the Himalayas on way to the summit on April 25 when the quack struck in Nepal - have safely returned to the base camp.
Israel begins evacuating infants born to surrogate mothers and their Israeli parents from Nepal.


Also Read:

 Israel evacuates surrogate-born babies and Israeli parents from Nepal
Nepalese Home Ministry's national disaster management division said more than 6,830 people were injured. 1,053 people are reported killed in the Kathmandu Valley alone and 875 in Sindhupalchowk, it said.
In a statement, the Nepalese Police said the death toll has risen to 3,617 people. That does not include those killed in the avalanche on Mount Everest.
Bhutanese Prime Minister Tshering Tobgay travelled to Kathmandu today to provide assistance to the government of Nepal. He is accompanied by a medical support team. 
The Asian Development Bank announced on Monday more than USD 200 million in aid for Nepal in response to the earthquake.
The toll after Saturday's devastating quake in Nepal has climbed to 3,351 and 6,833 people have been injured, the country's Home Ministry said on Monday.
Telecom companies in India are going all out to help the survivors of the Nepal earthquake to contact their near and dear ones by drastically slashing their call charges.
At least 150 Indians, who reached Indian border at Raxaul from Nepal this morning, were sent to their homes by different trains and 10 buses were dispatched to Pokhra in the neighbouring country by the Bihar government for transporting back stranded citizens.
Spokesperson, Indian Ministry of Defence, Sitanshu Kar, tweets one MI-17 helicopter of IAF is shortly taking off from Kathmandu to Pokhara and will operate there.
Indian Prime Minister Narendra Modi thanks "armed forces, NDRF teams, doctors and all those volunteers who are overcoming every obstacle to restore normalcy in Nepal". In a series of tweets, Modi said that while he appreciated those saying "Thank You PM", "real thanks should be to our great culture which teaches us 'Seva Parmo Dharma'.​"
To all those saying #ThankYouPM- appreciate the sentiment…real thanks should be to our great culture, which teaches us 'Seva Parmo Dharma'.

— Narendra Modi (@narendramodi) April 27, 2015
If we want to thank anyone, it should be the 125 crore people of India who have made Nepal's pain their own & extended all help.

— Narendra Modi (@narendramodi) April 27, 2015
We must thank our armed forces, NDRF teams, doctors & all those volunteers who are overcoming every obstacle to restore normalcy in Nepal.

— Narendra Modi (@narendramodi) April 27, 2015
We owe a big thanks to the enthusiastic youngsters who are mobilising contributions for relief work be it cash, resources & medicines etc.

— Narendra Modi (@narendramodi) April 27, 2015
The immense co-operation between Centre & the States is a major asset in times like these. A big thanks to all State Governments.

— Narendra Modi (@narendramodi) April 27, 2015
And above all, we salute the resilience of our sisters & brothers in Nepal & parts of India, for their courage in the face of disaster.

— Narendra Modi (@narendramodi) April 27, 2015 
Also Read: Quake relief: PM Modi appreciates cooperation of states
Tens of thousands of frightened Nepalese huddled in tents desperate for help on Monday as international rescue teams with sniffer dogs raced to find survivors buried in the rubble. Families, the sick and elderly packed into parks and other open spaces in Kathmandu after losing their houses, with others too terrified of aftershocks to return home.
Tibetan spiritual leader the Dalai Lama has expressed sadness over the terrible earthquake in Nepal that has left more than 3,200 people dead.
Also Read: Dalai Lama saddened over Nepal quake
​Every step will be taken to help people of Nepal. Their pain is our pain, India's Parliamentary Affairs Minister M Venkaiah Naidu quoted Prime Minister Narendra Modi as saying.
#IndiaWithNepal 22 tonnes of food packets, 120 large oxygen cylinders moved yesterday. More enroute today morning. pic.twitter.com/X8grPrm8Eo
— Vikas Swarup (@MEAIndia) April 27, 2015
— Vikas Swarup (@MEAIndia) April 27, 2015
Mountain rescue teams, helped by clear weather, used helicopters to airlift climbers stranded for two days at high altitude on Mount Everest after a powerful earthquake triggered an avalanche that killed at least 17 people.
India shares cultural relations with neighbouring country Nepal, so making all possible efforts, assures India's Home Minister Rajnath Singh.


Also Read:

India to do everything possible to help Nepal: Rajnath Singh
India is readying six more National Disaster Response Force (NDRF) teams to deploy in Nepal in addition to 10 currently operating under `Operation Maitri`.


Also Read:

Ten NDRF teams begin full ops in Kathmandu, nearby areas
DG of Meteorological Department, LS Rathore, tells ANI that aftershocks are still occurring, but their intensity and magnitude are diminishing. Saying that 55 aftershocks have been observed till now, Rathore said an aftershock of magnitude 5.3 occurred at 9:56 pm on Sunday. Aftershocks that took place yesterday were between magnitude 4-5, today they are between 3-4, suggesting declining trend in intensity, added Rathore.
Over 300 Australians are still missing following the tremors that devastated Nepal, authorities said on Monday.

Also Read:

Over 300 Australians missing in Nepal quake
Nearly a million children have been "severely affected" by a severe earthquake in Nepal that has killed more than 3,200 people, a spokesman for the United Nations Children`s Fund (UNICEF) said.


Also Read:

UNICEF says nearly a million children "severely affected" in Nepal
The Indian Air Force flew 12 sorties to bring back Indian nationals, including many children.
Stepping up its relief and rescue efforts, India has evacuated 1,935 stranded Indians from earthquake-hit Nepal.
Fresh feeble tremor jolted Nepal on Monday morning.
An inter-ministerial team in India, headed by Additional Secretary in MHA BK Prasad, leaves for Nepal to coordinate rescue and relief operations. 
Also Read: Inter-ministerial team leaves for quake-hit Nepal
The European Commission released EUR 3 million (USD 3.25 million) in emergency aid for Nepal which will help fund clean water, medicine, emergency shelter and telecommunications in the worst-affected areas. 
Also Read: EU announces USD 3.25 million emergency aid for Nepal
The toll is likely to climb as rescuers struggle to reach remote regions in Nepal as bodies buried under rubble are recovered.
"The death toll has reached 3,218 and over 6,500 are injured," said Rameshwor Dangal, who heads the Home Ministry`s national disaster management division.
Officials say more than 3,300 people are now known to have died, including 3,218 in Nepal -- making it the quake-prone Himalayan nation`s deadliest disaster in more than 80 years.
Earlier development: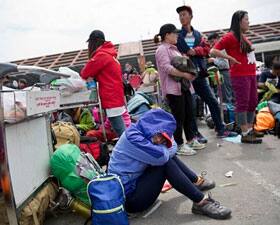 International rescue teams and relief supplies begin arriving in Nepal`s devastated capital on Monday to help terrified and homeless survivors of a quake that has killed more than 3,200 people in the impoverished nation.
Equipped with heavy cutting gear and accompanied by sniffer dogs, rescue teams were landing round-the-clock at the country`s only international airport on the outskirts of Kathmandu, the normally vibrant capital which has been devastated by Saturday`s 7.8 magnitude quake.
Around 90 people have been killed in neighbouring countries, including at least 67 in India and 20 in China.
The earthquake also triggered an avalanche on Mount Everest which buried part of base camp and killed at least 18 people.
Aftershocks triggered fresh avalanches there on Sunday even as helicopters evacuated some of those worst injured the day before.
Hundreds of foreign mountaineers had gathered at the world`s highest mountain at the start of the annual climbing season, and the real scale of the disaster there has been impossible to evaluate with communications all but cut off.With much of Kathmandu lying in ruins, tens of thousands of residents spent the night slept out on the streets, in makeshift tents fashioned from plastic sheeting that did little to protect them from heavy overnight rains.
With the ground still regular shaking from nerve-shredding aftershocks, many endured a sleepless and miserable night.
"We don`t have a choice, our house is shaky. The rain is seeping in but what can we do?," said 34-year-old shopkeeper Rabi Shrestha as he camped out on the roadside.
"I don`t know why the gods want us to suffer like this."
The situation has been exacerbated by power cuts and the country`s cell phone network is at breaking point.
The Nepalese government said it was stepping up efforts to help remote areas closer to the epicentre of the quake.
"Our focus is on rescue," Home Ministry spokesman Laxmi Prasad Dhakal told a news agency. "In far-flung areas, a larger helicopter will be stationed in the regional headquarters and smaller ones will shuttle with survivors."
Announcing the latest death toll in Nepal, a top disaster official said that emergency crews would also step up their efforts to rescue those trapped in high-rise buildings which pancaked on Saturday.
"Our efforts today will also be focused on finding survivors in areas where big buildings have collapsed," Rameshwor Dangal, who heads the home ministry`s national disaster management division, told a news agency.
The historic nine-storey Dharahara tower, a major tourist attraction, was among the buildings brought down in Kathmandu on Saturday.
Police said around 150 people were thought to have been in the tower at the time of the disaster, based on ticket sales.
"At least 30 dead bodies have been pulled out. We don`t have a number on the rescued but over 20 injured were helped out," local police official Bishwa Raj Pokharel told AFP.
"We haven`t finished our work there, rescue work is still continuing. Right now, we are not in a position to estimate how many might be trapped."
The Nepalese rescuers were being joined by hundreds of foreign aid workers from countries such as China, India and the United States.
Around 70 US aid workers, along with rescue dogs, headed to Nepal aboard a military transport plane which flew from Dover Air Force Base in Delaware.
India, meanwhile, flew in 13 military transport planes loaded with tonnes of food, blankets and other aid.
Hospitals have been overwhelmed by the disaster, with morgues overflowing and medics having to work through the night to cope with an endless stream of victims suffering trauma or multiple fractures.
Some surgeons have been operating from makeshift theatres set up in parking lots with the aftershocks making patients too scared to stay inside.
At the city`s oldest Bir Hospital, around a dozen dead bodies had to be placed on the floor, while stricken relatives stood vigil, trying to swat away the flies.
Nepal and the rest of the Himalayas, where the Indian and Eurasia tectonic plates collide, are particularly prone to earthquakes.
An 6.8 magnitude quake hit eastern Nepal in August 1988 killing 721 people, and a magnitude 8.1 quake killed 10,700 people in Nepal and India in 1934.