New Delhi: The US space agency NASA's Juno spacecraft mission to Jupiter has broken the record to become the humanity's most distant solar-powered emissary.
Juno has travelled about 493 million miles (793 million kilometers) from the Sun as of Wednesday morning at 11 am PST (2 pm EST, 19:00 UTC).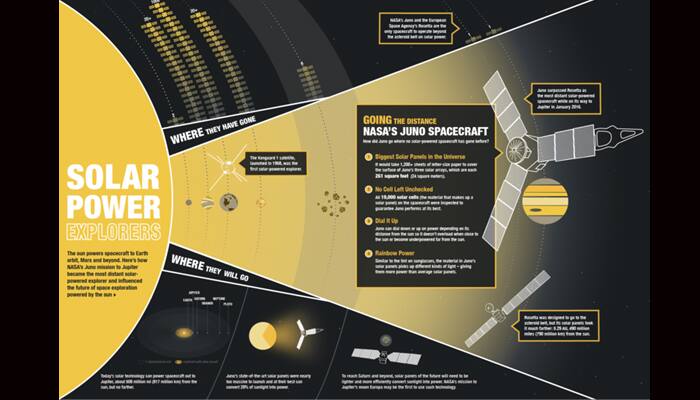 This graphic shows how NASA's Juno mission to Jupiter became the most distant solar-powered explorer and influenced the future of space exploration powered by the sun.
Credits: NASA/JPL-Caltech
European Space Agency's Rosetta spacecraft was the previous record-holder, whose orbit peaked out at the 492-million-mile (792-million-kilometer) mark in October 2012, during its approach to comet 67P/Churyumov-Gerasimenko.
NASA's Juno was launched in 2011and is the first solar-powered spacecraft designed to operate at such a great distance from the sun.  
Source: NASA