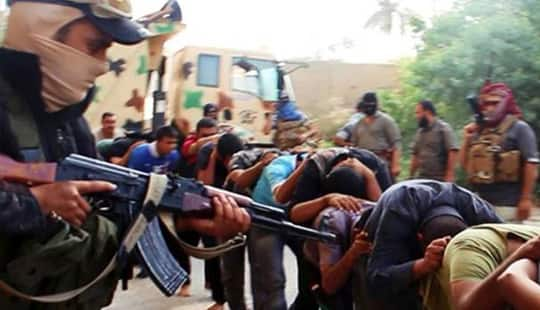 Zee Media Bureau/Supriya Jha
Damascus: It is hard to imagine a nuptial face of terror, but the Islamic State of Iraq and Syria (ISIS) has made clear that even as they go about their usual business of battling Iraq`s forces and executing them summarily, their fighters do need wives.
According to the British-based Syrian Observatory for Human Rights (SOHR), the Islamic State has opened "women's office" that operates from the city of Al-Bab, near Al Saraya building in Aleppo province of Syria, so that single women and widows can marry their fighters.
Resources from the city of Al Bab reported to SOHR that the Islamic state has opened women's office near Al... http://t.co/KfY56feMKC

— Syrian Observatory (@syriahr) July 28, 2014
"The mission of this office is to welcome the single women and widows who want to get marry of IS fighters. Their names, addresses and applications are registered, then IS fighters take their addresses and go to affiance them," said the SOHR on its Facebook post.
Not just marriage, the terrorists have it all planned and they are also offering honeymoon bus tours through the beaten-up streets of their Caliphate across Iraq and Syria – a journey that would speak volumes about the violence and terrorism with lanes dotted with destroyed Shiite mosques.
According to an AFP report, the homeymoon buses, with IS black flag hoisted high, will run twice-weekly tours from Syria`s Raqa to Iraq`s Anbar, playing jihadist songs throughout the journey.
Also, it is reported that the residents in Iraq are trying hard to hide their women from being married to the terrorists as the ISIS fighters come knocking door-to-door, asking for unmarried women and also go to the extent of checking their IDs to see their marital status.
According to a report in the Independent, "Residents say they are most frightened by Isis militants going door to door asking about the numbers of married and unmarried women in the house".
"They said that many of their mujaheedin [fighters] were unmarried and wanted a wife. They insisted on coming into my house to look at the women's ID cards [which in Iraq show marital status," one of the residents of Iraq`s Baiji town told the Independent.
The ISIS launched a lightning offensive in Iraq in June, capturing huge swathes of territory, taking dozens of towns including Mosul and Tikrit.
They later renamed themselves as the Islamic State and established a Caliphate across the captured parts of Iraq and Syria, calling for Muslims worldwide to join and obey them.