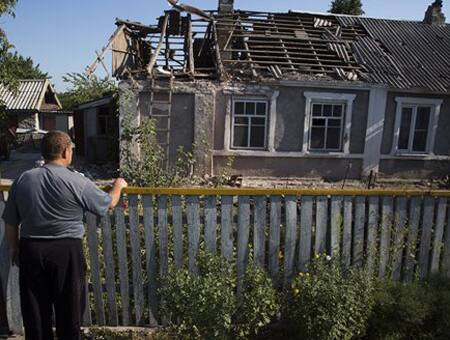 Donetsk: Ukrainian troops took control of a checkpoint today on the western edge of the pro-Russian rebel-held city of Donetsk as the government makes further gradual advances to quash separatist forces in the east.
An Associated Press reporter saw a tank waving the blue-and-yellow Ukrainian flag in the suburb of Marinka, which lies on a key road into Donetsk. Rebel combatants could still be seen in sniper positions in a nearby area closer to the city centre.
The government offensive against separatist fighters has focused recently on besieging the main rebel strongholds of Donetsk and Luhansk, as well as the smaller but strategically important town of Horlivka.
After not seeing much fighting other than a rebel attempt in May to seize the city airport, Donetsk has come under shelling in recent weeks. City authorities estimate that around 200,000 people in the city of 1 million have left their homes.
The airport is closed, but buses and trains are still running.
Pro-Russian separatists in eastern Ukraine have been battling the Kiev government since April. Ukraine and Western countries have accused Moscow of providing the rebels with equipment and expertise, a claim the Russian government has repeatedly denied.
The West has also accused Russia of most likely providing the insurgents with surface-to-air missiles that may have been used to shoot down a Malaysia Airlines passenger jet over rebel-held territory on July 17, killing all 298 people on board.
Despite the presence of pro-government forces at the western entrance into Donetsk, defense officials said that the situation there remained in flux.
A spokesman for the Ukrainian military operation in the east, Oleksiy Dmitrashkovsky, said further fighting was expected to ensure full control over Marinka.
Yesterday, security officials announced that government troops had taken over Yasinuvata, a town just north of Donetsk that is the site of an important railway junction.
Security spokesman Andriy Lysenko said that victory would enable the army to cut off a key rebel weapons supply route.
The government has for several days claimed success in another key tactical goal of driving a wedge between Donetsk and Luhansk. Fighting in towns between those locations has taken a heavy toll on government troops, however.
Around 20 kilometres (12 miles) north of a town that has seen some of the most bitter clashes, a team of more than 100 international investigators from Australia, the Netherlands and Malaysia is traveling daily to the site where Malaysia Airlines Flight 17 was shot down.