GOLD COAST: After a fantastic show on Day 8, Team India began the Day 9 with a bang on Friday. Wrestler Bajrang Punia won a Gold - 17th for India - in Men's Freestyle 65 kg wrestling competition. Earlier, young Indian shooter Anish bagged a Gold for India in men's 25m Rapid Fire Pistol. The 16th gold for India came shortly after Indian shooters Tejaswini Sawant and Anjum Moudgil bagged a Gold and Silver respectively in women's 50m Rifle 3 final. Indian wrestler Pooja Dhanda, however, lost to her Nigerian opponent Odunayo to settle for a Silver. Divya Kakran too settled for a Bronze after decimating Bangladesh's Sherin Sultana in women's 68kg freestyle wrestling. India's last wrestling medal contest of the day ended up in a Silver for Mausam Khatri who was decimated by Martin Erasmus 2-12. India has so far claimed 17 Gold, 11 Silver and 14 Bronze, taking its total tally to 42. 
Australia, however, continues to dominate the tally with a maximum number of Gold medals (64), followed by England with 29 Gold, 33 Silver and 32 Bronze medals (94). With 17 Gold, 10 Silver and 12 Bronze, India are currently third in the overall ranking (39). Canada (13, 29, 19), South Africa (11, 10, 12) and New Zealand (10, 12, 10) are on the fourth, fifth and sixth positions respectively. 
Tap here for latest updates on the Gold Coast 2018 Commonwealth Games. 
Here is the current medals tally on the Day 9 of the Commonwealth Games 2018, Gold Coast:-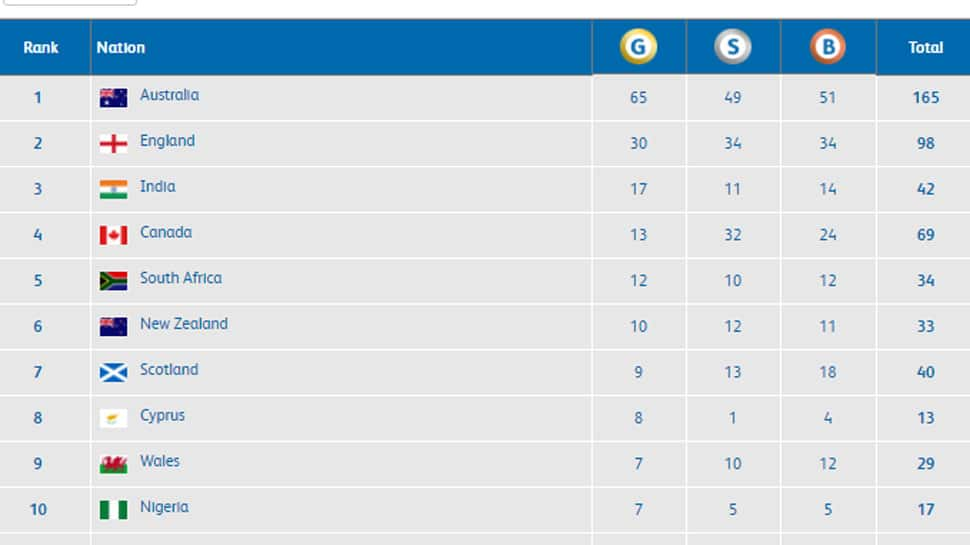 (Medals tally updated at 1620 IST on Day 9, April 13, 2018)
India's Medal Winners on Day 9
Pooja Dhanda
India's Pooja Dhanda finished with the Silver medal in the women's 57-kilogram wrestling category at the 21st Commonwealth Games (CWG) in Australia's Gold Coast on Friday. Pooja lost 5-7 to defending champion Odunayo Adekuoroye of Nigeria in the final.
Bajrang Punia
Wrestler Bajrang Punia won a Gold - 17th for India - in Men's Freestyle 65 kg wrestling competition. He defeated his Welsh rival Kane Charig. 
Naman Tanwar 
Teenage boxer Naman Tanwar lost to crowd favourite Jason Whateley in another exciting contest in the heavyweight 91kg category to settle for a Bronze, taking India's total tally to 35. This was Naman's biggest performance since the bronze medal claimed at the youth world championships.
Anish Bhanala  
Indian shooter Anish Bhanala created history by becoming the country's youngest ever gold medal winner at the Commonwealth Games. The teenager from Haryana achieved the feat when he stormed his way into the Gold medal with a Games record in the men's 25m rapid fire pistol event at the Belmont Shooting Centre.
Anish shot down the CWG record in the final with a score of 30 including four series of 5 each. The youngest in the field, he showed nerves of steel and led the more experienced shooters through the event to emerge deserving champion. Australia's Sergei Evglevski claimed the Silver with 28, while the Bronze medal went to Sam Gowin (17) of England. 
By winning the Gold, Anish bettered team-mate Manu Bhaker, who had become the youngest Indian Commonwealth Games gold medallist earlier this week when she emerged champion in the 10m air rifle finals.  In the Qualifications, Anish scored 580 to finish top of the tally while Neeraj was second best with 579. Anish scored 286 in stage 1 and 294 in stage 2 qualifying, while Neeraj had 291 in stage 1 and 288 in stage 2.
Tejaswini Sawant
Indian shooter Tejaswini Sawant on Friday bagged a Gold in women's 50m Rifle 3 final at the 21st Commonwealth Games in Australia's Gold Coast. The seasoned Tejaswini Sawant shattered the games record en route to winning the Gold medal. In a 1-2 finish for India, the 37-year-old Tejaswini shot a CWG record 457.9 in the event's finals at the Belmont Shooting Centre.
Scotland's Seonaid Mcintosh won bronze 444.6. This is the seventh CWG medal for Tejaswini, following two golds in 2006, a pair of silvers and a bronze in 2010 and as silver in women's 50m rifle prone in the ongoing edition yesterday. Tejaswini shot 582 (194, 196, 192) to finish third in qualifying.
The Kolhapur-born Tejaswini had earlier equalled the world record after winning gold in the Munich World Championships in 2010 in the 50m rifle prone. 
Anjum Moudgil 
On the other hand, another Indian shooter Anjum Moudgil bagged a Silver in the women's 50m rifle 3 positions event, as Indian shooters set the stage ablaze in the 21st Commonwealth Games. 
The 24-year-old Moudgil has tasted her first success in these Games while making her maiden appearance.
In the qualification, Moudgil had shattered the CWG Qualifying record by a significant margin. Her 589 (196 in kneeling, 199 in prone and 194 in standing) ensures she finished at the top in qualifying.
Day 8
India's gold medal count swelled to 14 on Thursday thanks to Olympic silver medallist Sushil Kumar to claim the honours in the 74kg category. He took just 80 seconds to pin his South African opponent Johannes Botha down in the final in Gold Coast. Sushil racked up 10 technical points to win the gold. 
In another wrestling final, the men's 57 kg category, India's Rahul Aware also claimed the yellow metal to ensure India won their 14th gold, beating Canada's Steven Takahashi in a domineering display of technique and strength. Aware collected 15 points and gave away just seven to pin his opponent down. 
India added another silver to their tally through Babita Kumari, who despite being pitted as a gold medal contender in the 53kg category, lost a close final against Canada's Diana Weicker. The second of the Phogat sisters and former CWG gold medallist Babita could garner only two technical points and conceded 5 to see the gold slip away from her grip. 
Another women's grappler Kiran who was competing in the bronze medal match in the 76kg category won easily on her technical prowess as she garnered 10 points on the mat to beat the Mauritian opponent Katouskia Pariadhaven.
From the shooting ranges, India's Tejaswini Sawant won silver in the women's 50m prone finals. She aggregated 618.9 and lost the final by a narrow margin of fewer than 3 points to Singapore's Martina Lindsay Veloso, whose final effort also became a Games record. 
Later in the evening at Gold Coast, Indians Seema Punia and Navjeet Dhillon won silver and bronze in the Discus final. Punia started well with a throw of 60.41m, which happened to stay her best in the final. She couldn't better her mark in the next five attempts but was placed well for a silver. Australia's Dani Stevens won the gold with a Games record throw of over 68m. Navjeet Dhillon too had an underwhelming evening as she barely crossed the mark for the bronze in her last attempt.
India medals tally has aggregated to 31 medals including 14 gold, 7 silver and 10 bronze.