Photo Gallery: PM Modi takes holy dip, honours sanitation workers at Kumbh
Prime Minister Narendra Modi Sunday took a holy dip at the Sangam here and interacted with sanitation workers, who have ensured cleanliness during the ongoing Kumbh Mela, describing them as "real karma-yogis" whose contributions are being lauded all over. PM Modi also performed the Ganga aarti and conducted 'Charan Vandana' (washing the feet) of select sanitation workers, as a mark of respect to their efforts in ensuring a clean Kumbh. He presented them 'angvastram' and said he would carry the memory of washing the feet of safai karamcharis life-long. In a tweet, he said he prayed for the well-being of 130 crore Indians at the Sangam. He described all those, who have been involved in ensuring the best of arrangements for the devotees gathering at Prayagraj for the Kumbh, as "real karma-yogis". In this context, he mentioned the NDRF, the boatmen, the local population, and the sanitation workers as well.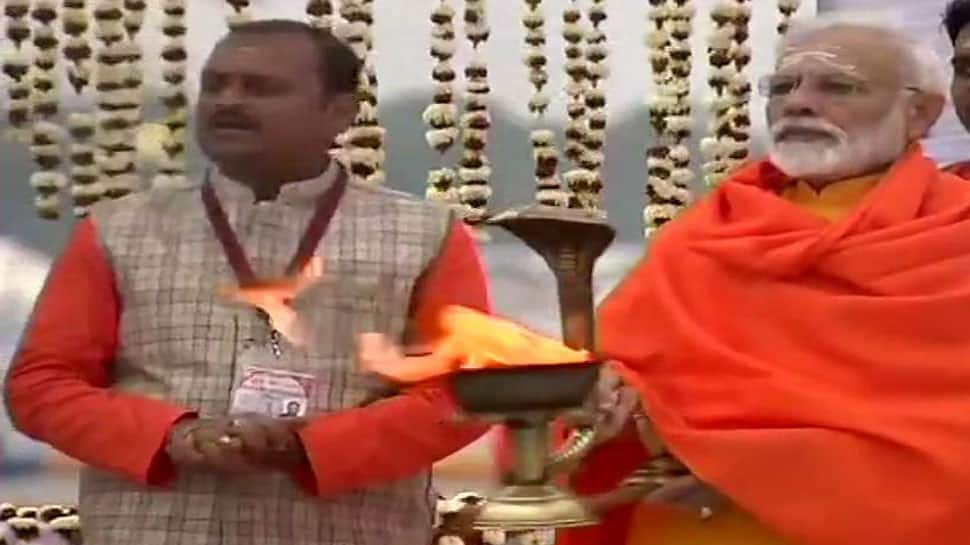 Starting and ending his speech paying gratitude to the holy rivers in Prayagraj, a place of reverence, especially for Hindus, PM Modi also praised the "naaviks' (boatmen), calling them the "sevak" of Lord Ram. The prime minister described himself as their, the boatmen's, pradhan sevak (principal servant). He said the infrastructure created for this year's Kumbh is permanent, unlike previous years.