So end of the Day 1 at Incheon. Tune in tomorrow for more action!
After Shweta Chaudhry opened India's account with her bronze medal, world No.1 shooter Jitu Rai gave India their first gold at the 2014 Asian Games. At Incheon, India aim to improve upon their 14 gold won in the 2010 Games in Guangzhou. There are as many as 439 gold medals up for grabs.
19:25 IST: Equestrian: Indian women's Equestrian team finished sixth in the dressage Prix St-Georges event on the opening day of competitions.
18:58 IST: Badminton: India beat Thailand in the women's team QF to set up a date with South Korea in the semis.
18:30 IST: Badminton: China face Japan in the SF of the women's team event while the winner of India v/s Thailand will face S Korea.
18:28 IST: Badminton: Ashwini/Sindhu win the first game against Sapsiree/Saralee.
18:05 IST: Badminton: Our Women's team quarter final is going to the decider. Thailand have pulled it back from 2-0 to 2-2.
17:45 IST: Badminton: Reddy/Gadre level the doubles match at 1-1 by winning the second game 21-18. India lead the tie 2-1.
17:44 IST: Wushu- Sanathoi Devi qualifies for the QF in the Women's 52 kg with a 2-0 victory over her Uzbek opponent.
17:30 IST: Badminton: Kunchala/Porntip leading against Reddy/Gadre by a game to nil. 
17:23 IST: Badminton- Reddy/Gadre up against Porntip/Kunchala in the first of 2 doubles rubbers. If India win this, they win the tie!
17:22 IST: Weightlifting- Om Yunchol (DPRK) has just set the World Record for Clean & Jerk and Total Weight Lifted in Men's 56kg!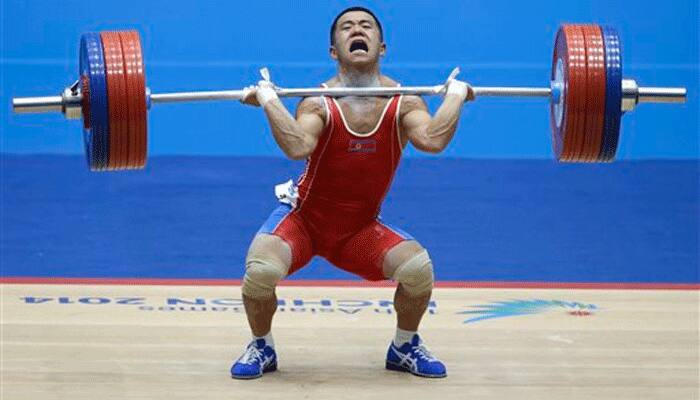 17:05 IST: Badminton- Busanan has pulled one back for Thailand and its 2-1. Now India must win one of the doubles coming up.
16:44 IST: Badminton- PC Thulasi loses her first game 12-21. India lead the tie 2-1.
16:04 IST: Badminton- Thulasi (ranked 41) will have to cause an upset against Busanan (ranked 20) to give India a 3-0 sweep
16:03 IST: Badminton- Sindhu wins 21-15, 21-13 to give India a 2-0 lead against Thailand in the women's QF. Next: Thulasi v/s Busanan.
15:58 IST: Badminton- P V Sindhu leads game two by 15-8.
15:55 IST: Wushu- Bimaljit Singh is leading against his opponent from Turkmenistan.
15:54 IST: Wushu - So in Men's Sanda, Narendar Grewal has won his Round of 16 encounter against his Nepalese opponent.
15:52 IST: Badminton: PV Sindhu takes first game against Porntip. If she wins this, India will lead 2-0 v/s Thailand.
15:51 IST: Badminton - Saina Nehwal beats Thailand's Ratchanok Intanon in three games to give India the lead in Women's team quarter final.
15:49 IST: South Korea breeze past India with a comfortable 3-0 in the Women's Volleyball Group A match.
15:31 IST: Squash - Saurav Ghosal wins his Round of 16 singles' match beating Alsaraj Ahmed from Jordan 11-2 11-3 11-4.
14:47 IST: Men's Volleyball - India beat Hong Kong 3-1 after losing the first set in Group C opener.
14:44 IST: Kalpana Thoudam's bronze medal bout in Women's Judo (52 kg) is scheduled for a 16:00 IST start.
14:38 IST: India beat Palestine 89-49 in Men's Basketball with a dominant display.
14:14 IST: Squash - Joshna Chinappa won her singles Round of 16 match in three straight games.
13:54 IST: Continuing from there good form at the Commonwealth Games, Joshna Chinappa and Dipika Pallikal have both won Game 1 of their respective singles' squash matches.
13:51 IST: India win the second set in Men's Volleyball opener against Hong Kong. The match is now tied one set apiece.
13:46 IST: Shweta Chaudhary at the ceremony with her 10m Air Pistol bronze medal.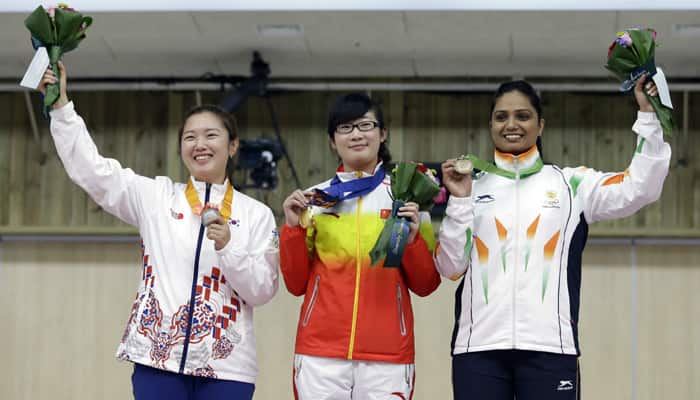 13:31 IST: At the end of second quarter, India leads Palestine 40-23 in Men's basketball.
13:29 IST: Despite ranking 90 spots below India in the Volleyball rankings, Hong Hong take the first set 25-23 in the group opener.
13:11 IST: India is currently facing Hong Kong in the Men's Volleyball event.
12:20 IST: Sushila Likmabam has qualified for the Repechage match in Women's Judo (48kg). A win would put her in contention for a bronze medal.
11:56 IST: Navjot Chana and Sushila Likmabam, both medals winners at the Commonwealth Games, lose their Round of 16 and QF matches respectively.
11:49 IST:Earlier in the day, Shweta Chaudhary picked up India's first medal of the 2014 Asian Games as she won a bronze in the 10m air pistol event.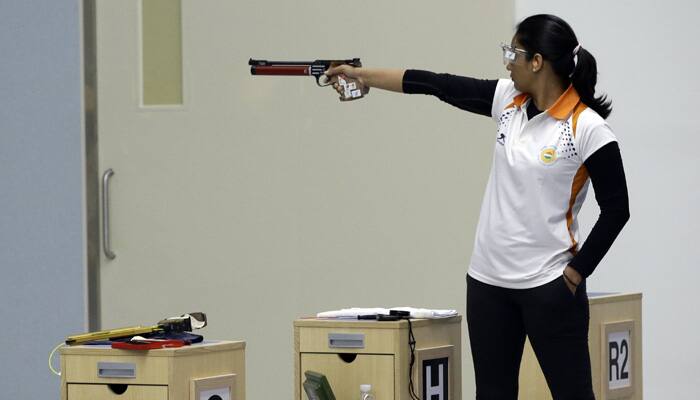 11:44 IST: Korea beat India 3-0 in Men's Badminton team event.
11:31 IST: Sushila Likmabam is through to the quarterfinals of Women's Judo (48 kg). She won silver medal in the women's 48 kg weight class at the Judo at the 2014 Commonwealth Games.
10:41 IST: Judo - Navjot Chana wins his about against Abdalla Almaraghy to enter the Round of 16. He had won a silver medal in the men's 60 kg weight class at the 2014 Commonwealth Games.
10:37 IST: Mission accomplished!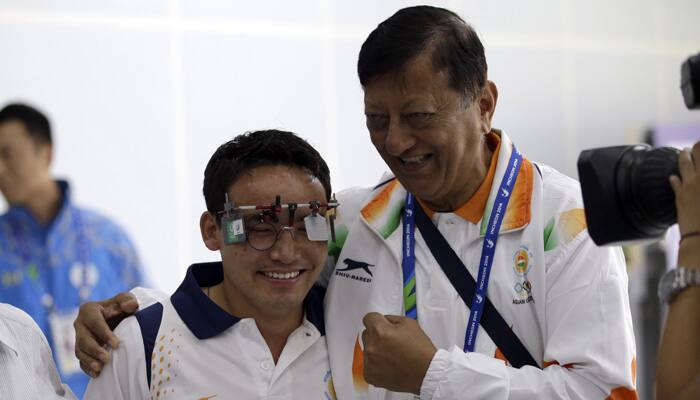 10:16 IST: Jitu Rai celebrates with his coach Mohinder Lal after winning the Gold Medal in the final of the 50m Pistol Men at the Ongnyeon International Shooting Range for the 17th Asian Games in Incheon.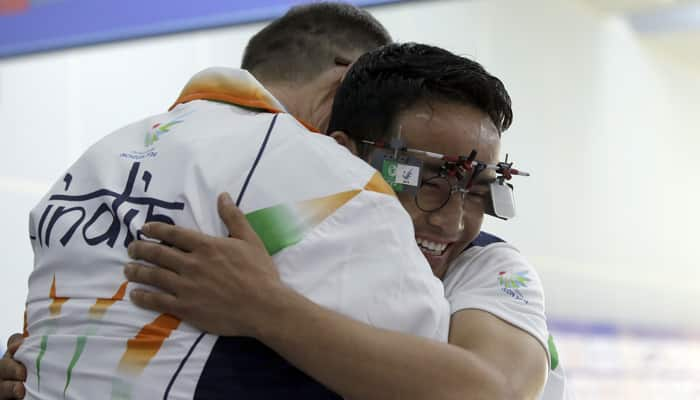 09:50 IST: Son Wanho beats Srikanth Kidambi in two games. Next up, the doubles pairing of Manu Attri and Sumeet Reddy will take on Korea in the second match. India trail 0-1.
09:50 IST: Srikanth Kidambi is now in action against World No.7 Son Wan-Ho for India against Korea in Men's team badminton event. He loses the first match 21-14.
09:42 IST: Fresh from his 50m Pistol silver in the World Championships, the Lucknow-based shooter completed a grand double as he had won a gold in the Commonwealth Games in Glasgow earlier this year.
Jitu Rai, who serves the Gurkha regiment, was on target from the word go after moving into the finals even as compatriot Omkar Singh failed to cross the qualification hurdle.
In the finals though, Rai was tested by Vietnam's Nguyen Hoang Phuong, who had to settle for silver and bronze medallist Wang Zhiwei of China.
Rai accumulated 186.2 points in comparison to Phuong's 183.4 and Zhiwei stood a distant third with 165.6 points. This was India's second medal at the ongoing Games after Shweta Chaudhry's bronze in the 10m air pistol event.
09: 37 IST: Jitu Rai was a picture of concentration in the final. Here is a wonderful image of him shooting his way into the history books.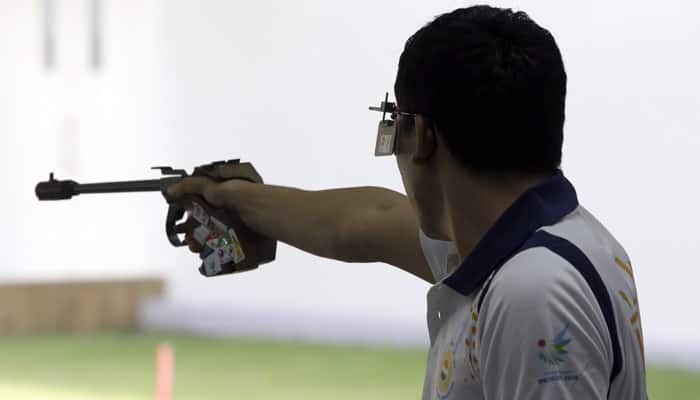 09:33 IST: Other events with Indian interest today include judo, weightlifting, wushu, badminton, equestrian, tennis, volleyball, squash and handball.
09:07 IST: Rai creates history with a Commonwealth and Asian Games double gold. He has been in sensational form in 2014 winning 6 international medals since June.
09:02 IST: Jitu Rai is now assured of at least a bronze medal.
08:53 IST: Jitu Rai is now in action at the Ongnyeon International Shooting Range. He is India's big hope in the 50m Air Pistol final.
India bags first medal
Shweta Chaudhary shot the first medal for India in the 2014 Asian Games after she won the bronze in the women's 10m air pistol at the Ongnyeon International Shooting Range.
Shweta, a part of the silver winning team in 2006 Doha Asian Games, shot a total of 176.4 in the final to clinch the bronze medal while the silver went to South Korean Jung Jeehae (201.3) and China's Zhang Mengyuan (202.2) won the gold. Jung won the World Championships earlier this month in Grenada, Spain.
World No. 46 Shweta took everybody by surprised as he she finished fourth in the qualifying round with a score of 383. She had a series of 97, 94, 97 and 95 and also had 13x.
Among other Indians, former World No. 1 Heena Sidhu and Commonwealth Games silver medallist Malaika Goel disappointed and failed to qualify for the final round. Heena, World No. 4, shot a series of 94, 97, 92, 95, that included 12x, to finish 13th with a score of 378 in the qualifying round while 16-year-old Malaika, World No. 20, was 24th with a score of 373. Malaika had a series of 91, 96, 91, 95 and had 8x.
The Indian team comprising Shweta, Heena and Malaika finished fifth with a score of 1134 in the team event.
Chinese markswomen Guo Wenjun, Zhang Mengyuan and Zhou Qingyuan team gold with a score of 1146. It was the fourth consecutive time for China to take the first gold medal at the Asian Games since 2002 Busan Asiad.
The 2008 and 2012 Olympic champion Guo, and her teammates Zhang and Zhou, executed a stable and consistent performance to finish first with a winning total of 1,146 points. Chinese Taipei ranked second by five points, and the bronze medal went to Mongolia, who got 1,140 points.
Opening Ceremony
The 17th Asian Games opened in a multi-coloured blaze of fireworks and carefully crafted K-Pop routines on Friday, as athletes from the world`s most populous region came together in pursuit of gold and glory in South Korea.
An array of Olympians and regional sports stars will compete over 15 days of competition in Incheon where South Korean President Park Geun-hye and Olympic chief Thomas Bach were among the powerful figures watching a vivid opening ceremony.
Athletes dressed in colourful national garb, sharp suits and comfortable tracksuits waved to a crowd of 60,000, who offered enthusiastic welcomes to delegations from 45 countries including the South`s belligerent neighbour, North Korea.
South Korean culture, known as the `Korean Wave` or Hallyu, has swept through Asia in recent years generating billions of dollars in revenue from drama and pop music and Friday`s ceremony drew heavily on its influence.
Actress and model Lee Young-ae, the face of countless commercials across the region, lit the Asian Games cauldron and `Gangnam Style` singer Psy delivered a rousing finale.
The ceremony, dubbed: `Dream of 4.5 billion people, One Asia,` also featured traditional Korean performances of song, dance and poetry as athletes stood shoulder to shoulder behind the flags of 45 countries at the Incheon Asian Main Stadium.
Sheikh Ahmad Al-Fahad Al-Sabah, the president of the Olympic Council of Asia (OCA), told the athletes: "We are delighted to welcome you and are looking forward to seeing you compete and perform based on fair play and respect.
"You are the heart and soul of the Games."