MATCH ABANDONED
Finally, the match has been officially abandoned!
As things stand, Australia are on 15 points and remain undefeated in the tri-series. England are on five points, three ahead of India.
After today's rained off, the winner of January 30 match between England and India will play Australia in the final. It certainly brightens India chances from the gloomy prospect they had yesterday. Yes, in case of a wash-out like today, England will go through.
---
Decision made! The #AustraliaDay match has officially been called off! Australia remain undefeated. #AUSvIND #WWOS pic.twitter.com/W4FaAdS8AO

— Wide World of Sports (@WWOS9) January 26, 2015
---
Rain stopped. And umpires are back. Don't exactly know what to read in this new development. What will be the match like?
No rain, and the umpires are back on the field! #AUSvIND

— cricket.com.au (@CricketAus) January 26, 2015
---
If the match is abandoned, it will at least do some favours to this embattled India side. They will have two points, as against England's five going in the final round-robin match.
The winners of that match play Australia in the final.
---
And a glimpse at what Australian cricketers do when it's raining
Cards and a crossword during the rain delay... #AUSvIND #AustraliaDay pic.twitter.com/l7bXKmxsJB

— cricket.com.au (@CricketAus) January 26, 2015
---
No signs of cricket in Sydney, but elsewhere in Melbourne, men's defending champions Stan Wawrinka survived a grueling four-set dog-fight with Guillermo Garcia-Lopez to enter quarter-final. In women's section, Serena Williams, Dominika Cibulka have entered the last 8.
#Serena: "I hear my name around the whole stadium. I get that every year here - it's one of my favourite places" pic.twitter.com/HiE5dBrxoR

— Australian Open (@AustralianOpen) January 26, 2015
---
It's looking pretty bad
More rain and the covers come back out here at the @scg! India 2/69, Kohli* 3, Rahane* 28. #AUSvIND #AustraliaDay pic.twitter.com/XkEQ3OzGYn

— Wide World of Sports (@WWOS9) January 26, 2015
---
Just to keep us occupied
Warner enjoyed that one! LIVE: http://t.co/C2jSvYaLSf #AUSvIND pic.twitter.com/TW2IZruxZ0

— cricket.com.au (@CricketAus) January 26, 2015
---
INDIA INNINGS
OVER 16 | SCORE 69/2 (Kohli 3, Rahane 28)
India are struggling and the rain is back.
---
OVER 12.5 | SCORE 62/2 (Rahane 24, Kohli 0)
David Warner plucked a skier to send Rayudu back. The Aussie dynamo ran back quite a distance to complete the catch.
Ambati Rayudu c David Warner b Mitchell Marsh 23 (24b)
It was briskly innings from Rayudu but his playing style only confounded the perceived role of a no.3. He was charging down and hitting at will. Bad cricket!
---
OVER 10 | SCORE 45/1 (Rayudu 14, Rahane 19)
Ambati Rayudu is taking on the Aussies. He is already on 14 off 13 balls, with the help of a four and a six. Rahane is on 19 off 34 balls.
Under the revised playing conditions, power-play overs is done at 9th.
---
OVER 6.1 | SCORE 24/1 (Rayudu 0, Rahane 8)
Another failure of Dhawan. Perished after a patient 8 off 13 balls. Starc extracted just enough bounce to invite the Indian opener to fish outside the line, and Aaron Finch completed a simple, regulation catch at first slip.
Shikhar Dhawan c Aaron Finch b Mithcell Starc 8 (13b)
Ambati Rayudu is batting first down.
---
OVER 5 | SCORE 18/0 (Dhawan 7, Rahane 8)
After numerous rain interruptions, the match finally get on with India starting steadily with ever watchful Ajinkya Rahane giving company to a rather circumspect Shikhar Dhawan under a cloudy Sydney sky.
Australia are sticking with Mitchell Starc and Josh Hazlewood.
And most the runs are coming through singles and doubles. Only boundary in the first five overs was from the blade of Rahane, off Hazlewood, a glance flick.
---
Play to start at 4.06pm AEDT, reduced to 44 overs per side #AUSvIND #AustraliaDay

— cricket.com.au (@CricketAus) January 26, 2015
---
Oh... this is painful. Rain is back again and so thus the covers.
---
Covers are off again. And the play is expected to resume soon, if there is no further rain.
---
After 2.4 overs play in Sydney, rain arrived again to stop the play. Shikhar Dhawan on 1 off 3 and Ajinkya Rahane on 2 off 13 were on the crease. For Australia, Mitchell Starc and Josh Hazlewood shared the new ball. 
It's an awful situation for the Indian team to be in. India need a big win today, and it's raining.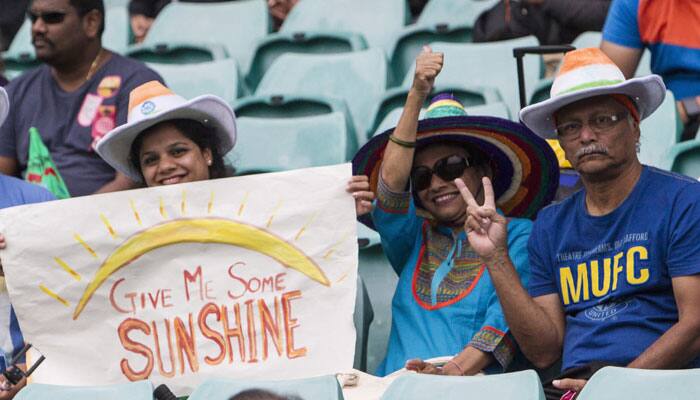 ---
Team news:
Aus XI: Finch, Warner, Maxwell, Smith, Bailey (C), Faulkner, Marsh, Haddin (wk), Starc, Hazlewood, Doherty
Ind XI: Dhawan, Rahane, Rayudu, Kohli, Raina, Dhoni (c & wk), Binny, Patel, Jadeja, Mohammed Shami, Ishant Sharma
Big news: Ravindra Jadeja is playing, his first on the tour after recovering from injury. Ishant Sharma also returns. And David Warner is back too for the home side.
---
TOSS: Goerge Bailey won the Toss and asked India to bat first under this overcast conditions.
George Bailey has won the toss and elected to bowl first #AustraliaDay #AUSvIND pic.twitter.com/PQT3MRrYRH

— cricket.com.au (@CricketAus) January 26, 2015
---
Finally some good news! Covers are off, and toss coming shortly. Here is the revised playing condition
Revised playing conditions #AUSvIND #AustraliaDay pic.twitter.com/wQKpplzTMJ

— cricket.com.au (@CricketAus) January 26, 2015
---
The latest news is a dampener though. The toss has been delayed to rain and the covers are still out there.
We're LIVE from the wet @SCG for the #AustraliaDay ODI on @Channel9! #AUSvIND #WWOS pic.twitter.com/i8TydGkZnX

— Wide World of Sports (@WWOS9) January 26, 2015
---
BTW, here are the squads:
Australia: Michael Clarke (c), George Bailey (vc), Pat Cummins, Xavier Doherty, James Faulkner, Aaron Finch, Brad Haddin (wk), Josh Hazlewood, Mitchell Johnson, Mitchell Marsh, Glenn Maxwell, Steven Smith, Mitchell Starc, David Warner, Shane Watson, Gurinder Sandhu, Moises Henriques, Shaun Marsh.
India: MS Dhoni (c & wk), Shikhar Dhawan, Ajinkya Rahane, Rohit Sharma, Virat Kohli, Ambati Rayudu, Suresh Raina, Stuart Binny, Axar Patel, R Ashwin, Ravindra Jadeja, Ishant Sharma, Bhuvneshwar Kumar, Mohammad Shami, Umesh Yadav, Dhawal Kulkarni, Mohit Sharma.
---
Welcome to our coverage of the fifth match of the Tri-series between Australia and India being played at Sydney Cricket Ground. It's a huge day, of cricket and also that of nationalism. It's Australia Day Down Under and Republic Day for the Indians. Australia have already qualified for the final and for India, it is a must win game to keep their faintest of hopes alive for the title match.