Brisbane: England thrashed India by 9 wickets in Match 3 of the ODI tri-series at the Gabba. After demolishing the Indian batting line-up thanks to superlative performances by Steve Finn and James Anderson, England's batsmen, lead by Ian Bell, knocked off the runs with ease. With that clinical show, England earned a bonus point going second on the points table behind Australia.
---
OVER 27.3 | SCORE 156/1
ENGLAND WIN!
Ian Bell and James Taylor ticked off those runs with relative ease. Taylor paddled Patel's delivery for a boundary to hit the winning runs. Bell was unbeaten on 88 and Taylor on 56. Both the batsmen looked in good form as Axar and Shami failed to provide any breakthrough during the course of their spell.
---
OVER 20 | SCORE 111/1
Bell and Taylor continued to flay India's attack in their pursuit of the modest total. Bell continued to motor along after scoring a fifty while Taylor too is fast approaching the 50-run mark.
---
OVER 15 | SCORE 81/1
Bell is quickly approaching his first half-century of this tournament. Taylor has done a fine job helping him put on this partnership. Indian bowlers have been unable to find an purchase from this wicket and they have been negotiated with ease by the duo.
---
OVER 10 | SCORE 67/1
England resumed from where they left off after the break as Bell in particular continued to pile on the misery for the Indian bowlers. Shami was introduced into the attack for the first time in the 10th over and was crunched through square leg for a boundary by Taylor.
---
England go into the 30-minute break needing only 113 runs with 44 overs remaining. This has been a clinical performance from the Poms and despite a breakthrough, India's bowling has been as hapless as their batting.
---
OVER 6 | SCORE 41/1
Umesh Yadav was punished by Bell and Taylor as they picked up 10 runs off his second over. The pacer gave away easy runs to the duo by straying on their pads.
---
OVER 5 | SCORE 31/1
Bhuvi was taken out of the attack and replaced by Umesh. Bell has raced to 21 off 14 ball with two boundaries. Taylor is yet to open his account. But there is no rush and these two can spend some time in the middle as they chase down the target.
---
OVER 3 | SCORE 25/1
After a brisk start, England lost their first wicket as Moeen chipped Binny's slower delivery to Kohli at mid-off. James Taylor is the new man in!
Kohli b Binny 8 (12b)
---
OVER 1 | SCORE 4/0
Surprise Surprise!
Dhoni gave the new ball to Binny, who started off with a no ball but recovered later to bowl a steady first over to the English openers - Moeen Ali and Ian Bell.
---
An abject batting display from India at the Gabba today. Finn and Anderson were just too hot to handle for the Indian batsmen. Apart from Binny and Dhoni, there was hardly any resistance from the men in blue. The extra bounce off the deck was the undoing of most Indian batsmen. England are now in pole position to win this match with a bonus point. India need a miracle.
---
OVER 40 | 153
India all-out for 153!
Anderson polished off India's innings in the 40th over, picking up his fourth wicket. He first dismissed Binny, who attempted to chip the ball over mid-off, but only managed to lob it in the air for Mogran to complete a superb catch running backwards. Then Shami crunched the ball from the sweet spot of his bat; unfortunately, he failed to clear the boundary and Moeen took a smart catch near the ropes.
Shami c Ali b Anderson 1 (7b)
Binny c Morgan b Anderson 44 (55b)
---
OVER 39 | 153/8
With Shami for company and Umesh in next, Binny has decided to go on the offensive now. He took on Finn by stepping out and smashing him over the long on boundary and into the stands for his second six. 
---
OVER 38 | 143/8
Anderson picked his second wicket as Bhuvi played the wrong line to a full and straight delivery hitting the top of the off-stump. Shami is the new man in!
B Kumar b Anderson 5 (5b)
---
OVER 37 | 141/7
DOUBLE BLOW! 
First, Finn bounced Dhoni who gloved the ball behind to Buttler attempting a pull. Then, bowling round the stumps, Finn went through Axar's defense. The delivery, moved in after pitching and hit the stumps after taking an inside edge off the bat. Bhuvi, next man in, denied a hat-trick to the rampaging Finn by leaving the ball.
A Patel b Finn 0 (1b)
Dhoni c Buttler b Finn 34 (61b)
---
OVER 36 | 137/5
Anderson,back onto the attack, dropped Dhoni off his own bowling. It was a simple chance and Jimmy struck out his hand to catch the ball that arrived to him slower than expected.
---
OVER 35 | 136/5
India opted for the batting powerplay. Finn, brought back into the bowling attack, conceded only 1 run in the first over of the batting powerplay.
---
OVER 34 | 135/5
Binny is growing in confidence as he spends more time in the middle. He smashed Moeen for a six straight back over his head. The use of his feet to meet the ball was most impressive. Binny moves on to 37 off 45.
---
OVER 31 | 115/5
Dhoni and Binny have stitched up a partnership of 48 runs. The pair has played sensible cricket to consolidate India's innings. The skipper is batting on 23 and Binny is giving him company on 26.
---
OVER 19 | 67/5
Finn picks his 3rd wicket. That had shades of Kohli's dismissal. Rayudu tried to glide the ball down to third man with a horizontal bat; unfortunately for him, the extra bounce on the ball picked up a nick of his bat and into Buttler's gloves. That was the England keeper's 4th victim so far this morning.
Rayudu c Buttler b Finn 23 (53b)
---
OVER 18 | 66/4
Moeen, man with golden arm, strikes again!
The left-hander stepped out early, but was left standed when Moeen's delivery beat his outside edge. Buttler was quick to dislodge the bails. India's skipper now finds himself in a situation he knows all too well.
Raina st Buttler b Ali 1 (3b)
---
OVER 17 | 65/3
GONE! Virat Kohli is dismissed by Finn. India now in a spot of bother. 
Kohli tried to run down the ball to third man; but the extra bounce caught the shoulder of his bat and flew into the hands of Buttler. Kohli is livid with his shot selection. Raina walks in to bat.
V Kohli c †Buttler b Finn 4 (8b)
---
OVER 15 | 58/2
India lost their second wicket as Rahane's was holed out at mid-wicket. The Mumbai batsmen has thrown his wicket away by coming down the track and and trying to smash Finn over midwicket. Just when India were dominating a brief spell of this game, England have pegged them back. Next in the Kohli, who is greeted with a huge roar by the Indian fans.
Rahane c Taylor b Finn 33 (40b)
---
OVER 13 | 53/1
After the end of Anderson's spell, Finn was brought into the attack. Rayudu danced down the track and smashed the pacer through extra cover for a boundary. 
---
OVER 10 | 36/1
Morgan made the first bowling change by introducing Broad into the attack in the 8th over. After picking up four runs off his first over, the right hander picked up 10 off Broad's second with a authoritative six and then a streaky boundary.
---
OVER 7 | SCORE 18/1
Rayudu pulled Anderson over mid-wicket for India's first boundary of the morning. He was being bogged down and that shot will definitely release some pressure off him.
---
OVER 6 | SCORE 9/1
Anderson and Woakes are building pressure on the Indian batsmen. Rayudu has 1 run off 15 deliveries. At the end of 6 overs, India have still not scored a boundary.
---
OVER 3 | SCORE 6/1
Anderson continues to haunt the Indian batsmen. His delivery around the off-stump was edged by Dhawan straight into the safe hands of Buttler. The movement and extra bounce probably did the left-hander in there. Another failure for Dhawan. Rayudu comes out to the middle.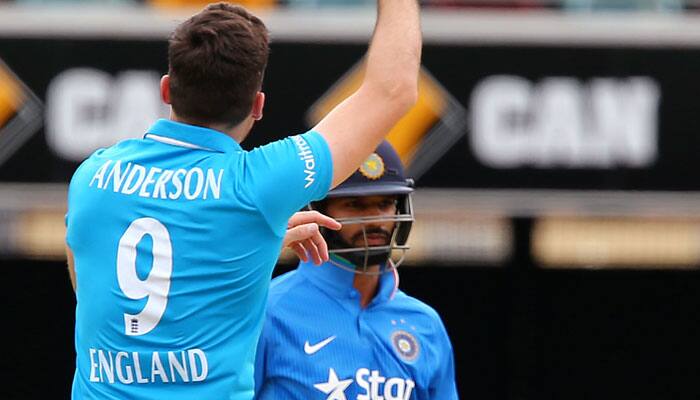 Dhawan c Buttler b Anderson 1 (5b)
---
OVER 2 | SCORE 1/0
Chris Woakes shared the news ball with Anderson. Dhawan got himself and India off the mark with a single.
---
OVER 1 | SCORE 0/0
James Anderson bowls the perfect first over to Ajinkya Rahane. Maiden!
---
Toss and team news
Indian captain Mahendra Singh Dhoni won the toss and elected to bat in their cricket tri-series match against England here today.
India made two changes from the eleven that lost to Australia in their first match with Ambati Rayudu replacing Rohit Sharma who missed out due to a sore hamstring, while Stuart Binny comes in place of off-spinner Ravichandran Ashwin.
England just have one change, with pacer James Anderson coming back in place of Chris Jordan.​
India: S Dhawan, A Rahane, V Kohli, S Raina, MS Dhoni, A Rayudu, S Binny, AR Patel, B Kumar,Mohammed Shami, U Yadav.
England: I Bell, M Ali, J Taylor, J Root, E Morgan, R Bopara, J Buttler, C Woakes, S Broad, J Anderson, S Finn.
Jolted by the opening loss to Australia, India would look to plug the bowling loopholes and ensure a stronger batting display when they take on England in their second ODI tri-series cricket match here today.
In Brisbane, both sides will be looking to register their first win in this tournament with the hosts having stolen a march on them with two successive wins.
Australia beat England by three wickets in Sydney on Friday and then beat India by four wickets in Melbourne on Sunday.