New York: New York state`s banking regulator has contacted more than six banks about how they may have handled money that U.S. prosecutors said was laundered through accounts related to world soccer`s governing body FIFA, according to a person familiar with the matter.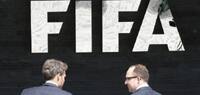 Among the banks were Deutsche Bank , Credit Suisse, , Standard Chartered and Barclays Plc, , said the person, who requested anonymity because the investigation was not publicly announced.
They said the New York Department of Financial Services was looking into whether the banks followed rules and regulations regarding anti-money laundering compliance.
The person also said that it was too early to say whether there was any wrongdoing.
Nine former and current officials of Zurich-based FIFA and five sports marketing or broadcasting executives were indicted in federal court in Brooklyn, New York on May 27 on bribery, money laundering and wire fraud charges dating back 24 years. 
Kelly T. Currie, the Acting U.S. Attorney for the Eastern District of New York, which is handling the case, said when the indictments were announced that bank actions would be reviewed to see if financial institutions knowingly facilitated bribes.
The banks concerned were not accused of wrongdoing.
Representatives of Standard Chartered and Barclays declined to comment on Thursday. Representatives of Deutsche Bank and Credit Suisse could not immediately be reached for comment.
The New York state investigation was parallel to the federal probe, the person familiar with the matter said.
The investigation of the banks was first reported by The Wall Street Journal on Thursday.
Around the time the FIFA indictment was made public, banks began receiving formal requests for information about their ties to certain U.S. soccer promoters, said compliance officers at two banks named in the indictment.
U.S. authorities also have continued to probe the banks, sources at some banks named in the indictment said. 
These requests, which Treasury`s anti-money laundering unit forwards to banks on behalf of law enforcement agencies, require banks to state whether they processed transactions for, and/or provided accounts to, the named targets.
"There are either a lot more charges to come or they were chasing a lot of dead ends," one of the sources said.
One of the sources said the bank`s compliance team had so much added work hat the bank had to hire a handful of additional analysts. The sources declined to identify the targets of law enforcement inquiries.