6 April 2018, 17:50 PM
It's Australia again in the pool and get the last gold medal on offer on Day 2 at the Games. That was a strong freestyle swim by the Aussie team. Kyle Chalmers, who was the last to enter the pool got a decent lead and then propelled through the water to almost make that decent lead look enormous -- almost two body lengths. England take the bronze while Scotland take home the bronze. 
6 April 2018, 17:33 PM
Time to shift focus on to acquatic sports. Australian women swimmers have set the pool on fire. Its 1-2-3 Australia in the 100m fly final. Emma MCKeon has set the Games Record with a timing of 56.78. Earlier, Australian swimmer Clyde Lewis won gold in the men's 400m Individual Medley. In the 100m backstroke, Aussies Mitch Larkin and Bradley Woodward won gold and silver respectively while Canadian swimmer Markus Thormeyer won bronze. Stay tuned as we will be updating you with the results of 4x100m Freestyle Relay in some time.  
6 April 2018, 16:33 PM
Even though the Indian factor in the women's 58kg category is out, Carrara Arena in Gold Coast is on fire. Hosts Australia win the gold after lifter Tia-Clair Toomey edges Canada's Tali Darsigny by just one kilo. Toomey migth have lifted a kilo less than Darsigny in snatch but she edges the Canadian by lifting 114 kg in clean & jerk. Soloman Islands' Jenly Wini gets the bronze totalling 189kg.  
6 April 2018, 14:57 PM
India's Saraswati Rout fails terribly in the Snatch part. She fails in all three attempts in the 58kg Snatch category, which means she is out. Terrible result for India. After Sanjita Chanu and Deepak Lather's success earlier in the day, there were high expectations from her but she has failed to live up to them. She went for 78kg on all three occasions and did a bad job. Indian fans would be very disappointed, no doubt about that. 
6 April 2018, 14:49 PM
Third round is underway. This is a crucial round. It's been neck and neck so far. Amit is again largely defensive. Wait, he hits top gear towards the end and finds a couple of nice punches. The commentators are already predicting an Amit Kumar win. Let's see what happens. The final round at last gets over. The verdict is out. AMIT KUMAR DOES IT FOR INDIA.  It's been unanimous. Second Indian boxer after Naman Tanwar today to reach the quarterfinals. 
6 April 2018, 14:43 PM
The Ghanaian has taken his aggression to another level. However, landing is a problem. Amit showing defensive skills in this round. Tetteh's aggression suggests he thinks he fared badly in the first round. The second round is over but it's difficult to say who has had the upper hand. That means the third and final round is going to be a cracker. Stay tuned.    
6 April 2018, 14:40 PM
Both boxers start aggressively. After an uncertain start, Amit appears to be picking up towards the end of the first round. However, the Ghanaian boxer is very much equal to the task. First round is over. Both boxers have thrown punches in spades, however, Amit might just have had the upper hand.   
6 April 2018, 14:36 PM
Focus now shifts to the 46-49kg boxing category. India's Amit Kumar is in action against Ghana's Tetteh Sulemanu.  It's a Round of 16 game, which means the winner of this contest will reach the quarterfinals. 
6 April 2018, 13:47 PM
Joshna Chinappa wins the first game 11-6 against Aussie Tamika Saxby. Chinappa continues her rich vein of form in her Round of 16 encounter and wins the second game 11-8 as well. She now needs to win one more game to advance to the quarterfinals. Chinappa continues her dominance and seals the match with an 11-4 win in the third game. However, there is another piece of bad news for India from squash, Dipika Pallikal Karthik has lost her match against England's Alison Waters in straight games. Mixed feelings!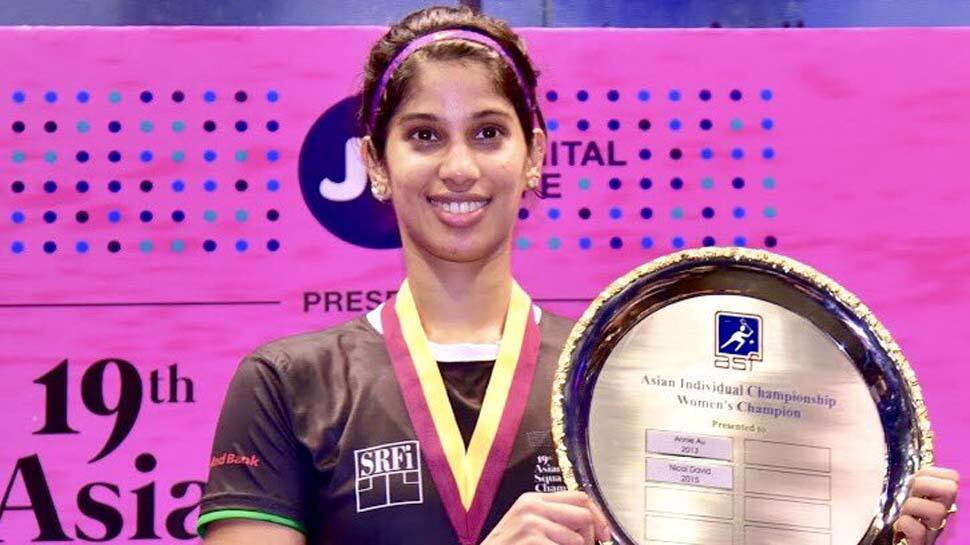 6 April 2018, 13:41 PM
On what has been a wonderful day for India India, here comes first piece of bad news and it comes from squash. Vikram Malhotra has lost his Round of 16 encounter against England's Nick Matthew 3-1. Joshna Chinappa and Dipika Pallikal Karthik are currently in action. Let's hope we hear good news from them.  
6 April 2018, 13:02 PM
Good news coming from the Indian badminton team. India are leading 4-0 against Scotland in the Group A Mixed Team Group Play Stage. Saina Nehwal, Kidambi Srikanth, Ashwini Ponappa-Sikki Reddy, Chirag Shetty-Satwik Rankireddy have all won their matches. The fifth match is underway but the rubber is already theirs with those results.  Wait, the result is out from the fifth match as well. Pranaav Chopra-Sikki Reddy also win their encounter, meaning India whitewash Scotland 5-0. Excellent result there.  
6 April 2018, 12:46 PM
Meanwhile, India cricket legend Sachin Tendulkar has congratulated Sanjita Chanu on her gold-winning exploits in the 53kg weightlifting category earlier in the day. Another India legend Virender Sehwag too has praised Sanjita's effort in a way only he can. Stay tuned. Remember, this is your place to follow India's performance in Gold Coast.  
Golden start to the day!! Continuing from where she left off 4 years ago in Glasgow. Congratulations, Khumukcham Sanjita Chanu on giving it's 2nd Gold Medal in the on-going #GC2018. Proud moment. pic.twitter.com/vcQfkIU77I

— Sachin Tendulkar (@sachin_rt) April 6, 2018
Bhartiya Naari Sab par Bhaari. One more Gold. Congratulations #SanjitaChanu for winning our second gold in #GC2018Weightlifting in the women's 53kg category. #CWG2018
Her second CWG gold after the 48kg one in Glasgow. Proud of you champion. pic.twitter.com/Xnms7T6Byz

— Virender Sehwag (@virendersehwag) April 6, 2018
6 April 2018, 12:12 PM
Deepak Lather remains in bronze contention. Samoan weightlifter Ioane Vaipava fails and that means the Indian remains in contention. The Samoan has one more attempt and if he lifts the required weight successfully India will be out of the medal reckoning. He goes for 175kg and he fails again. He goes for gold and pays the price. That means India's Deepak Lather gets the bronze medal. Fourth medal at the event so far for the Indians. The 18-year-old lifted 136 in snatch and 159 in clean and jerk to seal the deal for India.  A little rub of the green going India's way. Had the Samoan not gone for 175kg, things could have been very different for India.  
6 April 2018, 11:56 AM
Let's shift our focus now to 69kg weightlifting category where 18-year-old Deepak Lather is representing India.  Here the Haryana weightlifter comes for his Clean and Jerk attempt but loses his balance during the Jerk part. That's a big setback to India's chances. 
6 April 2018, 11:43 AM
Indian women's hockey team returns to winning ways with a thumping 4-1 win against Malaysia. Great comeback there after yesterday's loss against Wales. In the dying minutes of the game, Lalremsiami got in on the act through a field goal of her own. To sum it up, Gurjit Kaur scored two, while Rani Rampal and Lalremsiami scored one goal apiece. 
6 April 2018, 11:34 AM
In the last few minutes, two Malaysian players have gone out injured and shortly after India take a big step towards registering their first win as captain Rani Rampal gets her name on the scoresheet through a field goal. India 3 Malaysia 1. Less than five minutes to go in the game. 
6 April 2018, 11:23 AM
India get a crucial penalty corner early in the fourth and last quarter. One more penalty corner after the ball hits one of the Malaysian players. Another waste. The Malaysian team is giving their all in the last 10 minutes of the game. India need to be careful. India 2 Malaysia 1 
6 April 2018, 11:06 AM
Just what we all feared. Malaysia get another penalty corner and dragflicker Nuraini Rashid does the rest. It's 1-1. There are still seven minutes to go in this quarter. Wait, India also get a penalty corner of their own. Goal. And India reclaim their lead. Gurjit Kaur does it again for the Indians. What a day she is having. The dragflick was fierce and there was no stopping it. India 2 Malaysia 1.  
6 April 2018, 11:02 AM
Meanwhile, weightlifter Deepak Lather is in joint second position after the snatch round.
6 April 2018, 11:01 AM
Penalty corner for Malaysia early in the third quarter. India have gone up to the TV umpire to contest the decision. And they have been right about it as replays show the ball hits the foot of a Malaysian player. The penalty corner has been cancelled and India can breathe a sigh of relief.  
6 April 2018, 10:42 AM
Another penalty corner for India in the dying moments of the second quarter but the question is: can they make it count? No, they don't and again the Malaysian goalkeeper comes in the way. The second quarter comes to a close. To be honest, the Indian team has been disappointing in this period. Barring Rani Rampal's effort, nothing significant came to pass for India. They can't afford to relax. They need more goals to feel better about their chances in this game. India 1 Malaysia 0. 
6 April 2018, 10:36 AM
The Malaysian goalkeeper denies India captain Rani Rampal. And shortly after India's goalscorer, Gurjit Kaur gets a green card, meaning the team will be without her for the next two minutes. Malaysia need to take advantage of this. Almost four minutes left in the second quarter. India maintain their 1-0 lead.     
6 April 2018, 10:20 AM
Green Card for Deepika Thakur. That means she will be out of action for two minutes. It will be interesting to see if Malaysia can make her absence count. And as everyone feared, Malaysia get their first penalty corner and only thanks to goalkeeper Savita that India manage to maintain their lead. And here the first quarter comes to an end. India 1 Malaysia 0. But it's just the beginning. Three more quarters to go. India can't afford to be complacent. 
6 April 2018, 10:14 AM
Penalty Corner for India in the six minute. And India takes lead through Namita Toppo. Wait. The goal has been disallowed. And Rani Rampal has gone up to the TV umpire. Let's see what comes of it. The verdict comes. The goal has been disallowed and India get another penalty corner. Can they convert this time the righ way? Goal. India ahead 1-0 through Gurjit Kaur. Another referral, this time by the field umpire. The TV umpire says the "goal stands".   
6 April 2018, 10:02 AM
Indian women's hockey team is now in action against Malaysia in Pool A. India had lost to Wales on Thursday, and they need to redeem themselves against the Malaysian team.  It's a little cloudy right now but it's highly unlikely it will rain. On paper, India are strong favourites but in light of their defeat yesterday they will do well to keep complacency at bay.
6 April 2018, 09:22 AM
The third round is over. And he does it. Naman Tanwar reaches the quarterfinal through unanimous decision. 5-0 decision in his vavour. Another excellent result for India after Sanjita Chanu's gold earlier in the day. The Tanzanian boxer was much more experienced but the exuberance of youth came out on top. Naman is now just one win away from a medal. Things look good for India.
6 April 2018, 09:18 AM
Second round underway. The Tanzanian boxer is looking to get back into the contest. Naman has a very unusual style and it appears to be working for him in this Round of 16 encounter. Naman gets an upper cut now. The second round is over and it's difficult to say who has had the upper hand in this round. 
6 April 2018, 09:13 AM
Naman is just 19. And he has started well. Has got one punch right in the first round and the referee starts counting. The Tanzanian recovers but good start for the Indian nevertheless. Naman taking advance of his bigger reach. The Tanzanian is totally on the defensive. The first round is over and Naman appears to have the upper hand.   
6 April 2018, 09:10 AM
WE ARE BACK. India's Naman Tanwar right now is in action Haruna Mhando from Tanzania in the 91kg boxing category. It's Tanwaar's first Commonwealth Games. Let's hope he starts well.  
6 April 2018, 07:52 AM
To remind our readers, Sanjita Chanu had won gold medal in the 48kg category at Glasgow. This time she changed her weight category to 53kg. There were a few doubts emanating from that move, but she has now dispelled all of those without much fuss. She was confidence personified all through the event. Big performance there from her. Time for celebrations!    
6 April 2018, 07:39 AM
Here is the rest of the Indian schedule on the second day of the 2018 Commonwealth Games at Gold Coast, Australia. Stay tuned. We will make sure you don't miss out on anything. 
WEIGHTLIFTING
Event: Men's 69kg
Athlete: Deepak Lather
Time: 9:42 a.m.
Event: Women's 58kg
Athlete: Saraswati Rout
Time: 2:12 p.m.
HOCKEY 
India vs Malaysia (women)
Time: 10:02 a.m.
BADMINTON
Event: Mixed Team
India vs Scotland
Time: 9:30 a.m. to 1 p.m.
BOXING
Event: Men and Women Preliminary rounds
Time: 7:30 a.m. to 11 a.m. and 2 p.m. – 5:30 p.m.
CYCLING
Event: Women Sprint
Athlete: Deborah Herold, Aleena Reji
Time: 8:32 a.m. (Qualification), 10:02 a.m. (Repechage), 10:24 a.m. (Quarterfinals), 2:52 p.m. (Semifinal), 4:18 p.m. (Final)
Event: Women's 3000m Individual Pursuit
Athlete: Sonali Chang, Manorama Devi
Time: 8:56 a.m. (Qualification), 3 p.m. (Final)
Event: Men's 4000m Individual Pursuit
Athlete: Manjeet Singh
Time: 10:47 a.m. (Qualification)
Event: Keirin
Athlete: Sahil Kumar, Sanuraj P, Ranjit Singh
Time: 2:32 p.m. (Qualification), 3:15 p.m. (Repechage), 4:08 p.m. (Semifinal), 4:41 p.m. (Final)
GYMNASTICS
Event: Women Individual All Around Qualification
Athlete: Pranati Das, Pranati Nayak, Aruna Reddy
Time: 4:39 a.m.
TABLE TENNIS
Event: Team Group and Knockout Stage
Time: 4 a.m. to 100 a.m. and 11:30 a.m. to 4:30 p.m.
SQUASH
Event: Singles Preliminary
Time: 8 a.m. to 12 noon and 1:30 p.m. to 5 p.m.
6 April 2018, 07:32 AM
Emotional moment for India as Sanjita Chanu receives the gold medal. The national anthem follows and all Indian hearts at the arena are swelling with pride. Goosebumps all through. Just to sum it up, Sanjita lifted 192kg in all. With this medal, India goes up to third in the medal tally with two gold and one silver.    
6 April 2018, 07:26 AM
What a moment for Sanjita Chanu and India. Second India woman athlete to do India proud at the Gold Coast Commonwealth Games. She was unstoppable all through the event. First, she set a CWG record in snatch (84kg) and then lifted 108kg in Clean and Jerk to bring India plenty of glory. Take a bow, Sanjita Chanu.
6 April 2018, 07:20 AM
Sanjita Chanu is now going to lift 112kg. It will be gold medal for India if she lifts it successfully. Heartbreak, she fails. However, she is still a gold medal contender. Loa Dika Toua fails and India wins a gold medal through Sanjita Chanu. Take a bow. India is proud of you. 
6 April 2018, 07:14 AM
Here comes Sanjita Chanu and boy is she wonderful! She lifts 104kg without any fuss. My god, what confidence. India are on their way to another medal, probably a gold. Here she comes again, now she is trying 108kg. Can she perform the way she previously did? And she does it again. What a performer. India have taken a big stride towards gold.  
6 April 2018, 07:11 AM
Papua New Guinea's defending champions from Glasgow, Loa Dika Toua takes it to another level by lifting 102kg. She proves why people call her a giant in this category.  
6 April 2018, 07:08 AM
Fraer Morrow from England is another major contender. She has just lifted 99kg. Can you believe it?  Rachel Bazinet from Canda goes one better, she lifts 100kg. It's getting very interesting. Sanjita must be a little nervous following these performances. It will be interesting to see how she copes with this ever-increasing pressure.  
6 April 2018, 06:58 AM
Catrin Jones is another impressive weightlifter. She is from Wales and she goes for 95kg but fails. Patterson comes on once again and once again lifts successfully, this time 95kg. Now she is a major contender, no doubt about that. Sanjita Chanu is yet to come. As of now, her biggest rival is Patterson.   
6 April 2018, 06:51 AM
Phillipa Patterson from New Zealand does even better this time. She lifts 93kg. The good thing is that now Sanjita knows what she has to do to bring India a medal. It's getting very interesting in the women's 53kg weightlifting category. Guys, stay tuned. India have every reason to expect a medal in this event. You don't want to miss what could be a historic event for India.   
6 April 2018, 06:24 AM
Clean and Jerk begins in women's 53kg weightlifting event. From an Indian perspective, all eyes are on Khumukcham Sanjita Chanu. In the meantime, New Zealand's Phillipa Patterson successfully lifts 91kg. Sanjita is yet to come but so far it's clear it wouldn't be easy for her in this round. She will have to be at the top of her game. 
6 April 2018, 06:17 AM
Women's 53 kg weightlifting event is going on and India are doing very well through Khumukcham Sanjita Chanu. She looks upbeat and it will be a big surprise if another medal doesn't come India's way. However, it remains to be seen what the colour of the medal would be. She has already lifted 88kg in snatch to set a new CWG record. So, India have every reason to expect a medal from her.