Abu Dhabi: Nico Rosberg beat Lewis Hamilton to pole position for the Abu Dhabi Grand Prix but admitted it was only a "small step" in his desperate battle to stop his arch-rival teammate taking the Formula One drivers` title on Sunday.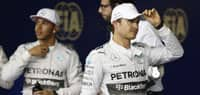 Rosberg produced a lap 0.386 seconds faster than Hamilton to extend Mercedes` record breaking domination of the season going into the double points finale.
The 29-year-old German produced his best lap of the weekend when he most needed it, clocking 1min 40.480sec to finish ahead of Hamilton with Valtteri Bottas third for Williams.
"It`s only one step, a very small step," said Rosberg after claiming his 11th pole of the season and 14th of his career.
"This weekend is about the championship, not about pole position. It would have been great if there was a Williams in between us, but that can always happen tomorrow!"
But Rosberg knows he will need a lot of luck to stop Hamilton taking his second world title on Sunday.
The Briton leads the title race by 17 points and Rosberg can only overtake by winning the race, or come second, and hope that Hamilton suffers a setback or fails to score in a race where double points are being awarded for the first time. 
Whatever the result, Mercedes are already celebrating. The team have a record-equalling 18th pole of the year and their 12th front row lockout and eighth in succession.
The German firm are also the first engine supplier to take every pole position in a season since Ford in 1969.
The most intense drama came at the end of the final run when Hamilton, who had clocked a best time of 1:40.920 in the second session made minor errors as he clocked a final lap of 1:40.866. It was not enough to overhaul Rosberg.
"I generally didn`t have the best of laps but I enjoyed the qualifying session," said a calm Hamilton. "Tomorrow is going to be a special day."
Asked about how he will approach the first corner of the race, Hamilton said: "Same as every time."
Brazilian Felipe Massa was fourth fastest in the second Williams, ahead of Australian Daniel Ricciardo and his outgoing Red Bull team-mate four-time champion German Sebastian Vettel.
Russian Daniil Kvyat was seventh for Toro Rosso ahead of Briton Jenson Button, who may be in his last race for McLaren, Finn Kimi Raikkonen of Ferrari and Spaniard Fernando Alonso in his last race for Ferrari.
After a hot, dry day, the session began at sunset. The track temperature was 32 degrees Celsius but was falling as twilight approached.
Both Mercedes drivers were out swiftly on super-soft tyres, evidence of their need to confirm the handling feedback on a circuit that was cooling rapidly.
Hamilton was quickest by one-tenth of a second, despite two errors, before the flag fell to signal an early exit for the bottom five.
That meant farewell to the two Caterhams of Japan`s Kamui Kobayashi and rookie Briton Will Stevens, who were 19th and 20th respectively.
Ahead of them, out went Frenchman Romain Grosjean and Venezuelan Pastor Maldonado in 16th and 18th places, sandwiching Mexican Esteban Gutierrez of Sauber, who was 17th.
In the next session, Hamilton became the first driver to go below 1min 41sec with a 1:40.920 lap. Rosberg had to abort his lap after running off the circuit at Turn Nine, at the end of a long straight, and when he returned for another lap, he was 0.539 seconds off Hamilton`s time.
Mercedes team chief Toto Wolff said Hamilton had a "messy" qualifying lap, but did not expect it to influence his race performance.
Wolf insisted he would not give any instructions to the drivers -- who have at times between the best of enemies this season -- before their final showdown. 
"I won`t tell them anything anymore. They are in their own little bubble and concentrating on the race. I think we should leave them in peace now to concentrate on tomorrow," he said.