LUCKNOW: A Senior Bharatiya Janata Party (BJP) leader in Uttar Pradesh has claimed that Chief Minister Yogi Adityanath had decided to arrest rape accused MLA Kuldeep Singh Sengar but his decision was changed after the intervention of a 'prominent person'. Senior party leader and former state minister IP Singh claimed: "Yogi Adityanath had taken the decision to arrest Kuldeep Sengar. He was to be arrested from the CM office. The CM had also decided to expel two MLAs from Unnao. But he got a call from a prominent person and the decision got deferred. The party has to suffer the consequence of this decision." 
कुलदीप सेंगर को गिरफ्तार करने का फैसला
पूज्यनीय योगीजी ने ले लिया था और
CM officeमें गिरफ्तारी होती साथ2 उन्नाव कप्तान को निलंबित करना महाराज जी
ने तयकर लिया था लेकिन अचानक एकबड़े व्यक्ति के हस्तकक्षेप से मामला लंबित हो गया जिसका खामियाजा पूरी पार्टी ने भुगता

— IP Singh (@ipsinghbjp) April 11, 2018
IP Singh also claimed that anyone, whether they are a part of the ruling party or in the opposition, will have to bear the brunt if they do not follow the law. 
While no action has been taken against Sengar yet, Yogi Adityanath has said that no one found guilty in the case would be spared.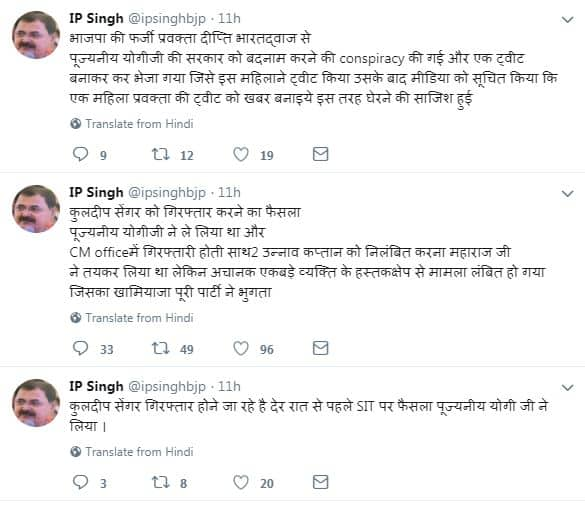 His comments come at a time when an FIR has been registered against Sengar while a Central Bureau of Investigation (CBI) probe has been ordered into Unnao rape and custodial death. The case has been filed under POCSO Act and Sengar has been charged under sections 366, 363, 376 and 506.
Casting aspersions on the girl's character, BJP MLA Surendra Singh demanded that narco test should be done to find out the truth. "Narco test should be done of Kuldeep Singh Sengar and the complainant, truth will be out then. If MLA found guilty punish him, but I have heard this same girl had filed a false rape case against a man some years back. The man had to spend 6 months in jail," Surendra Singh said.
Sengar has claimed innocence adding that the allegations levelled against him are false. He had refused to surrender before the police on Wednesday. He visited the office of Senior Superintendent of Police Lucknow late on Wednesday night, but walked away half-an-hour later.
Meanwhile, Sengar and his supporters on Wednesday night got into a scuffle outside the office of the SSP. "Aap (media) jahan kaho wahin chalen. Apke channel mai chal kar baithen. Main channel ke saathiyon ke kehne se yaha aaya hoon. Channel ke saathi jahan par kahenge wahan chaloonga. Namaste (I am ready to go wherever media asks. I can come on your channel also. I have come here at the behest of friends from channels.)," Sengar said while speaking to mediapersons.
The investigation so far has revealed that the father of the rape survivor had suffered 18 internal injuries. The probing agency will see if at all the Uttar Pradesh Police acted under stress.