In a star-studded ceremony, the portraits of former US first couple Barack and Michelle Obama were unveiled at the Smithsonian National Portrait Gallery in Washington on Monday. And as expected, the portraits are nothing similar to the portraits of the predecessors which are hanging there. 
How you ask? Just scroll down to take a look at the portrait. Unlike many in the past, the Obamas are not in the usual buttoned-down traditional presidential portraiture and can instead be seen looking cool and confident in the portraits.
Kehinde Wiley painted the ex-president against a signature lush botanical backdrop where he can be seen seated in a serious pose at the edge of a wooden chair. He is enmeshed in a thicket of leaves and flowers that recall the tropical hues of the 44th president's home state of Hawaii.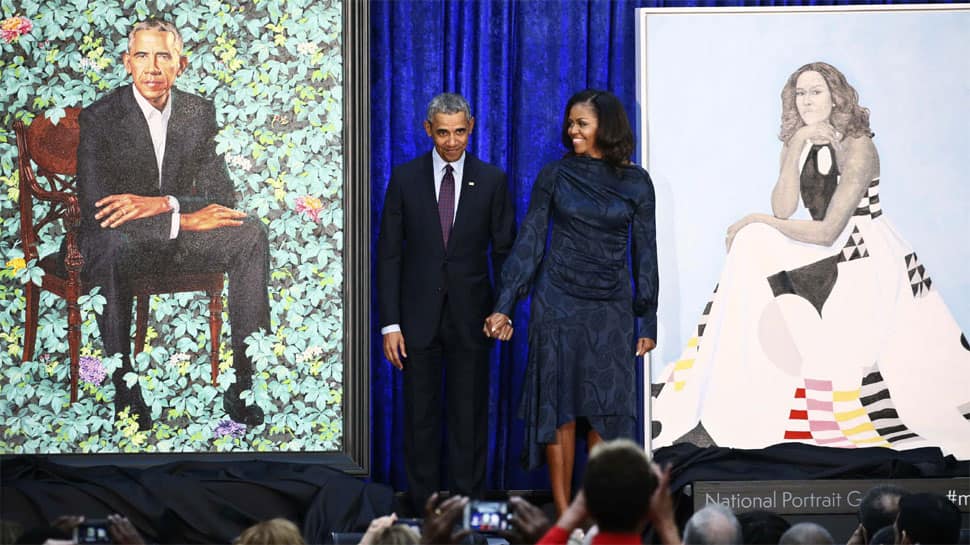 Amy Sherald, on the other hand, is painted in grayscale, with only a few splashes of coral, pink and yellow, against an eggshell blue backdrop. True to form for a first lady whose wardrobe was often the focus of attention -- dominates the frame. Michelle appears poised and powerful as she looks down on the viewer.
The two portraits were unveiled by the former US first couple Barack and Michelle Obama themselves. The museum holds portraits of all American ex-commanders in chief. Obama`s portrait will be hung alongside those of former presidents, including the Lansdowne portrait of George Washington by Gilbert Stuart. Michelle Obama`s likeness will hang at the gallery until November this year.
The contrasting works by African American artists left everyone shocked and delighted. Obama also praised Sherald for "so spectacularly capturing the grace and beauty and intelligence and charm and hotness of the woman that I love."