As the Supreme Court on Thursday decriminalised homosexuality in the hearing of Section 377 of the Indian Penal Code (IPC), the LGBTQ community revelled at the verdict by the apex court. The law which has been in existence since the past 150 years was struck down by the apex court. 
The announcement which is also an important issue globally has been covered by several media organisations worldwide.
A detailed report on this landmark judgment covered by the international media:
* Washington Post: India's Supreme Court decriminalizes gay sex in historic ruling
The report read:
Activists have struggled for more than a decade to invalidate Section 377 of the Indian penal code, a provision which dates to the colonial era. The law prohibited consensual 'carnal intercourse against the order of nature'. While the statute was rarely used as a basis for prosecution, its presence meant that gay people faced threats, harassment and blackmail. It also served as a constant reminder to the gay community that the state considered their sexuality illegal.
Thursday's ruling is also a boost for gay rights around the globe. India was the most populous country in the world which still had a law on the books criminalizing gay sex. As of last year, more than 70 countries still had such laws, according to the International Lesbian, Gay, Bisexual, Trans and Intersex Association.
The judgment reflects rapid social change in India, where only five years ago, the top court upheld the same law. Since then, campaigners have mobilized a movement to spread awareness about gay rights. In recent years, more than 30 Indian cities have had their first pride parades, and public protests against Section 377 have spread across the country. Economic and technological changes have spurred shifts in thinking too — cheap smartphones and mobile data opened young Indians up to global trends and dating apps, while the mushrooming of India's information technology sector has created a richer — and freer — generation of urban youth. Film, theater and pop culture show openly gay characters and in some cases challenge gay stereotypes."
* New York Times: India Strikes Down Colonial-Era Law Against Gay Sex
The report read:
India has a mixed record on the issue. Its dominant religion, Hinduism, is actually quite permissive of same-sex love. Centuries-old Hindu temples depict erotic encounters between members of the same gender, and in some Hindu myths, men become pregnant. In others, transgender people are given special status and praised for being loyal.
But that culture of tolerance changed drastically under British rule. India was intensely colonized during the height of the Victorian era, when the British Empire was at its peak and when social mores in England were very conservative.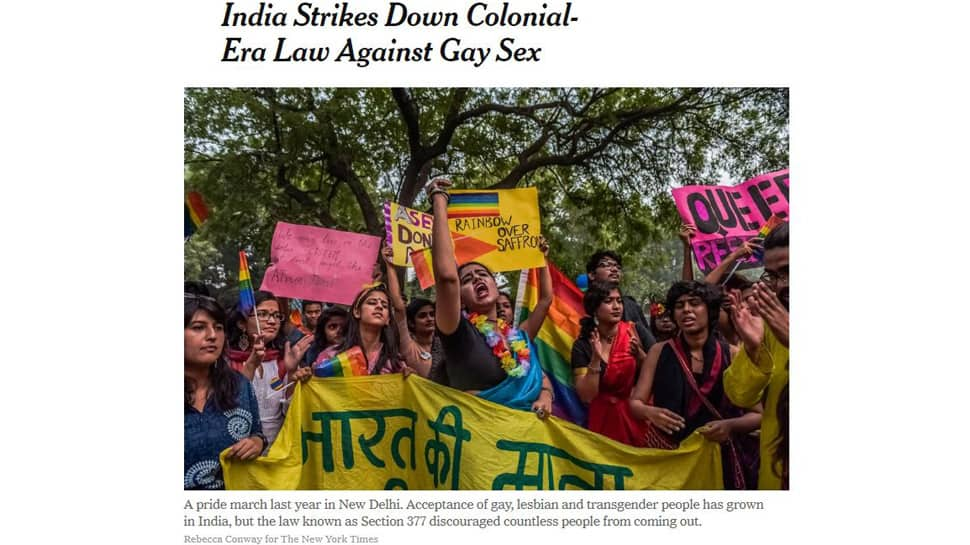 In the 1860s, the British introduced Section 377 of the Indian Penal Code, imposing up to a life sentence on "whoever voluntarily has carnal intercourse against the order of nature." The law was usually enforced in cases of sex between men, but it officially extended to anybody caught having anal or oral sex.
Though in recent years more and more Indians have come out, and acceptance of gay, lesbian and transgender people has grown to some degree, the fact that intimate behaviour was still criminalized created much shame and discouraged countless Indians from coming out.
* BBC: India court legalises gay sex in landmark ruling
The report read:
India had been reluctant to overturn it. ndia's gay and transgender communities have fought long and hard to strike down section 377, as the law is known. "How strongly must we love knowing we are unconvicted felons under Section 377? My Lords, this is love that must be constitutionally recognized, and not just sexual acts," Menaka Guruswamy, the lawyer for the petitioners, had told the Supreme Court in July when it began hearing the case.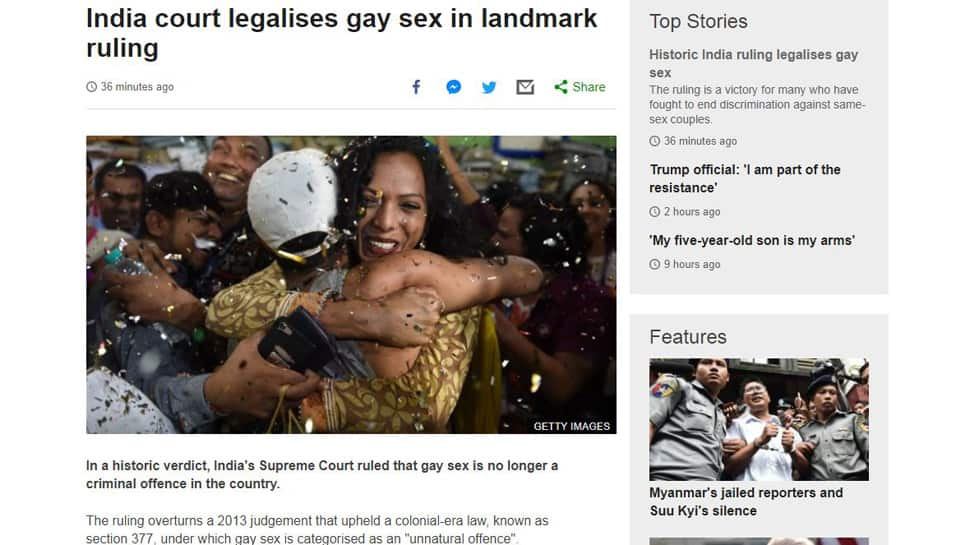 But it is still too early to say what this can translate to in the longer term. The judges explicitly said that they only ruled on the constitutional validity of section 377 and were not looking at it in terms of other rights such as those related to marriage or inheritance.
* The Guardian: Indian supreme court decriminalises homosexuality
The report read:
The decision legalises behaviour that many Indians say was accepted in their culture before the imposition of conservative Victorian mores during the British imperial era. The anti-sodomy law was imposed in the Indian colony in 1860 as part of a raft of laws against public vice and immorality instituted across the British empire.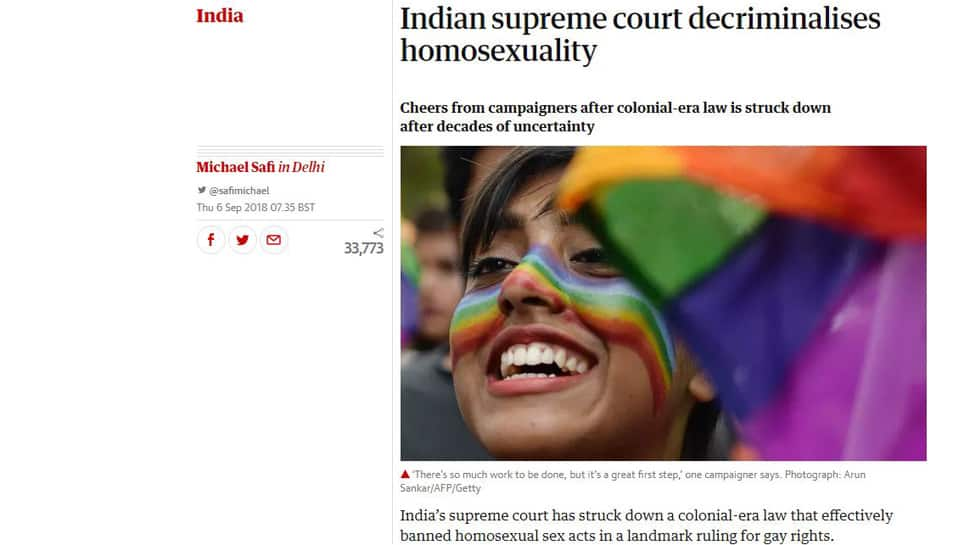 Ritu Dalmia, one of the five LBGTI Indians who put their name to a legal petition that succeeded on Thursday, said the verdict made her feel hope once again. "I was turning into a cynical human being with very little belief in the system, but honestly this has really shown once again that, at the end, we are a functional democracy where freedom of choice, speech and rights still exist," she said.
The decision appears to mark the end of a fraught path to legalising homosexuality in modern India. Early cases filed in 1994 and then 2001 bounced back and forth for years between higher courts reluctant to rule on the issue.
The judgment was delivered by a five-member bench -- Chief Justice of India Dipak Misra, Justices Rohinton Nariman, AM Khanwilkar, DY Chandrachud and Indu Malhotra.
Section 377 refers to 'unnatural offences' and says whoever voluntarily has carnal intercourse against the order of nature with any man, woman or animal, shall be punished with imprisonment for life, or with imprisonment of either description for a term which may extend to 10 years, and shall also be liable to pay a fine.