Happy Navratri 2020: Nine forms of Durga worshipped during this festival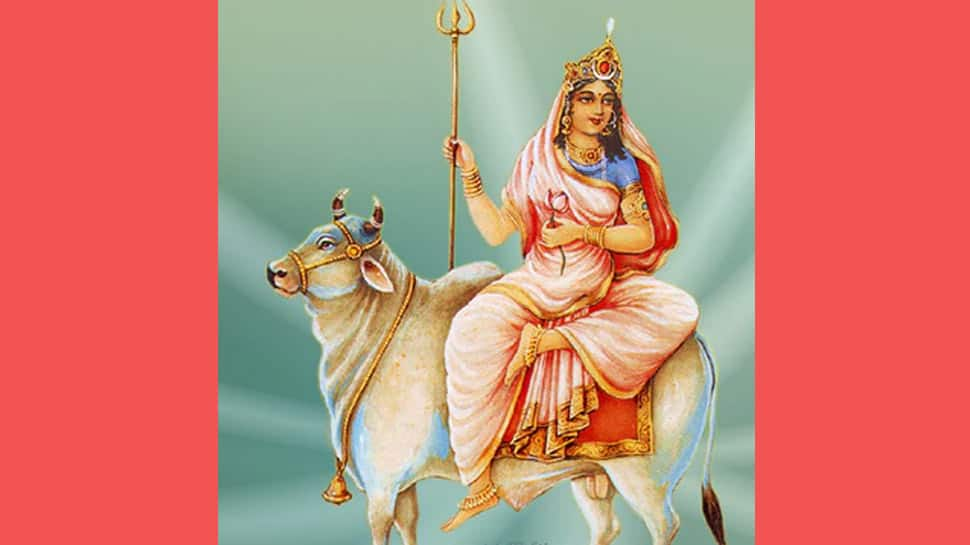 The auspicious occasion of Sharad Navratri has begun from today October 17 and it will last till 25th of this month. During these 9 days of festivity, different forms of Maa Durga are worshipped with full gusto and aplomb. Devotees throng temples, welcome Durga idols at home and seek her blessings. Today, lets understand 9 different forms of Durga and their benevolence.
However, due to the deadly novel coronavirus pandemic, social distancing is being practiced and guidelines to avoid crowd at gatherings is in place.
Maa Shailputri is one of the Navadurgas and is worshipped on the first day of Navratri. Also known by the name of Sati, Parvati, Bhawani or Hemavati (daughter of Himavat - the king of Himalayas), Maa Shailputri is hailed as mother nature and prayed to for attaining spiritural awakening. There are various legends associated with her incarnation as daughter of king Daksha Prajapati - Sati, and then later has Parvati - the daughter of king Himavat, who is the consort of Lord Shiva.
She is the daughter of the mountains and is depicted with two hands, a crescent on her forehead, a trident in her right hand and a lotus flower in her right hand respectively. She is mounted on Nandi - the bull.
The day begins with her worship and because it is the Day 1 of Navratri, Ghatashthapana is first performed which includes kalash sthapana.
Maa Shailputri is also considered to be the goddess of root chakra -- which is evoked for spiritial awakening through meditation. It is believed that the Devi gives Shakti to attain a higher spiritual growth. She is worshipped as Purna Prakriti Durga. Her abode is Muladhara Chakra and she covers the entire atmosphere.
Maa Brahmacharini is depicted as walking bare feet, carrying a Japa Mala (rosary) in her right hand and a Kamandalu in her left hand respectively. Her governing planet is Mars (Mangal), the controller of fortunes, therefore her devotees pray to her on the second day of Navratri, seeking her blessings for peace and blessings for peace, virtue and prosperity.
Day 3 - Maa Chandraghanta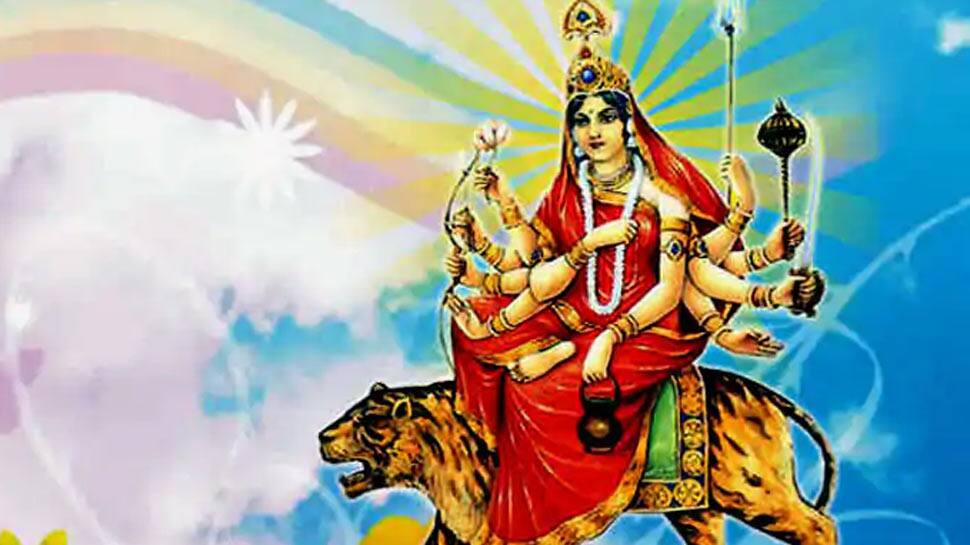 As the name signifies, Chandraghanta means a half-moon shaped like a bell.
She blesses her bhakts with valour and removes all the obstacles from their lives. She eradicates their worries, sins, physical and mental pain. Seated on a tiger/lion, goddess Chandraghanta is dashabhuja or the one with ten hands—each holding some significant item. One of her hands remains in Abhayamudra or the blessings posture.
She has a third eye on her forehead and stands for bravery. Trishul, Lotus, Gada, Kamandal, Sword, Bow, Arrow, Japa maala, Abhayamudra, Gyan mudra are her weapons and she mounts on a tiger.
The goddess can take a ferocious form if the need arises for the betterment of society. She is well equipped for a war-like situation and has destroyed several demons at the battlefield. Her devotees pray to her for courage and strength.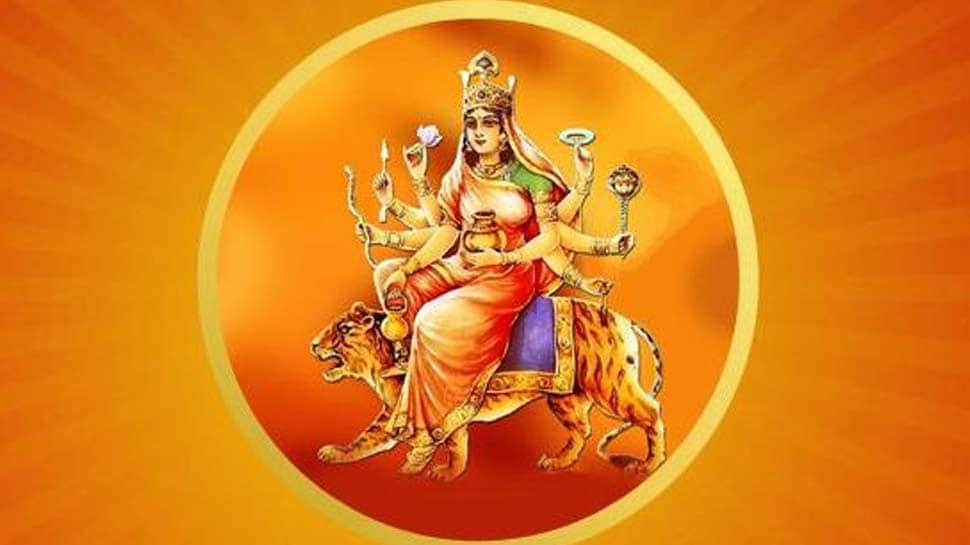 It is believed that she blesses her devotees with improved health, wealth and strength. Ku stands for 'little', Ushma means 'energy or warmth', Anda stands for 'cosmic egg' - Maa Kushmanda is Lord Shiva's consort.
It is also believed that this form of Durga has the power and energy to reside within the sun. Therefore, she has the radiance and glow to sustain and preserve energy.
The goddess has eight hands and is also known as Ashtabhuja Devi. Through her Jap Mala (rosary), the goddess bestows siddhis to her devotees.
Her power is immense and it is believed that she only created the universe just with a smile. Besides, several legends say that she is fond of Bali of white pumpkin which is known as Kushmand. Because she created the universe (Brahmanda) and she likes Kushmand, the goddess is popularly known as Maa Kushmanda.
She is mounted on a tiger and carries Lotus, Chakra, Kamandalu, Bow, Arrow, Gadha, Rosary, Jar of holy Elixir and blood as her weapons. She blesses her devotees with energy, power and guides them to take the right direction.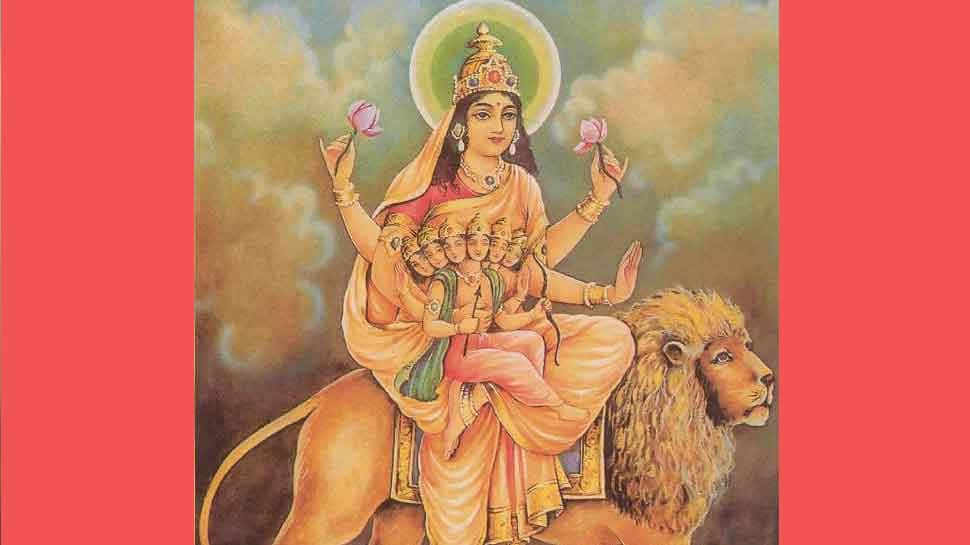 She is the mother of Skanda, Lord Kartikeya - the God of wars - as per some beliefs. The goddess has four arms and the lion is her vehicle. She can be seen holding two lotus flowers. She holds Lord Kartikeya in her lap with one of the hands. Goddess Skandamata is also known as the Padmasana which stands for the lotus-seated.
Devotees pray to the Goddess for seeking salvation, prosperity and power. Her power is such that she can impart knowledge and wisdom to the most illiterate person if he worships her. Whoever prays to her selflessly feels a purity of heart.
While praying to her, a devotee automatically gets to worship Lord Skanda. Skandamata is also known as the 'Goddess of Fire' and praying to her ultimately opens the door to salvation.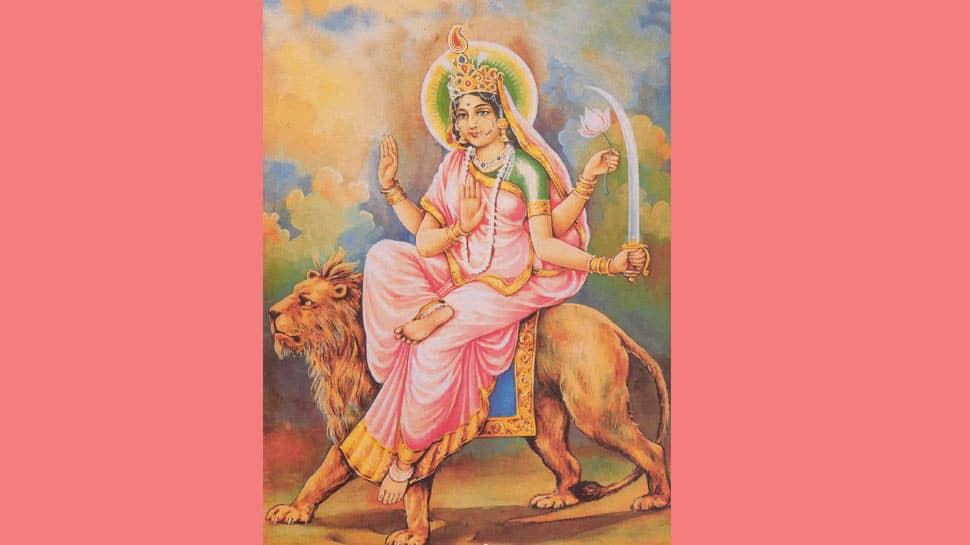 She is the second name of Goddess Parvati, Adi Parashakti or Amarakosha, as per the Sanskrit lexicon. She is also hailed as the fierce avatar of Maa Durga as per some beliefs.
Maa Katyayani is associated with the red colour, something which is also linked to Goddess Durga. According to Skanda Purana, Devi Katyayani came into being from the spontaneous anger of the gods to kill the demon - Mahishasur. She mounted on a lion that Goddess Parvati offered to her and killed Mahishasur in her fierce avatar. That is why Durga is also known by the name Mahishasurmardini. This is celebrated widely across the globe as Durga Puja. It coincides with the Sharad Navratri which falls during September-October.
The legend of Mahishasur and how the goddess killed him is the most popular one associated with the origin of Maa Katyayani, who put an end to evil and helped the gods from the clutches of this demon.
Goddess Katyayani mounts on a lion and has three eyes and is four-armed.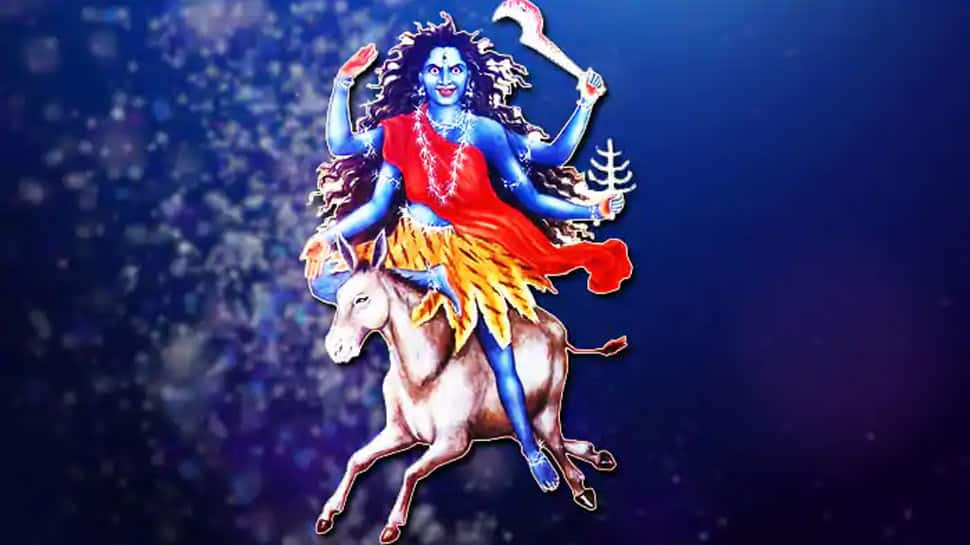 Devi Kalratri is believed to be the fiercest form of Durga, and her appearance often invokes a feeling of fear. She is the destroyer of all demon entities, ghosts, spirits and negative energies, who flee upon knowing of her arrival.
Kalratri is also associated with the crown chakra (the sahasrara chakra). She bestows the believer with siddhis and niddhis, namely knowledge, power and wealth.
Also called the Shubankari which means auspicious in Sanskrit, it is said that she gives auspicious and positive results to her devotees, making them fearless. She is also known by the names Raudri and Dhumorna.
Her weapons include hooked vajra and curved sword, Abhayamudra, Varadamudra. She is mounted on a donkey, lion or tiger as per various legends.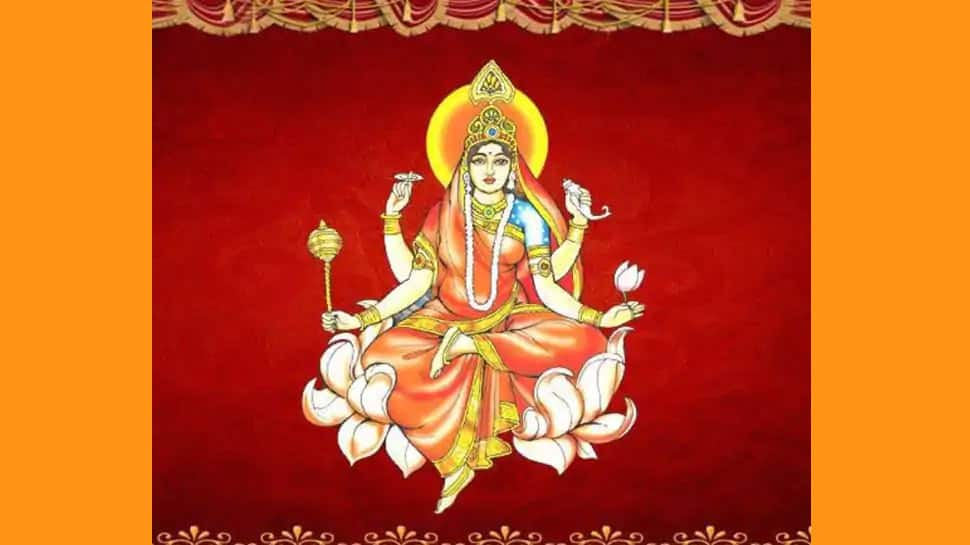 On the 9th day of Navratri, Maa Siddhidatri is worshipped by the devotees. This form of Durga blesses her bhakts with wish fulfilment. All the divine aspirations of the devotees are fulfilled by the 9th form of Durga—Maa Siddhidatri.
Siddhi means supernatural power or meditative ability and Dhatri refers to the giver or awarder. The goddess is believed to possess several kinds of healing powers. In this form, Goddess Siddhidatri is seen having four hands holding a discus, conch shell, trident and mace, sitting on a fully bloomed lotus or a lion.
Lord Shiva and Mata Parvati's Ardhanareshwar Swaroop is connected with Lord Maa Siddhidatri. It is believed that one side of Mahadev is goddess Siddhidatri—the form of Durga, Shakti.
As per many beliefs and ancient Vedic scriptures, Lord Shiva achieved siddhis by praying to Goddess Siddhidatri.
Here's wishing our readers a very happy Navratri!