How world media reported IAF pilot Wing Commander Abhinandan Varthaman's return to India
Washington Post on IAF pilot Wing Commander Abhinandan Varthaman's return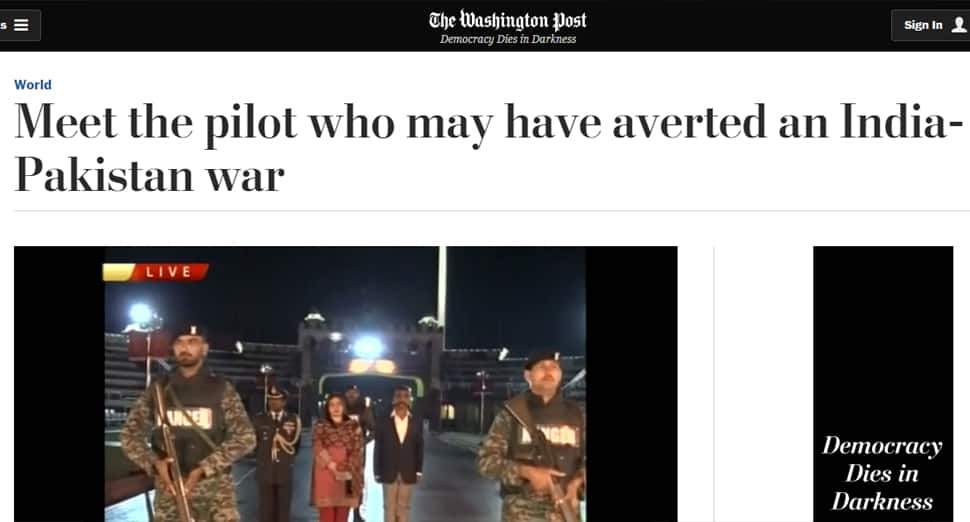 Indian Air Force pilot Wing Commander Abhinandan Varthaman was on Friday returned to India by Pakistan after spending nearly 60 hours in the enemy territory. After consecutively changing the time for him to be handed over, he was finally able to cross to the Indian side of the border after 9 pm on Friday night. Here is how the world media covered the IAF pilot's return to India.
Washington Post: Meet the pilot who may have averted an India-Pakistan war
The US daily recalled Wing Commander Abhinandan Varthaman's bravery and credited him for possibly averting a war. "He parachuted out over enemy territory. Fired in the air to keep back angry locals. Jumped into a pond and then destroyed documents by eating them. Ever since Wing Commander Abhinandan Varthaman, an Indian fighter pilot, crashed in Pakistani territory on Wednesday, the story of his survival has transfixed a nation.​
Al Jazeera on IAF pilot Wing Commander Abhinandan Varthaman's return
Al Jazeera: Pakistan hands over captured pilot Abhinandan Varthaman to India
Al Jazeera reported that by releasing the IAF pilot, Pakistan has aimed at de-escalating tensions after days of hostilities between the neighbours. It also quoted a press statement by Pakistan's foreign ministry which said that he was treated with dignity and in line with international law while he was in captivity.
The Guardian on IAF pilot Wing Commander Abhinandan Varthaman's return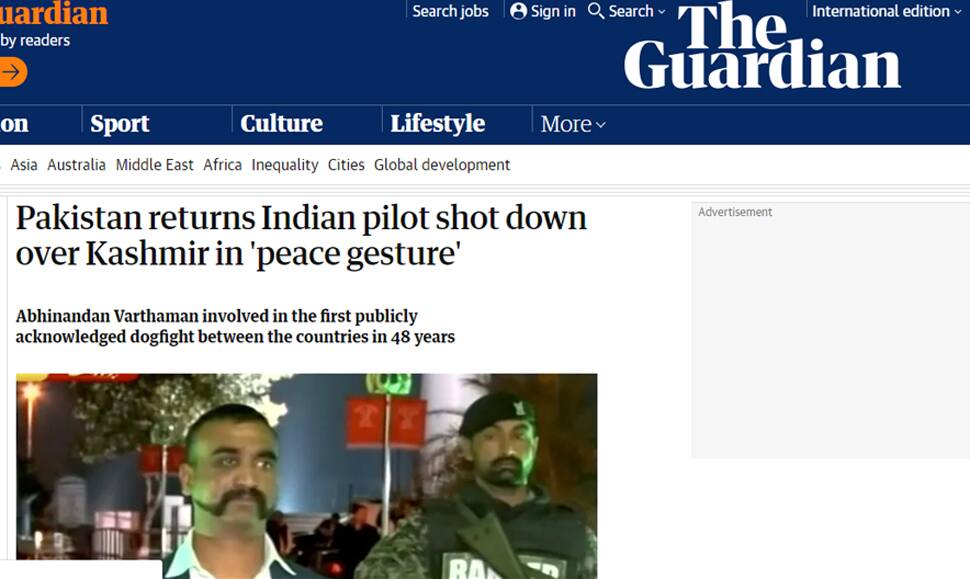 The Guardian: Pakistan returns Indian pilot shot down over Kashmir in 'peace gesture'
The Guardian called Wing Commander Abhinandan 'the face of the worst military crisis between the two countries in decades'. It also called Pakistan's move to release him as a gesture aimed at demonstrating its willingness to de-escalate the conflict.
CNN on IAF pilot Wing Commander Abhinandan Varthaman's return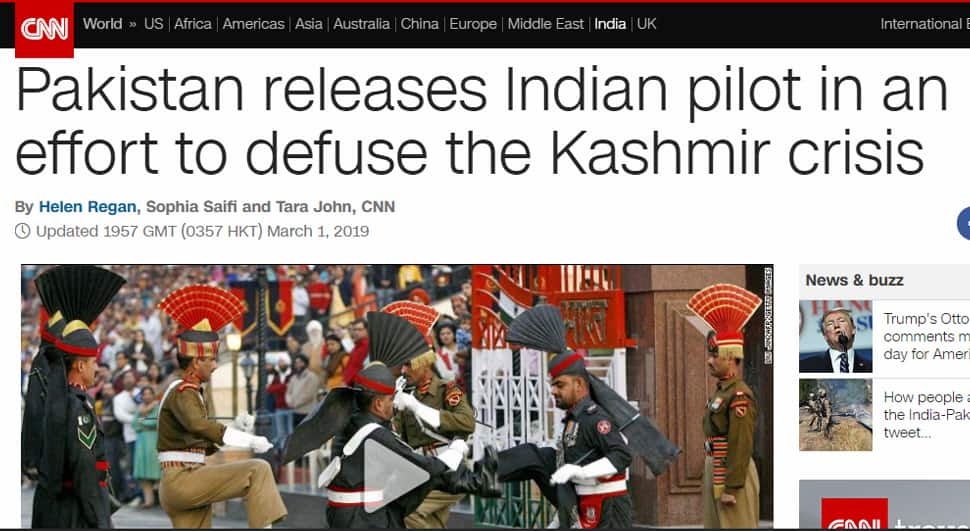 CNN: Pakistan releases Indian pilot in an effort to defuse the Kashmir crisis
CNN said that the pilot found himself at the center of tensions between the two nuclear-armed countries after his MiG-21 jet was downed during a dogfight between Pakistani and Indian warplanes. "Dressed in a blue blazer and white shirt, a solemn-looking Varthaman was escorted by Fareeha Bugti, the director of the India desk in Pakistan's Foreign Office and Pakistani soldiers to the Wagah border crossing between the two countries as cameras rolled on Friday. After passing through the border gate and into India, he was ushered away by Indian forces," it reported.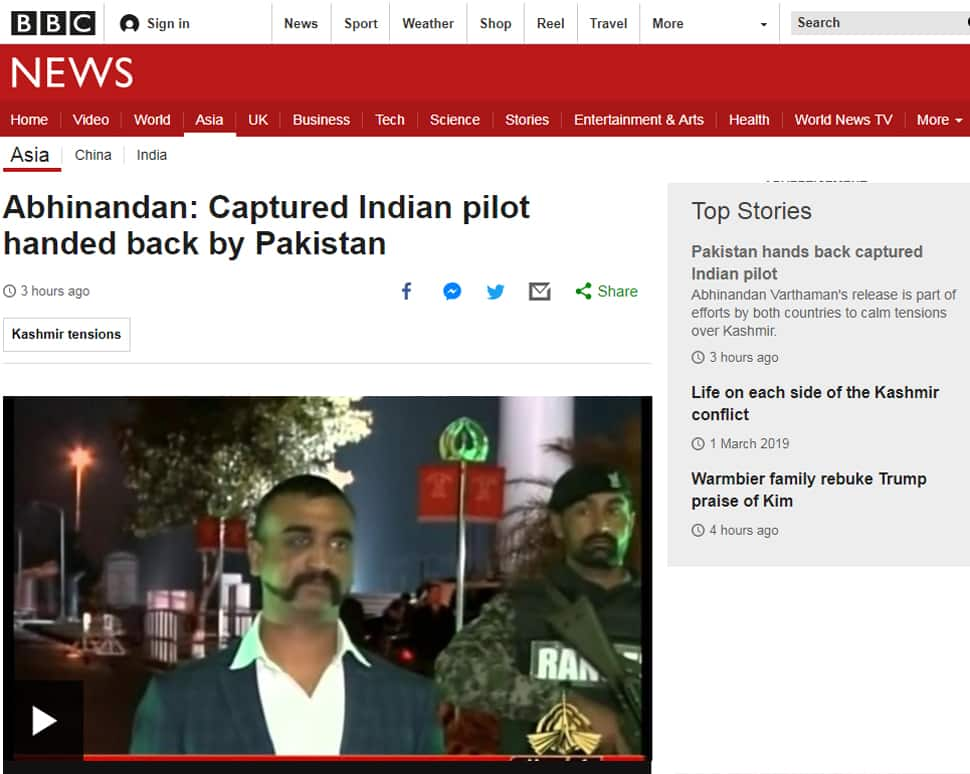 BBC: 'Captured Indian pilot handed back by Pakistan' BBC said that Abhinandan is being 'hailed as a hero in India, with fireworks being set off in the Delhi' upon his arrival. It also reported a video that was released of the pilot just before his release. "In what appeared to be an edited statement aired on Pakistan TV, the wing commander described how he was shot down and rescued from an "agitated" crowd by Pakistani soldiers," the BBC reported.
Arab News on IAF pilot Wing Commander Abhinandan Varthaman's return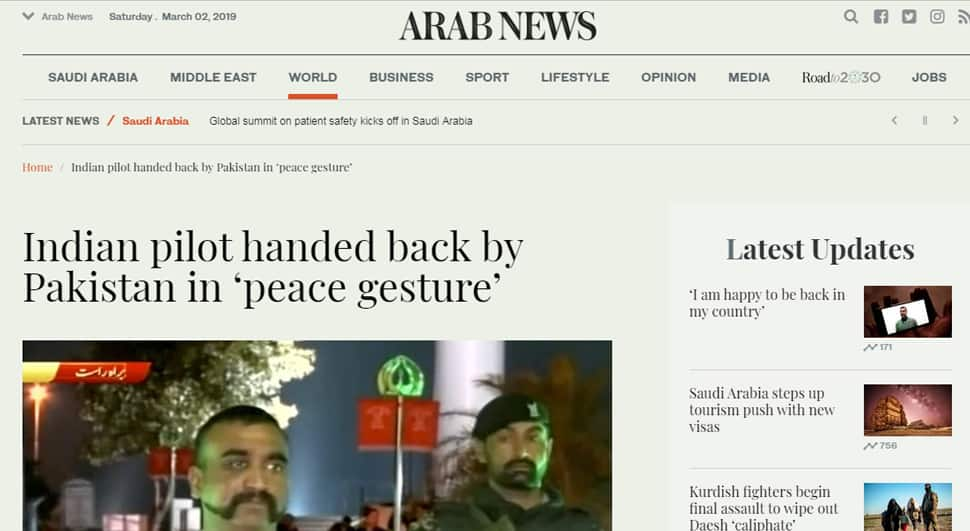 Arab News: Indian pilot handed back by Pakistan in 'peace gesture'
Arab News described the moment when Wing Commander Abhinandan came to India stating that "a straight-backed, somber-faced Varthaman wearing a crisp white shirt and a navy blazer," was shown on TV channels walking across the border. "As he crossed over into India, an Indian officer shook his hand, and another walked him onto Indian soil as the iron gates of the border slammed shut behind him," it said.