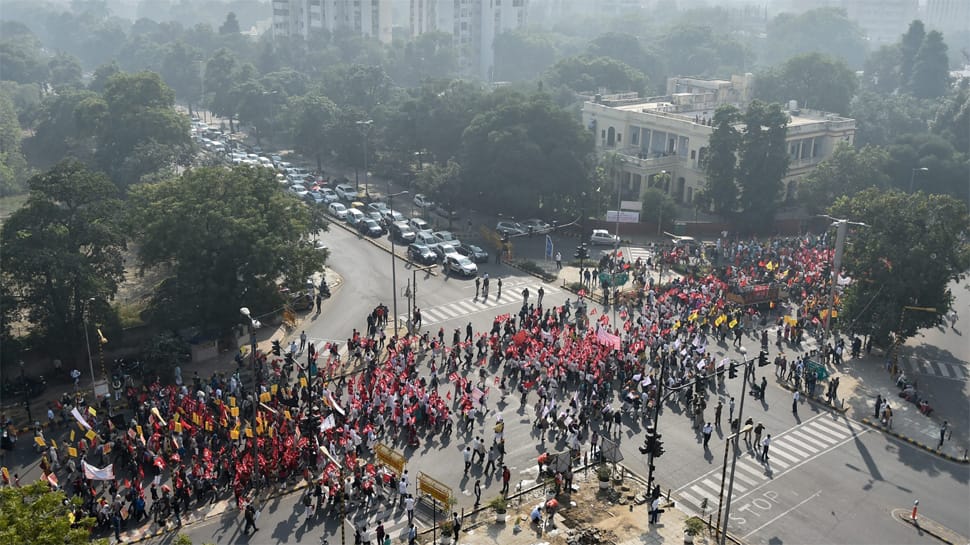 At least 3,500 farmers on Friday marched towards the Parliament on Friday on the second day of Kisan Mukti March. The farmers, who have been camping at the Ramlila ground here since Thursday, began their march to Parliament Street around 10.30 am amid heavy policy deployment. They were stopped near Parliament Street police station, after which they assembled there. Over 3,500 police personnel have been deployed on the route of the march. According to a senior police officer, special arrangements have been made in Central and New Delhi police districts. Farmers have come to the capital from different parts of the country, including Andhra Pradesh, Gujarat, Madhya Pradesh, Maharashtra, Tamil Nadu, West Bengal and Uttar Pradesh.
Banded under the All India Kisan Sangharsh Coordination Committee (AIKSCC), which claims to be an umbrella body of 207 organisations of farmers and agricultural workers, many farmers arrived in the city on trains, buses and other modes of transport. Through the Kisan Mukti March, also being called 'Chalo Dilli', The farmers are demanding a special 21-day session of the Parliament on the agrarian crisis and other related issues including debt relief and better minimum support price (MSP) for crops.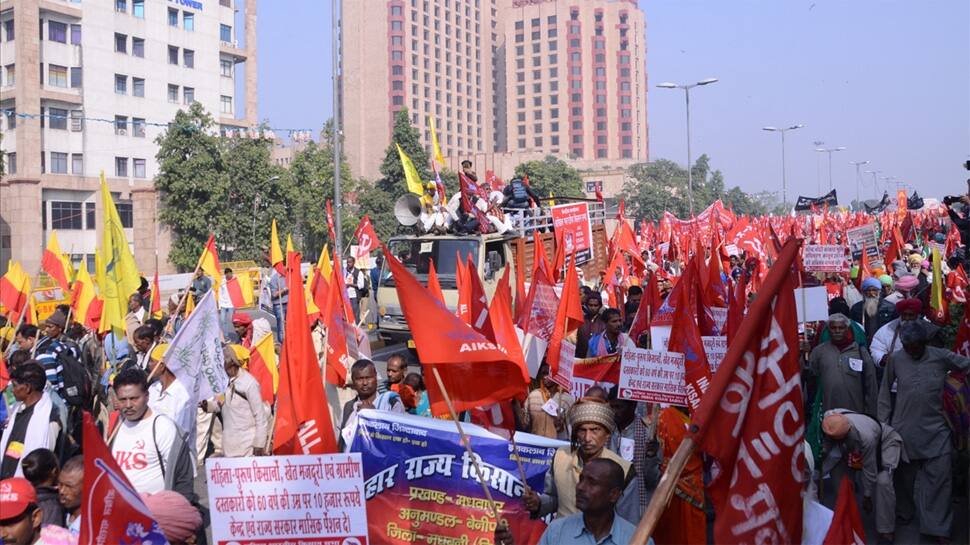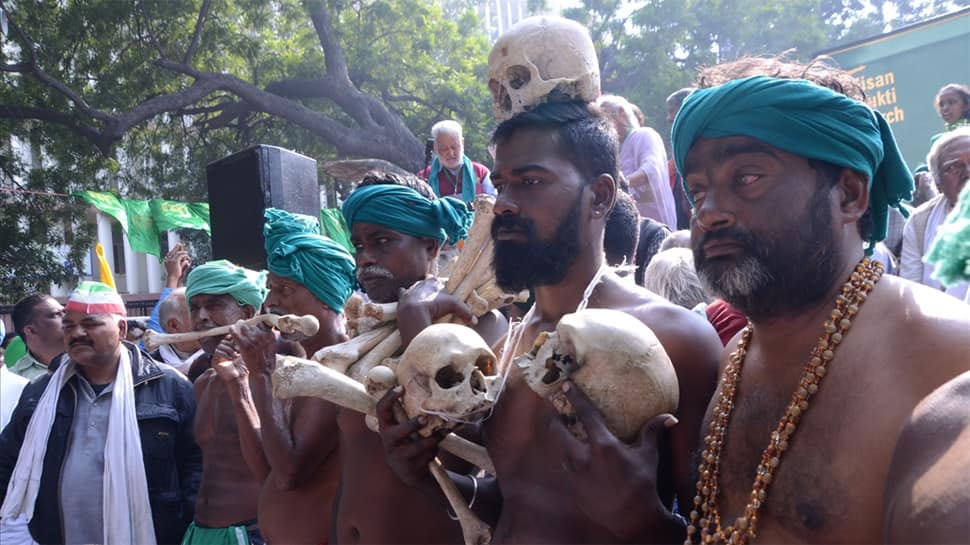 A group of farmers from Tamil Nadu staged a 'nude protest' at the Kisan rally on Parliament Street here by lying in front of the stage after placing bones and human skulls on their bodies. About 1,300 members of the National South Indian River Interlinking Farmers Association reached the national capital in the early hours of Thursday and were carrying seven skulls and bones. The skulls and bones were of the farmers who committed suicide. Nine farmers, without clothes, lay down in front of the stage by keeping bones on their bodies, and demanded profitable price for agricultural produce, waiver of loans, interlinking of rivers and pension for farmers over 60 years.
Over 3,500 police personnel were deployed on the route of the march. Special arrangements were made in Central and New Delhi police districts. As many as 850 police personnel, up to the rank of sub-inspectors, were deployed in the Central district. They were augmented by the presence of 12 police companies, including two of women, each comprising 75-80 personnel. In New Delhi district, 346 police personnel, up to the rank of sub-inspectors, were deployed and 600 personnel from other districts also helped them. Nine police companies, along with 71 officers, from the rank of inspectors up to additional DCPs, were also present.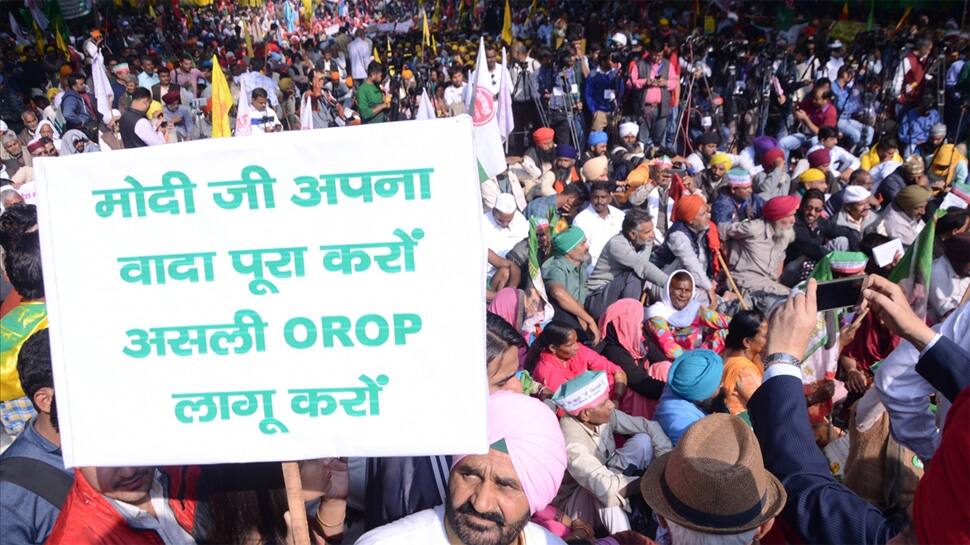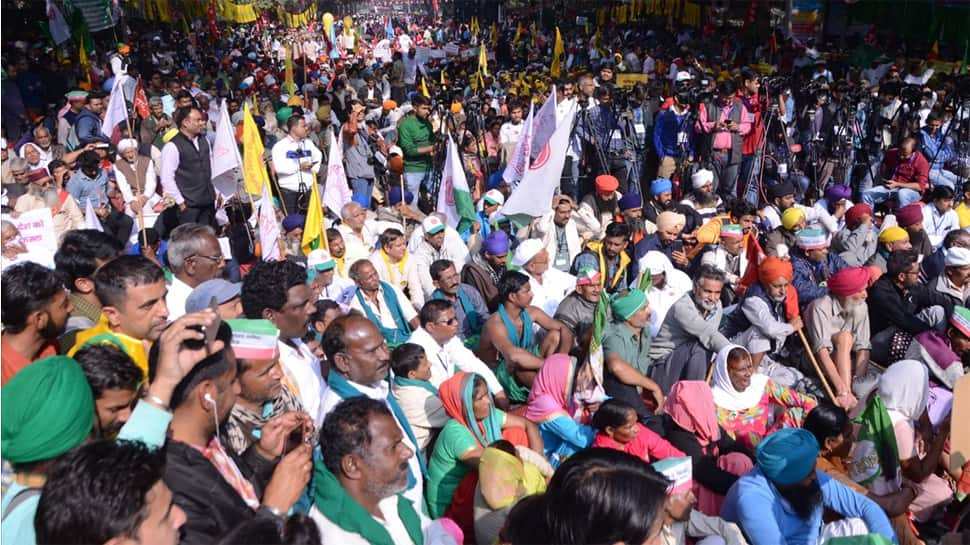 Farmers marching to Parliament stopped mid-way, near Parliament Street police station. Denied permission by police to march to Parliament, around 35,000 farmers from across the country converged near Parliament Street Police station in the national capital on Friday, where their leaders addressed the protesters.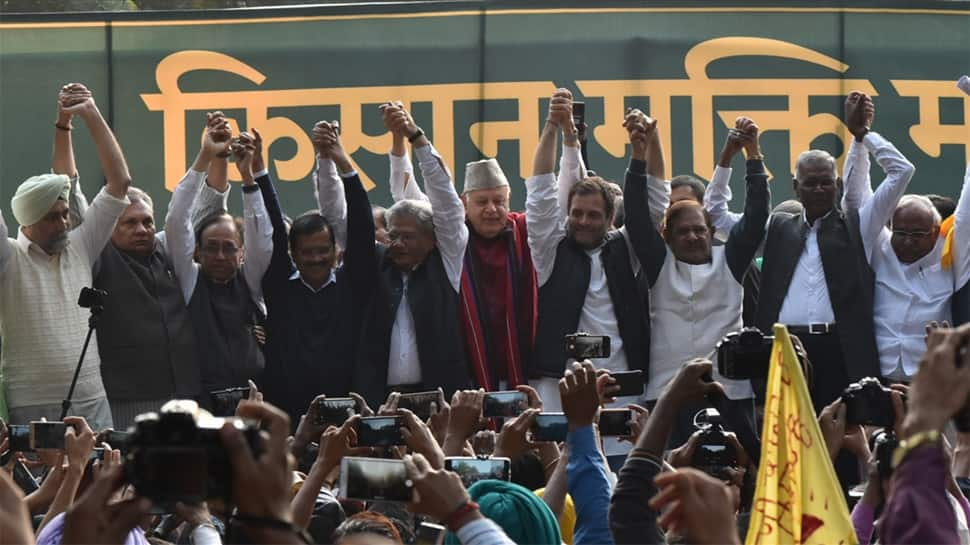 Many political leaders, including Delhi Chief Minister Arvind Kejriwal and NCP chief Sharad Pawar, National Conference`s Farooq Abdullah, Trinamool Congress` Dinesh Trivedi, Loktantrik Janata Dal`s Sharad Yadav, social activists including Medha Patkar and journalist P Sainath, extended their support to the rally. The Communist Party of India (CPI) urged the entire country to stand up in solidarity with the community as the government has been "insensitive" to their demands.