Photo Gallery: How National and International media covered DMK patriarch Karunanidhi's death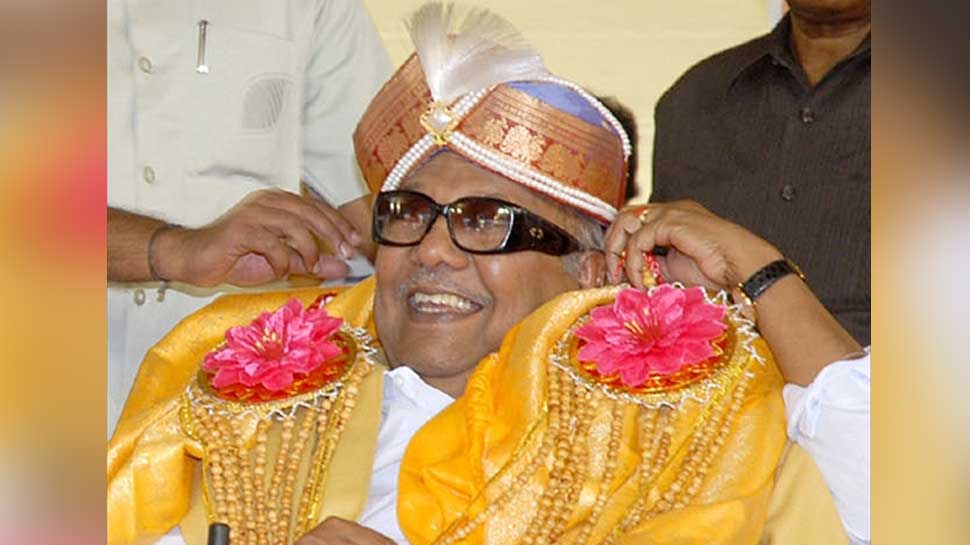 One of Tamil Nadu's tallest leaders Muthuvel Karunanidhi, or more fondly referred to as Kalaignar, breathed his last on Tuesday. The news of his death triggered nationwide mourning and cast a pall of gloom across the sprawling Tamil Nadu. He was one of the last links to the Dravidian movement that ushered in the rise of backward classes in politics.
The DMK patriarch, who had faded from public life for nearly two years, had been in and out of hospital on account of age-related ailments.
Just 10 days ago, Karunanidhi completed 49 years as DMK chief. He led his party through various ups and downs against charismatic rivals MG Ramachandran and J Jayalalithaa.
A 5-time Chief Minister, Karunanidhi had pioneered several welfare schemes and introduced freebies in the country's politics. He was known for his trademark dark glasses as well as a yellow stole.
Here is how the national and the international media covered the death of the stalwart in the Wednesday newspapers:
The Hindu: At 94, the passing of a patriarch
The Hindu:
At 94, the passing of a patriarch "Mr. Karunanidhi was the only Chief Minister in the State whose government was dismissed twice — during the Emergency in 1976 and in 1991 — by invoking Article 356. He created a record by winning all 13 Assembly polls he contested since 1957. A strong advocate of the rights of State governments, State autonomy and federalism, Karunanidhi secured the right for chief ministers to hoist the national flag on Independence Day. He also adapted Manonmaniam Sundaranar's poem Neerarum Kadalodutha into a separate invocation song for the State — Tamil Thai Vaazthu," The Hindu reported.
Indian Express: M Karunanidhi: A Titan Departs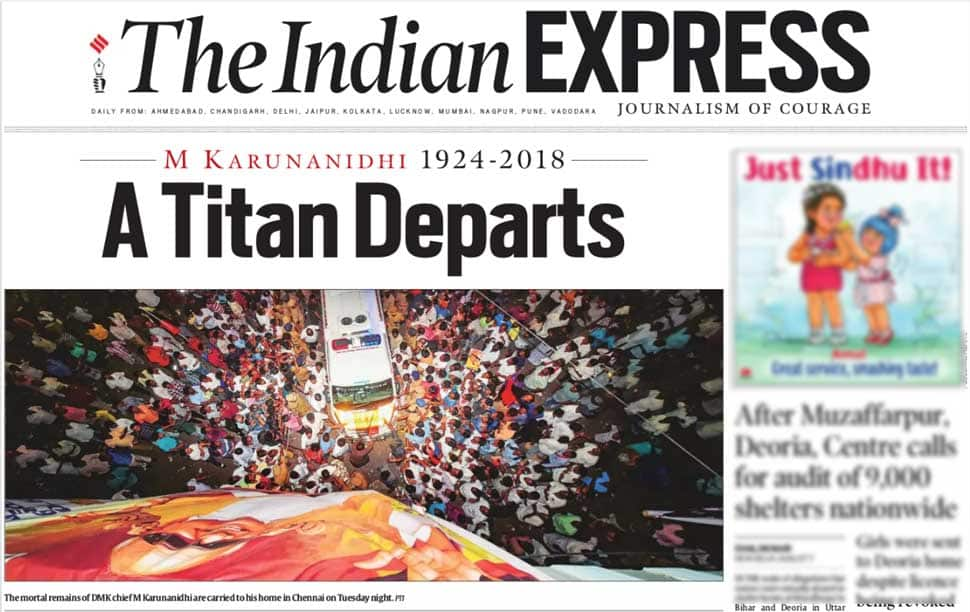 Indian Express:
M Karunanidhi: A Titan Departs "Wheelchair-bound since 2009, and retired from politics since October 2016, Karunanidhi was known for his Dravidian ideology and assertive politics built on a rationalist and atheist base. For most of his early political career, he straddled the world of cinema, too — as a script writer, he wrote screenplays for at least 75 films amid a busy political life," The Indian Express wrote.
Deccan Chronicle: DRAVIDIAN SON SETS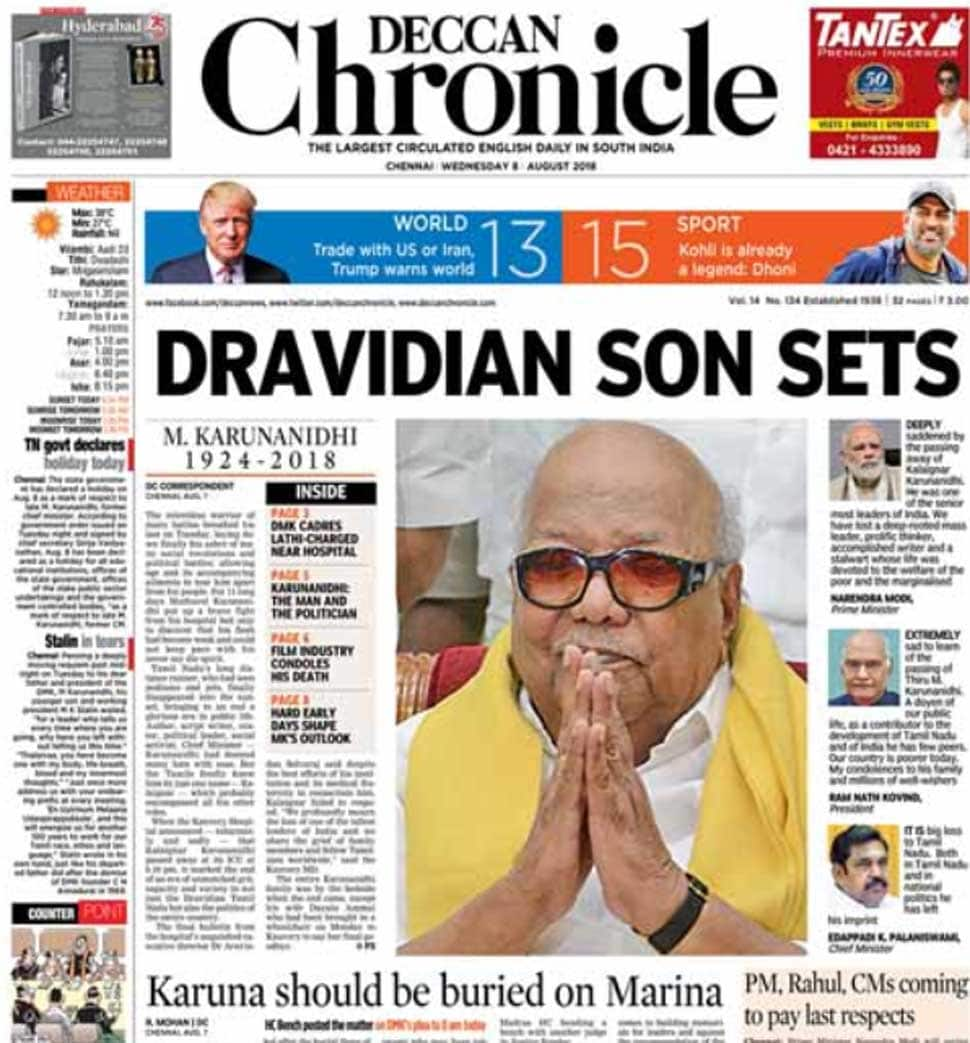 Deccan Chronicle:
DRAVIDIAN SON SETS "Tamil Nadu's long distance runner, who had seen podiums and pits, finally disappeared into the sunset, bringing to an end a glorious era in public life. Author, script writer, orator, political leader, social activist, Chief Minister — Karunanidhi had donned many hats with ease. But the Tamils fondly knew him by just one name — Kalaignar, which probably encompassed all his other roles. When the Kauvery Hospital announced — reluctantly and sadly — that Kalaignar Karunanidhi passed away at its ICU at 6.10 pm, it marked the end of an era of unmatched grit, sagacity and variety in not just the Dravidian Tamil Nadu but also the politics of the entire country," Deccan Chronicle wrote.
Deccan Herald: DMK chief Karunanidhi no more
Deccan Herald:
DMK chief Karunanidhi no more "A political veteran, Karunanidhi was one of the most respected national leaders, having taken to politics at a young age of 14. Groomed by Dravidian stalwarts Periyar E V Ramasamy and C N Annadurai, Karunanidhi's claim to fame in politics was his stringent anti-Hindi stance till his last days. Though often ignored by the national media, Karunanidhi ensured that his DMK, which he took over in 1969 after the death of mentor Annadurai, played a crucial role in the formation of alternative fronts at the Centre — National Front (1989) and United Front (1996)," Deccan Herald wrote.
Hindustan Times: DRAVIDIAN SUN SETS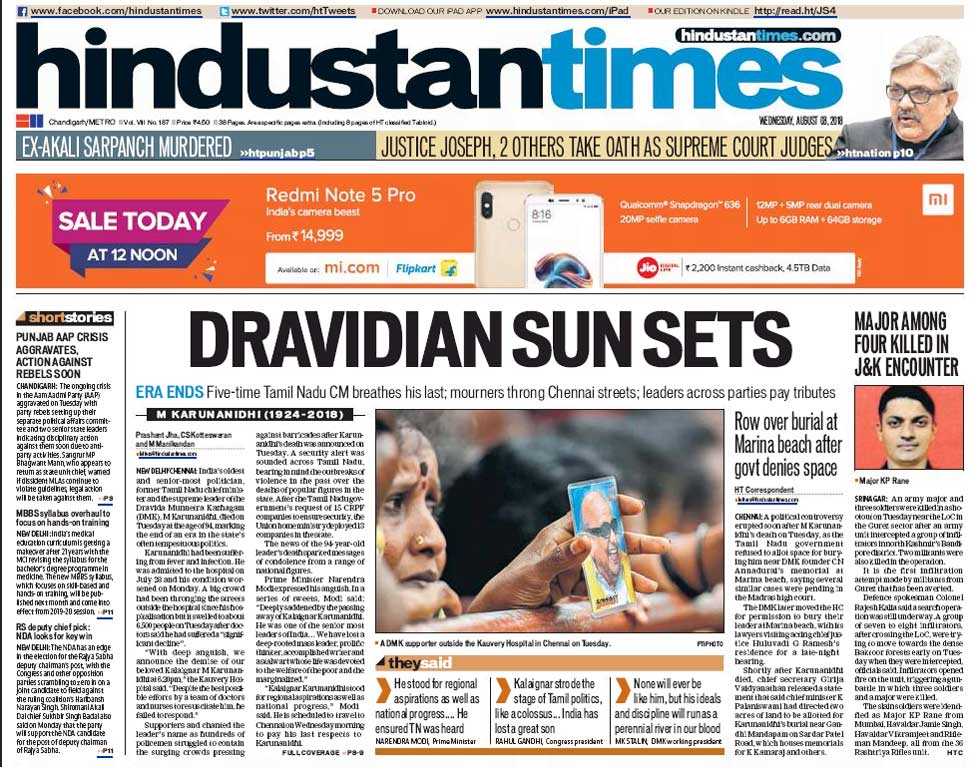 Hindustan Times:
DRAVIDIAN SUN SETS "India's oldest and senior-most politician, former Tamil Nadu chief minister and the supreme leader of the Dravida Munnetra Kazhagam (DMK), M Karunanidhi, died on Tuesday at the age of 94, marking the end of an era in the state's often tempestuous politics. Given his humble origins, not many would have given him a chance of becoming one key pole around which the Dravidian movement in Tamil Nadu would go on to flourish. Tamil language, culture, arts, history and its people's past achievements drove much of Karunanidhi's ideology," The Hindustan Times wrote.
The New Indian Express: End of an Era
The New Indian Express:
End of an Era "The mood around the Kauvery Hospital at Alwarpet was sombre. The worst fears of the hundreds of anxious DMK cadre keeping vigil came true when the hospital issued a statement announcing that DMK president and former chief minister M Karunanidhi had passed away at 6.10 pm on Tuesday. Inconsolable cadre and supporters nonetheless kept up a steady chant of Ezhundhu Va Thalaiva, Gopalapuram Sellvom, Arivalayam Sellvom (rise and come leader, we will go to Gopalapuram, we will go to Arivalayam), in hopes that the nonagenarian would again cheat death, despite all indications that the family and the party were preparing for the inevitable," The New Indian Express wrote.
The Times of India: Sun sets on Dravidian land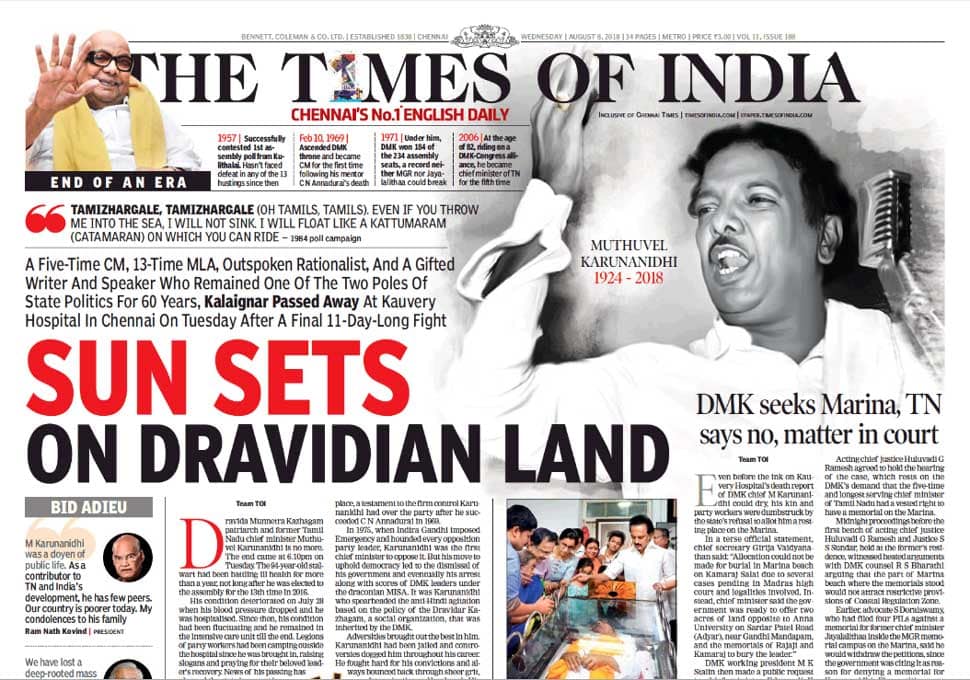 The Times of India:
Sun sets on Dravidian land
"For young Karunanidhi, who took the plunge into the Dravidian movement as a teenager the movement came first, family next. Two more marriages and six children later, the leader was slowly growing into a patriarch. Soon after the turn of the 21st century, , his love for the family was on full display — in the party and other power centres. This later gave Karunanidhi more than a headache," The Times Of India wrote.
CNN: M. Karunanidhi, Indian political icon, dies at 94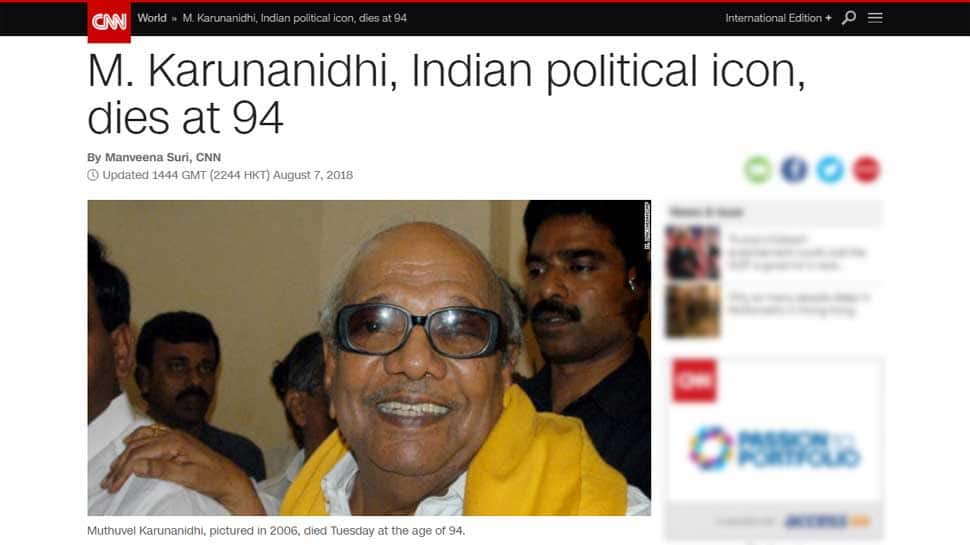 CNN:
M. Karunanidhi, Indian political icon, dies at 94 "Popularly known as "Kalaignar", Tamil for artist, Karunanidhi made his foray into politics in 1957 when he was elected to the legislative assembly of what was then known as Madras state. In 1961, he was made treasurer of the DMK and deputy leader of the opposition when the party made its debut in the state assembly the following year. Karunanidhi swiftly rose up the ranks. Following the death of Annadurai in 1969, he took over as leader of the DMK and as chief minister, a post he would hold for nearly 18 years over five separate terms," CNN wrote.
New York Times: Veteran South Indian Politician Muthuvel Karunanidhi Dies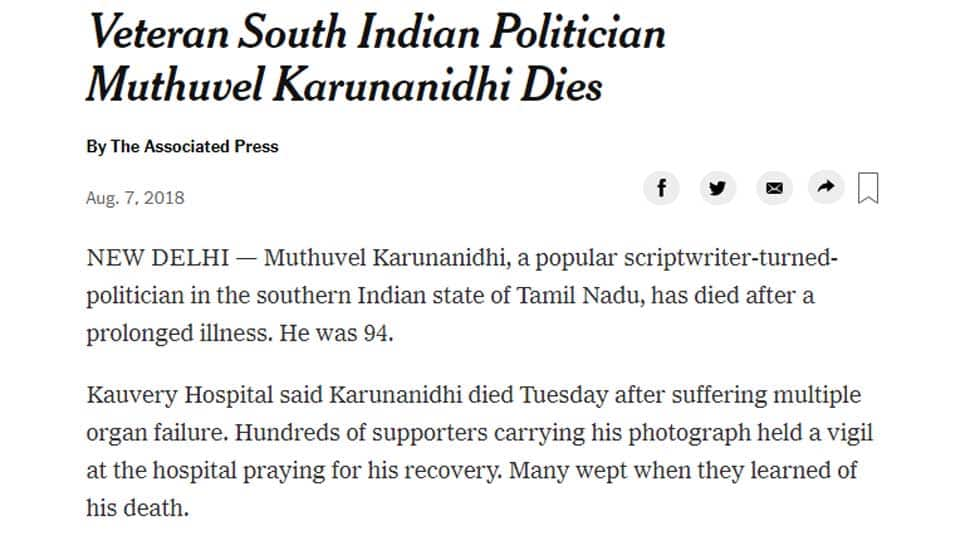 New York Times:
Veteran South Indian Politician Muthuvel Karunanidhi Dies "Karunanidhi dominated the Tamil-language movie industry as a screenwriter beginning in the 1950s, and later the political scene for nearly five decades. He became the state's chief minister, the top elected official in 1969 and held that position five times for a total of 19 years. He led the Dravida Munnetra Kazhagam political party," The New York Times wrote.