Holi, Ganesh Chaturthi, Durga Puja, Dussehra and Deepawali have always been utilized by social reformers, activists and enlightened citizenry to raise awareness in the society on various issues ranging from pollution to corruption.
In fact, in 1893, freedom fighter Lokmanya Tilak transformed the annual domestic festival of Ganesh Chaturthi into a large, well-organized public event. Tilak recognized the wide appeal of the deity Ganesha and popularized Ganesh Chaturthi as a national festival with a view to "bridge the gap between Brahmins and `non-Brahmins` and arouse nationalistic fervour among people in Maharashtra against the British colonial rule.
Christmas is the latest to join the league of festivals being harnessed to disseminate social and environmental messages.
Last week, a leading hotel in the national capital Le Meridien in association with Visit Finland ushered in the spirit of Christmas with a difference. Realizing the urgent need to sensitize people about the rapid degradation of mother earth, it fashioned a special fourteen feet tall Christmas tree made out of newsprint.
The event aptly titled 'A Tree Uncut' saw the official Santa Claus coming all the way from Lapland, the homeland of Santa, to spread good cheer and his special green message to children and adults present.
Accompanied by beautiful carol singing girls, Santa unveiled a 14-feet tall Christmas tree made up of used newspapers collected in the hotel over a period of 15 days. Illuminated by cold LEDs, the 14-feet 'Christmas Cheer' was created in 15 days to lend an 'art and aesthetic' focus to the motto of Reduce – Reuse – Recycle'.
The hotel uses 25 to 30 kg of newspapers and magazines daily, and about 15 days of used newspapers were used to create the '14-feet Christmas Cheer', according to Anasuya Basu, Director of Marketing Communications at the hotel.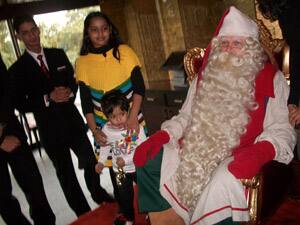 Lauding the hotel's effort to spread the message of a green Christmas, Santa urged everyone to reduce wastage and recycle goods. He also cut twelve feet long traditional Christmas cake in the midst of loud cheers from children gathered at the event.
In the words of Meena Bhatia, VP – Operations and Marketing, Le Meridien, "inviting Santa Claus from Lapland is indeed a special experience and coupled with a special Christmas tree made of used newsprint, we hope that this Christmas will bring joy and awareness for a greener tomorrow. We also encourage our guests to bring in old toys and books so that Santa can distribute them to various charities in the city".
Newsprint was invented in 1844 by Charles Fenerty in Halifax, USA from wood pulp and became the most cost effective and used paper in the whole world, due to its high strength and print effective properties. 35% of global newsprint usage is in Asia. Unlike in the West where television and internet have changed the reading habits of the people, the newspaper industry is growing by leaps and bounds in India.
Therefore recycling of newsprint has become important and is gaining social focus of late. Today newsprint is made with 'recycled fibers' and thus emit a strong 'green signal', as this recycling can be effective upto five times and goes a long way.
Also, it will have a direct impact of relieving pressure on forest resources. After all, so many fir trees are felled every year to bring natural Christmas trees to urban homes all across the globe! Innovations like 'A Tree Uncut' is indeed a robust message to all of us to do our bit for the environment we live in.
Merry Christmas!