NEW DELHI: Delhi Chief secretary Anshu Prakash's Medico Legal Certificate (MLC) report, submitted to the police, points at several injuries around the facial region. A copy of the MLC report was obtained by Zee Media earlier today. 
The report states Prakash has:
1. Injury marks on forehead's right side
2. Swelling behind both ears
3. Injury marks near lips
4. Swelling on right cheek 
The medical check-up was conducted by doctors at Aruna Asaf Ali Hospital at 9 pm on Tuesday.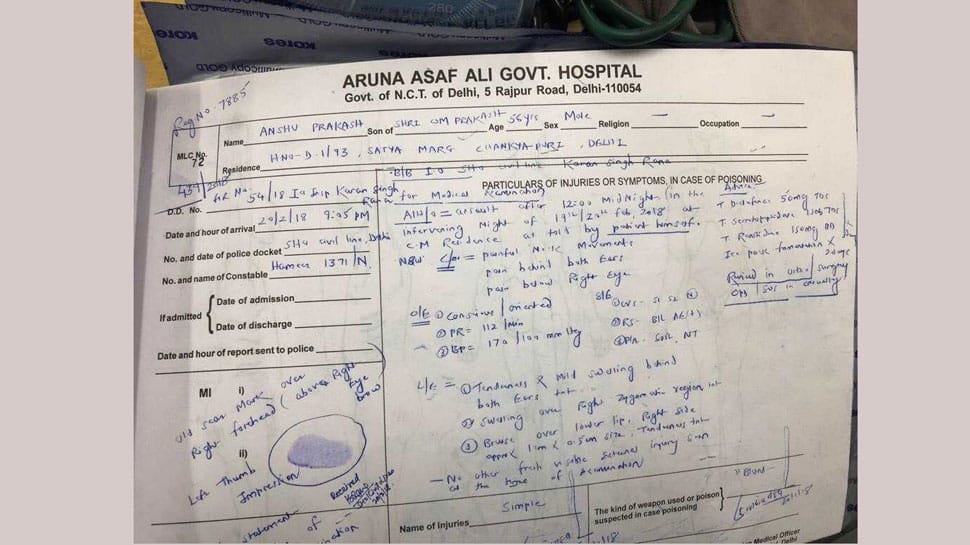 Meanwhile, more drama unfurled in the national capital on Wednesday after Aam Aadmi Party (AAP) leader Amanatullah Khan surrendered to police in connection with the assault case of Delhi Chief Secretary Anshu Prakash.
Khan surrendered at the Jamia Nagar Police Station.
"He presented himself this afternoon at the police station and he is now being handed over to the concerned North District police. He`ll be questioned," said Special Commissioner of Police Dependra Pathak.
Delhi Chief Secretary has claimed that Khan and AAP legislator Prakash Jarwal had assaulted him at Delhi Chief Minister Arvind Kejriwal's residence on Monday night. Following Anshu Prakash's allegations, an FIR was filed by police. Jarwal was arrested by Delhi police on late Tuesday night.
The entire episode triggered a political storm in the national capital. 
While the Bharatiya Janata Party (BJP) has demanded Kejriwal`s resignation, the Congress has asked for the AAP chief`s apology.
Refuting all allegations, AAP leaders claimed that Delhi Chief Secretary made casteist remarks and lodged a complaint against him with the Delhi Police and the National Commission for Scheduled Castes. They further claimed that the Chief Secretary was working at the "behest of the BJP".
Meanwhile, the Indian Administrative Service (IAS) Association decided to maintain only formal written channels of communication and not meet anyone post office hours or talk over the phone. 
The Home Ministry has sought a report from Lieutenant Governor Anil Baijal on the issue and Home Minister Rajnath Singh said he was "deeply pained" by the development.