DNA Exclusive: Aftab's 'Drishyam' to escape jail in Shradha Walker murder case
In today's DNA, Zee News's Rohit Ranjan analyses Shraddha murder case and gives more updates on it. Accused Aftab Amin has appeared in Saket court today. He did not say anything about the incidence during his appearance and kept changing his statement every time.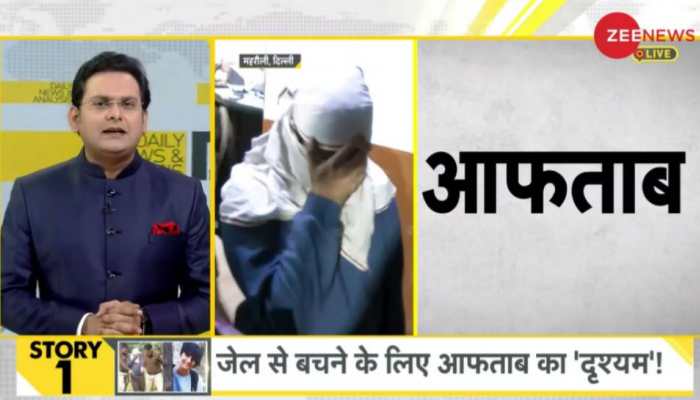 The police remand of Aftab Amin Poonawalla has been extended for another four days on Tuesday (November 22, 2022). The Delhi Police has formed the largest team for this murder case for the first time since the investigation of the Delhi riots. For this case, the Delhi Police has assembled a team of 200 officers. For the past 100 hours, this team has been investigating. Approximately 24 experts from the country's largest forensic lab are gathering evidence. In fact, evidence in the Shraddha murder case has been found in five different states: Delhi, Haryana, Maharashtra, Himachal Pradesh, and Uttarakhand. Mountains, ponds, and forests are being scoured as part of this investigation.
In today's DNA, Zee News's Rohit Ranjan analyses Shraddha Murder Case and gives more updates on the case
श्रद्धा की हत्या करके आफताब भूल गया सबकुछ?, देखिए #DNA LIVE @irohitr के साथ
+ जेल से बचने के लिए आफताब का 'दृश्यम'!
+ कंगाल पाकिस्तान में बाजवा धन कुबेर कैसे https://t.co/jeJZuS0n3X — Zee News (@ZeeNews) November 22, 2022
Aftab appeared in the Saket court

Accused Aftab appeared in the Saket court on Tuesday (November 22, 2022). During his appearance, Aftab did not say anything about the. Every time, he changed his statement. In his unofficial statement, Aftab stated that he killed Shraddha out of 'anger.' This statement, however, was not recorded in court. In fact, the debate on this subject has not yet begun. The police had only brought him to court today for remand. Aftab's lawyer has also dismissed the confessional statement as a rumour. Aftab has also drawn a pond. Where the cops will take him to seek proof
Police is still collecting evidence against Aftab

The police are currently short of evidence against Aftab. To prove Aftab guilty in the Shraddha murder case evidence is required. Which should be related to the identity of weapons and reverence. In fact, Shraddha's head has not been recovered yet. In such a situation, the opportunity for the police to prove this will be only scientific evidence. Delhi Police has recovered some bones from the forests of Mehrauli, Chhatarpur and the pond of Maidangarhi. The police are assuming that these bones belong to humans.

So far, the police have recovered 18 bones during their investigation. One of these bones is thought to be a 'jaw.' All of these bones have been examined at the CFSL lab. After May 18, police created a route map of Aftab's mobile phone location. The police discovered blood stains between the tiles of Shraddha and Aftab's house in Chattarpur when they investigated the murder scene. This proof was also forwarded to the CFSL lab.

Shraddha's friend in conversation with ZEE News

Many details about Aftab and Shraddha's relationship are also emerging. Shraddha's friend Godwin revealed to ZEE News that Shraddha had significant video evidence against Aftab. These videos are said to have captured Aftab's violent behaviour.
Live Tv