New Delhi: Alok Verma, Director of Central Bureau of Investigations (CBI), was asked to go on leave by the Prime Minister-led Appointments Committee of the Cabinet after midnight on Tuesday and he has now challenged the order by filing a petition in Supreme Court.
Verma and Rakesh Asthana - the No. 2 in CBI - have levelled serious allegations against one another which prompted the decision to send them both on leave, along with several other top-ranking officers. While opposition parties are crying foul with some like Congress also alleging that the government was scared of a probe into Rafale deal, Verma in his petition urged for the independence of CBI. "As the CBI is expected to function completely independently and autonomously, there are bound to be occasions when certain investigations into high functionaries do not take the direction that may be desirable to the Government," his petition reads before elaborating on how certain officers are responsible for creating hurdles within CBI.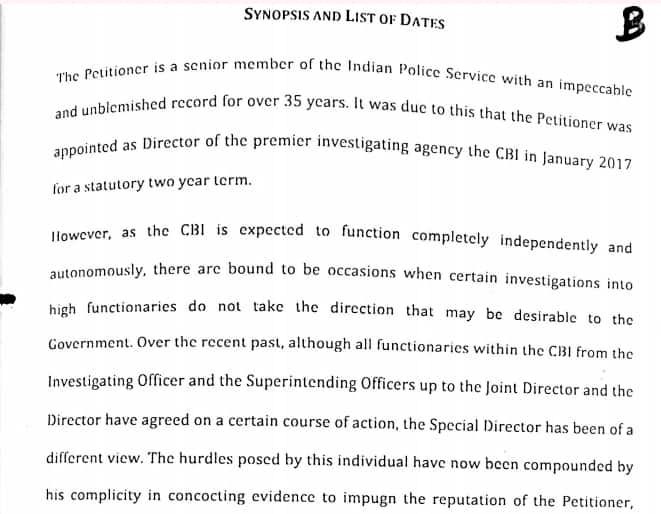 (Note: The above is only a portion of the entire petition filed by Alok Verma)
The contents of the petition filed by Verma is likely to be a shot in the arm for opposition parties who have alleged that the BJP government is interfering in the functioning of CBI. The government though has defended the decision to ask Verma and Asthana to go on leave, stating that it was necessary for the integrity of the agency. An SIT has been formed to looking into charges against both Verma and Asthana. In their absence, M Nageshwar Rao has been handed the interim charge.