New Delhi: India added more than 93,000 COVID-19 cases in the last 24 hours, according to the data released by the Union Health Ministry on Sunday (April 4, 2021).
India recorded 93,249 new COVID-19 cases, 60,048 discharges, and 513 deaths in the last 24 hours. With this, the country's coronavirus caseload has climbed to 1.24 crore, of which, 6.91 lakh are active cases. The country has also witnessed 1.16 crore recoveries and 1.64 lakh deaths. 
The sudden rise in COVID-19 cases has led to Prime Minister Narendra Modi taking a high-level meeting to review the COVID-19 pandemic situation and vaccination program in the country.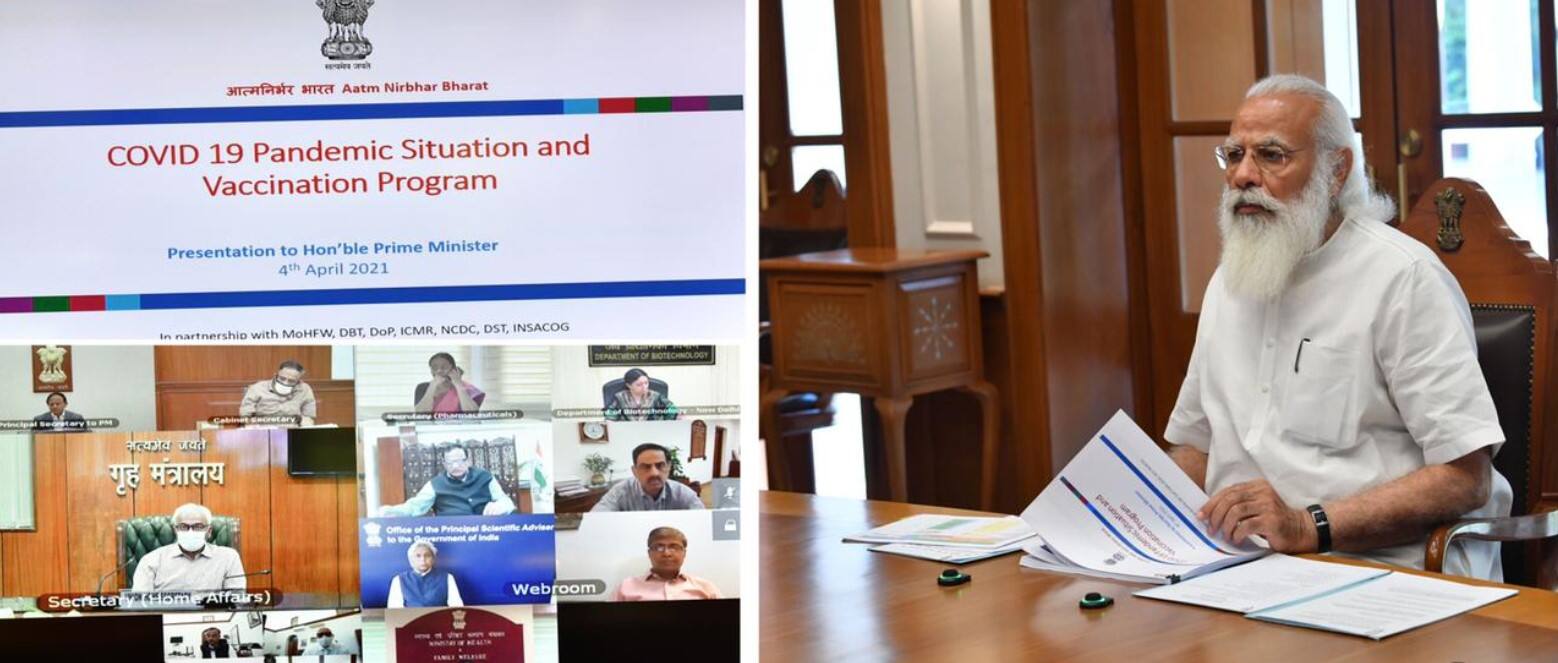 According to sources, all senior officers including Cabinet Secretary, Principal Secretary to PM, Health Secretary, Dr Vinod Paul etc are participating in the meeting.
This is to be noted that eight states including Maharashtra, Karnataka, Chhattisgarh, Delhi, Tamil Nadu, Uttar Pradesh, Punjab and Madhya Pradesh have shown a steep rise in the COVID-19 daily new cases. 
Maharashtra in the last 24 hours contributed most to the country's total with 49,447 new cases. It is followed by Karnataka with 4,991 while Chhattisgarh reported 4,174 new cases.
Earlier on Friday, Cabinet Secretary Rajiv Gauba chaired a high-level review meeting and advised states and UTs to take up immediate and effective measures to ensure containment of active cases and daily deaths. They were directed to enhance testing, strict containment, prompt contact tracing and enforce COVID Appropriate Behaviour.
"It was emphasized that the Centre shall continue to provide all resources and support to all States and UTs for public health measures and clinical management for fighting COVID-19," the MoHFW had said in a press statement.
Meanwhile, the cumulative number of COVID-19 vaccine doses administered across India has crossed 7.59 crore, as per the official figures.
(With inputs from agencies)