Zee Media Bureau
New Delhi: Gold prices climbed over Rs 2,000 per 10 gram in futures trade Friday as Britain voted to exit the European Union leading to bloodbath in global equity and currency markets.
At Chennai spot market, gold prices soared past Rs 32,000-mark in intra-day trade today.
At the Multi Commodity Exchange (MCX), gold for delivery in August last quoted up by Rs 1,637 or 5.47 percent to trade at Rs 31,551 per 10 grams after moving in range of Rs 31,925 - Rs 30,020  per 10 grams.
At Delhi bullion market, gold prices zoomed to 26-month high of Rs 30,885 per ten grams today in the biggest single-day gain of Rs 1,215 since August 2013. Silver also registered a steep rise of Rs 1,000 to Rs 42,300 per kg.
It was gold's highest closing level of Rs 30,730 after April 28, 2014.
At Mumbai, standard gold (99.5 purity) zoomed by Rs 1,225 to close at Rs 30,755 per 10 grams from Thursday's closing level of Rs 29,530.
Pure gold (99.9 purity) also rose by a similar margin to conclude at Rs 30,905 per 10 grams from Rs 29,680.
Silver (.999 fineness) surged by Rs 1,575 to end Rs 42,930 per kg as against Rs 41,355 yesterday.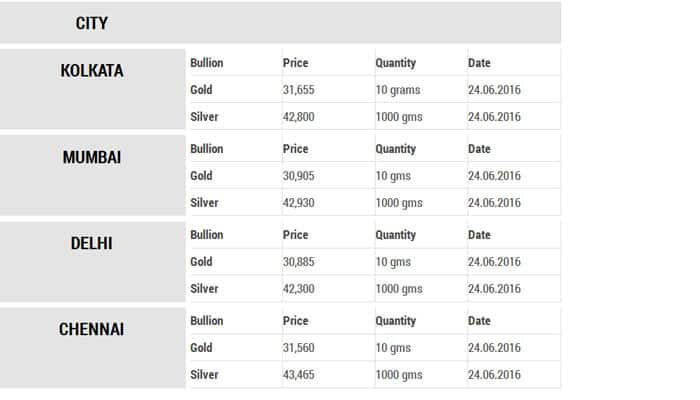 Market analysts attributed rise in gold prices at futures trade to sliding rupee which tumbled to a low of Rs 68.21 (intra-day) by plunging 96 paise, making dollar-quoted precious metal expensive.
Besides, a firming trend in global markets where gold surged to the highest level in more than two years in a frantic global hunt for haven assets as Britain's voted to exit EU, supported the upside, they added.
Demand for safe haven assets like gold soared as the Britain's pound plummeted to its lowest level in more than three decades after Brexit vote, pulling down financial markets globally.
Meanwhile, gold in London, which normally sets the price trend in the market here, soared as much as 8.1 percent to USD 1,358.54 an ounce -- the highest since March 2014. The rally was the biggest daily jump since 2008.
With Agency Inputs