29 May 2020, 22:10 PM
Madhya Pradesh reports 192 new COVID-19 cases, including 84 in worst-hit Indore district; total tally in state now 7,645: Health officials
29 May 2020, 21:43 PM
Uttarakhand reported the biggest single-day spike of 216 cases on Friday, taking the total number in the state to 716.
Out of the 13 districts in the state, 11 have reported fresh cases with Nainital registering the maximum number of 85 cases, followed by Dehradun where 72 new cases were detected.
29 May 2020, 21:40 PM
With 1,437 new patients, number of coronavirus cases in Mumbai rises to 36,710, death toll reaches 1,173 with 38 new deaths: Civic body
29 May 2020, 20:22 PM
Delhi Govt attaches Hotel Crown Plaza, Okhla with Batra Hospital, Hotel Surya, New Friends Colony with Apollo hospital, Hotel Siddharth, Rajendra Place with Dr BL Kapur Hospital, Hotel Jivitesh, Pusa Road with Sir Ganga Ram City Hospital, Hotel Sheraton, Saket with Max Hospital for converting them into extended COVID-19 hospitals.
29 May 2020, 20:21 PM
Case registered against SP MLA Abu Azmi and 45 others for violating lockdown norms during protest in Mumbai: Police official
29 May 2020, 20:12 PM
Need to reduce domestic flights from Mumbai and Ahmedabad where large number of coronavirus cases have been found: Punjab Health minister Balbir Singh Sidhu.
29 May 2020, 19:12 PM
Delhi's COVID death toll jumps to 82 in last 24 hours:
Delhi's COVID-19 death tally has jumped by 82 in the last 24 hours, due to inclusion of 69 deaths that were reported late: Deputy Chief Minister Manish Sisodia
13 deaths occurred on Friday while the remaining 69 took place in the last 34 days and were reported late: Sisodia
The total deaths due to COVID-19 in Delhi has mounted to 398 so far: Health Minister Satyendra Jain 
29 May 2020, 18:27 PM
The Delhi High Court has extended the suspension of its functioning, along with that of its subordinate courts, till June 14, keeping in view the prevailing situation regarding the outbreak of the deadly COVID-19.
All the benches of the high court would, however, take up urgent matters through video conferencing as per the roster.
 
29 May 2020, 18:26 PM
India's economic growth slipped to 3.1 per cent in the January-March quarter of 2019-20 showing impact of COVID-19 pandemic.
29 May 2020, 18:25 PM
Seven more people tested positive for COVID-19 in Nagaland on Friday days after they returned from Chennai in a 'Shramik Special' train, taking the total number cases in the state to 25, Health Minister S Pangnyu Phom said.
Of the fresh cases, two are from Dimapur, four from Kohima and one from Tuensang district, the minister said.
29 May 2020, 18:24 PM
For the first time in almost 2 weeks, Andhra Pradesh reported a significant dip in daily tally of new coronavirus cases on Friday with 33 more patients in the last 24 hours. It is far lower than 54 new cases reported in the preceding 24-hour cycle. 
In fact, the last time Andhra Pradesh reported a single-day tally lower than Friday`s figure was 25 cases reported on May 17.
29 May 2020, 18:17 PM
Averring that the rate of recovery after successful treatment for COVID-19 in Tamil Nadu stood at 54.4 per cent, the highest in India, Chief Minister K Palaniswami on Friday slammed opposition parties for faulting his government on containing the lethal virus.
He said that ever since the first Coronavirus case was detected (in early March), his government swung into action and launched appropriate measures to contain the spread of the virus, besides taking up screening and treatment on a war footing.
29 May 2020, 18:09 PM
COVID-19: Punjab increases significantly fine for spitting and not wearing masks in public to Rs 500.
29 May 2020, 18:08 PM
Haryana Chief Secretary Keshni Anand Arora directs Agriculture dept, district administrations to take all necessary precautions in advance to tackle any potential attack of locust swarms in state.
29 May 2020, 18:08 PM
Haryana Home Minister Anil Vij suggests lockdown should continue beyond May 31 and justifies strictness at Delhi borders, saying free movement will lead to surge in COVID-19 cases in state.
29 May 2020, 18:08 PM
Odisha govt unveils Rs 17,000-crore plan to support livelihood of people, including farmers and migrant workers, hit hard by economic crisis triggered by COVID-19 outbreak and lockdown.
29 May 2020, 18:08 PM
NCW chairperson Rekha Sharma holds review meeting with state police chiefs and discusses problems being faced by women during lockdown and procedure police are following to solve them.
29 May 2020, 18:07 PM
7 more people test positive for COVID-19 in Nagaland days after they returned from Chennai in 'Shramik Special' train; total tally in state now 25: Health Minister S Pangnyu Phom
29 May 2020, 17:23 PM
A 45-year-old migrant labourer found dead in toilet of 'Shramik Special' train when it was being cleaned by workers at Uttar Pradesh's Jhansi station, four days after he boarded it for Gorakhpur.
29 May 2020, 16:44 PM
A 70-year-old man from Shopian district of Jammu and Kashmir died due to COVID-19 raising the death toll in the Union Territory to 28. The man from Aliarpora, Bagander area of Shopian, in south Kashmir, was admitted to SMHS hospital on Wednesday as a patient of pneumonia with underlying hypertension and diabetes mellitus.
29 May 2020, 16:42 PM
A 60-year-old migrant worker, on his way to West Bengal from Hyderabad on foot in a desperate attempt to reach home, died near Soro in Odisha's Balasore district on Friday.
The deceased, Hayar Mohamad, who worked as a mason in Hyderabad, was returning home in West Bengal's Paschimpara along with his nephew on foot, after having exhausted all resources.
29 May 2020, 16:41 PM
West Bengal was successful in controlling COVID-19 spread in last two months; cases increasing now as people coming from outside: CM Mamata Banerjee.
29 May 2020, 16:32 PM
From May 20-24, 71 trains were diverted because of high demand for trains to UP, Bihar (90 PC). At least 3,840 Shramik Special trains run since May 1, carried over 52 lakh migrant workers: Rly Board Chairman.
29 May 2020, 16:22 PM
10 new COVID-19 cases in Himachal Pradesh, tally 292:
Ten more people tested positive for COVID-19 in Himachal Pradesh on Friday, taking the number of coronavirus cases in the state to 292. Of the fresh cases, five each were reported from Hamirpur and Kangra, all of who had recently returned from other states.
29 May 2020, 16:21 PM
The lack of adequate ventilation in homes and offices increases the risk of airborne spread of the novel coronavirus, according to a study which says preventing such transmission should be the next front of the battle against the COVID-19 pandemic.
29 May 2020, 16:20 PM
Jain monks, who have set out on foot for the annual Chaturmas festival, which is held in July, have approached Chief Minister Uddhav Thackeray seeking easing of travel restrictions amid the COVID-19 lockdown.
In a memorandum to the Chief Minister, general secretary of the state Congress Committee president Suman Agarwal put forth the requirements of hundreds of sadhus and sadhvis who walk barefoot to different states for the annual festival, a release stated.
29 May 2020, 16:20 PM
Requirement of Shramik Special trains has reduced; we have demand for 492 more trains from states: Chairman Railways Board.
29 May 2020, 13:33 PM
Karnataka bulletin for May 29
* New Cases Reported (from 28/05/2020, 5:00 PM to 28/05/2020, 12noon today) 178
* Total Active Cases 1793
* Total Positive Cases 2711
* COVID Death toll 47
* Today's Discharges 35
* Total Discharges 869*
29 May 2020, 13:08 PM
Daily wage workers from Delhi who work in factories in Gurgaon were asked to return. They even had passes but they were not allowed to go though.
Other cars and vehicles were allowed to pass. Heavy traffic jam at the border.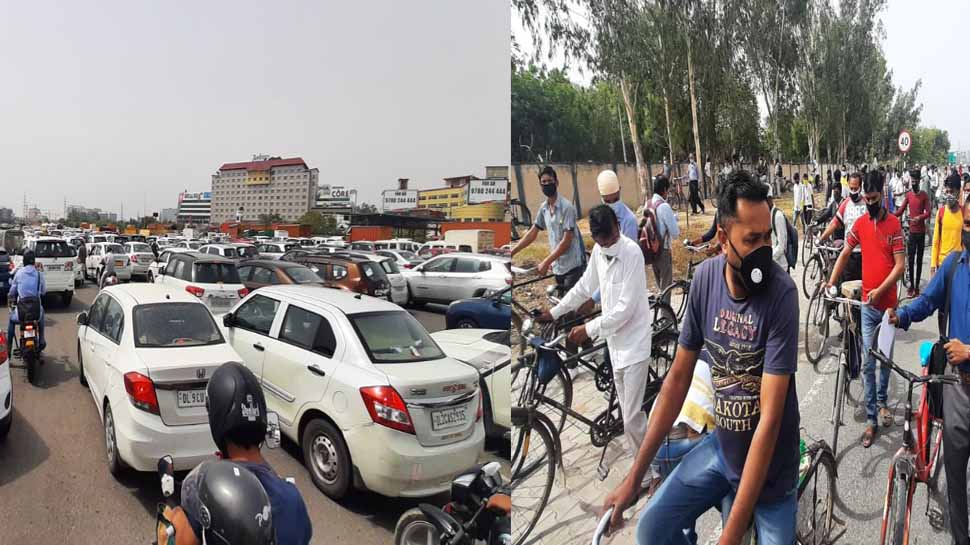 29 May 2020, 12:46 PM
Prime Minister Narendra Modi and Union Home Minister Amit Shah met at 7, Lok Kalyan Marg on Thursday. Sources believe the lockdown could be further extended by 2 weeks. 
29 May 2020, 11:26 AM
Rajya Sabha Secretariat officer posted at the Parliament tests positive for COVID-19: Sources (PTI)
29 May 2020, 11:16 AM
Maharashtra reports 2,598 new cases and 85 deaths in the last 24 hours taking its total to 59,546 posiitve cases and 1,982 fatalities.
29 May 2020, 09:38 AM
India recorded 7,466 new cases which is the highest increase in fresh infections reported in a single day, first time the number of COVID-19 cases in 24 hours crosses over 7000. The number of fatalities reported in the last 24 hours is 175. The recovery rate is at 42.88%. 
29 May 2020, 09:10 AM
India's total of COVID-19 cases jump to 1,65,799 which includes 89,987 active cases, 71,106 cured cases and 4706 deaths.
29 May 2020, 06:29 AM
As the corona positive cases rose in Gurgaon, the administration has added 18 more areas to the containment zones, taking the total number to 63. The decision was taken on Thursday in a review meeting headed by Gurgaon DM Amit Khatri. (IANS)