Popular Haryanvi singer-dancer Sapna Choudhary joins Congress party, may contest from Mathura
The artiste shot into limelight with her stage dance on popular Haryanvi song 'Teri Aakhya Ka Yo Kajal'.
NEW DELHI: Putting all rumours to rest on her political plunge, popular Haryanvi singer-dancer Sapna Chaudhary joined the Congress party on Saturday in the national capital. Choudhary is likely to contest from UP's Mathura Lok Sabha constituency, against BJP MP and veteran actor Hema Malini.
The reports of Choudhary joining politics first emerged in June 2018, after BJP lawmaker Ashwini Kumar Chopra called her a 'thumke lagane wali' and took potshots at the Congress over rumours of the artiste joining the grand old party.
"Ashwini Chopra must be watching my dances, that is why he passed that remark. I would like to thank him," Choudhary responded fiercely. She'd also added that the Congress had presented a few offers.
"The Congress has placed some offers before me. If I like it, I will think about it, but as of now, I have not taken any decision... I went to the Congress office as they called me, if the BJP too calls me I will go and meet them," she had said.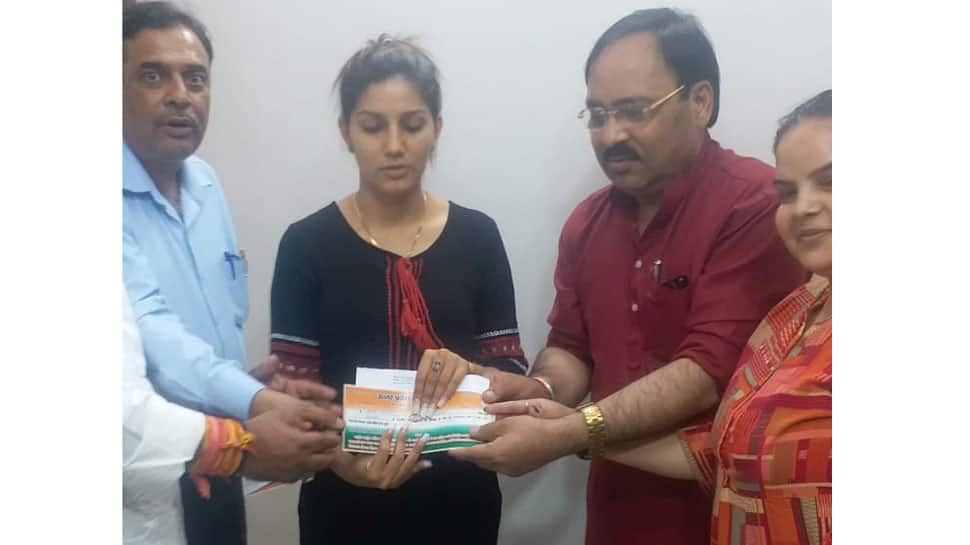 The artiste shot into limelight with her stage dance on popular Haryanvi song 'Teri Aakhya Ka Yo Kajal'. She went on to participate in the reality show Bigg Boss 11 and made her Bollywood debut with an item number 'Hatt Ja Tau' in Veerey Ki Wedding movie. She's also featured in 'Tere Thumke Sapna Choudhary' from Abhay Deol-starrer Nanu Ki Janu and a song titled 'Love Bite'. In Bhojpuri cinema, she was seen performing in a song titled 'Mere Samne Aake' in Ravi Kishan-starrer Bairi Kangana 2.
The former reality TV star, who is a trained dancer, often takes to Instagram to anecdotes from her reel and real life. Her stage shows are massively popular across the northern India belt. In February 2019, two persons were injured in a stampede at her show in Madhya Pradesh' Rajgarh. In November 2018, while Choudhary was performing during Chhath Puja celebration in Bihar's Begusarai, a stampede took, leading to the death of at least one person and several injuries.
Seven-phased Lok Sabha polls will begin on April 11 and continue for over a month till May 19. Counting of votes will be held on May 23.