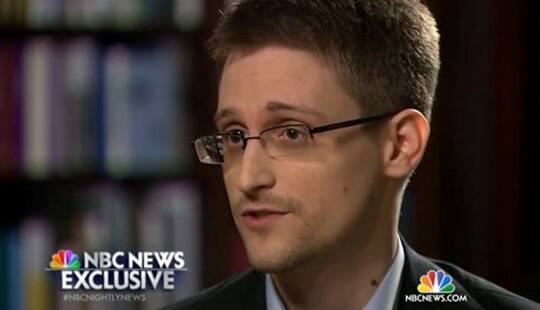 Zee Media Bureau/Supriya Jha
Moscow: Considering himself a true patriot, former US intelligence contractor Edward Snowden expressed willingness to return to United States, at the same time saying that he will seek to extend his asylum time in Russia that expires on august 1 this year.
Speaking to NBC Nightly News anchor Brian Williams, Snowden said that the reason he ended up in Russia was because the US State Department revoked his passport when he had a flight booked to Cuba onwards to Latin America, thus resulting in him being stuck up at Moscow`s transit zone for weeks before being granted asylum there.
Retorting him, US Secretary of State John Kerry called Snowden a coward and traitor who should man up and face the American justice system for having harmed the country by exposing sensitive details to all including the terrorists.
Speaking to MSNBC`s Chuck Todd, Kerry said, "Edward Snowden is a coward.. He is a traitor. And he has betrayed his country. And if he wants to come home tomorrow to face the music, he can do so." 
In the interview to the NBC, which is his first to any US news channel, Snowden said that if there was any place in world, where he would like to go, it was his home which he missed.
When asked what he missed about home, Snowden said, "What don`t I miss? What would you miss? What wouldn`t you miss?" he said. "I miss my family. I miss my home. I miss my colleagues. I miss the work."
Seeking to diffuse speculations about his political asylum in Russia, Snowden said that he had no relationship with the Russian government and he "took nothing (classified US documents) to Russia".
"I`m not supported by the Russian government. I`m not taking money from the Russian government. I`m not a spy." 
Snowden added that he himself never intended to end up in Russia, and it was "frustrating" that he was stuck up in a place "where those rights are being challenged in ways that I would consider deeply unfair".
Mentioning a Russian law requiring bloggers to register, Snowden said that there was no basis for any such legislation in any country, but being unable to speak Russian, he can`t do anything about it.
"There`s so much that needs to be defended here in Russia, but I`m limited by my inability to speak Russian, and so on. It`s an isolating and frustrating thing."
Explaining why he thought of himself as a patriot Snowden said, "Being a patriot doesn`t mean prioritizing service to government above all else. Being a patriot means knowing when to protect your country, knowing when to protect your Constitution, knowing when to protect your countrymen, from the violations of and encroachments of adversaries. And those adversaries don`t have to be foreign countries."
However Kerry lashed out at Snowden saying, "A patriot would not run away and look for refuge in Russia or Cuba or some other country... A patriot would stand up in the United States and make his case to the American people."
Claiming that his sole priority was to ensure that NSA surveillance programmes were reformed so that the privacy of Americans is not compromised with.
Snowden stressed that it was not for nothing that he shunned an extraordinary life in the US, his family and home just to land up in Russia.
"I think it`s important to remember that people don`t set their lives on fire, they don`t say goodbye to their families... they don`t walk away from their extraordinarily comfortable lives... and burn down everything they love for no reason," he told the NBC.
Snowden`s comments have evoked a sharp response from John Kerry who has dared him to come home and "face the music".
Snowden, who is wanted by the United States for exposing sensational details of its spying programmes, shunned his job as NSA contractor in US and is now granted asylum by Russia, where he has been staying since last June. 
The US has been hit hard by bombshell revelations by Snowden, which has fuelled the indignation against its surveillance methods within and outside the country.