New Delhi: The 7th Pay Commission analysing personnel serving the Central government has tried to give a clear picture of the size, composition and profile of Central government personnel.
Under chapter 3.1, the 7th CPC was tasked to examine, review and recommend changes in the principles that govern the emoluments structure for a number of employees' categories.
Central government employees in these categories include All India Services, personnel of Union Territories, officers and employees of the Indian Audit and Accounts Department, Members of Regulatory Bodies, Officers and employees of the Supreme Court and personnel belonging to the Defence Forces.
As per the data, the number of 'persons in position' in the central government declined by 42,817 between 2006 and 2010 while between 2010 and 2014 the figures increased to 70,607.
Persons in Position as on 01.01.2006 : 7,44,067
Persons in Position as on 01.01.2010: 8,13,051
Change between 2006-2010: 68,984
Persons in Position as on 01.01.2014: 9,80,114
Change between 2010-2014: 1,67,063
Meanwhile, in the Ministry of Home Affairs, sharp rise in the Central Armed Police Force (CAPFs) was seen. Between 2006 and 2010, staffing in MHA increased by 68,984, and between 2010 and 2014, by an additional 167,063.
Check out the table below to know the strength of Central government Personnel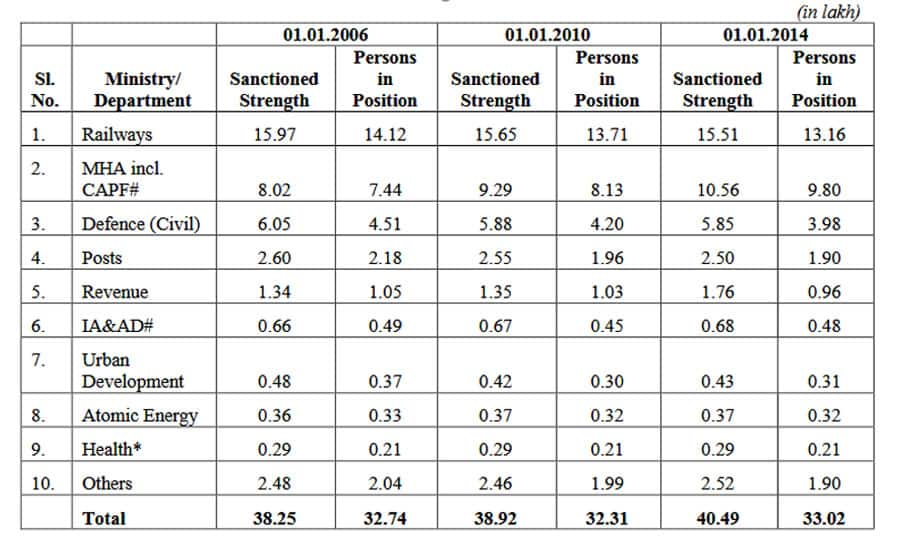 #MHA-Ministry of Home Affairs, IA&AD–Indian Audit and Accounts Department
*Ministry of Health had provided data only for the  year  2014. 7th CPC, adopted these figures for the years 2006 and 2010 for consistency
In chapter 3.24, the 7th CPC found that security related entities (Ministry of Home Affairs/Police and Defence Civilians) form a large part of civilian employment at 13.78 lakh as on 01.01.2014.