NEW DELHI: Popular micro-blogging site Twitter went down for millions of its users across the globe for sometime on Tuesday evening.
Millions of users in India and other parts of the world experienced problems while logging into Twitter around 7.20 pm IST.
The Twitter error response page read, "Something is technically wrong.Thanks for noticing—we're going to fix it up and have things back to normal soon."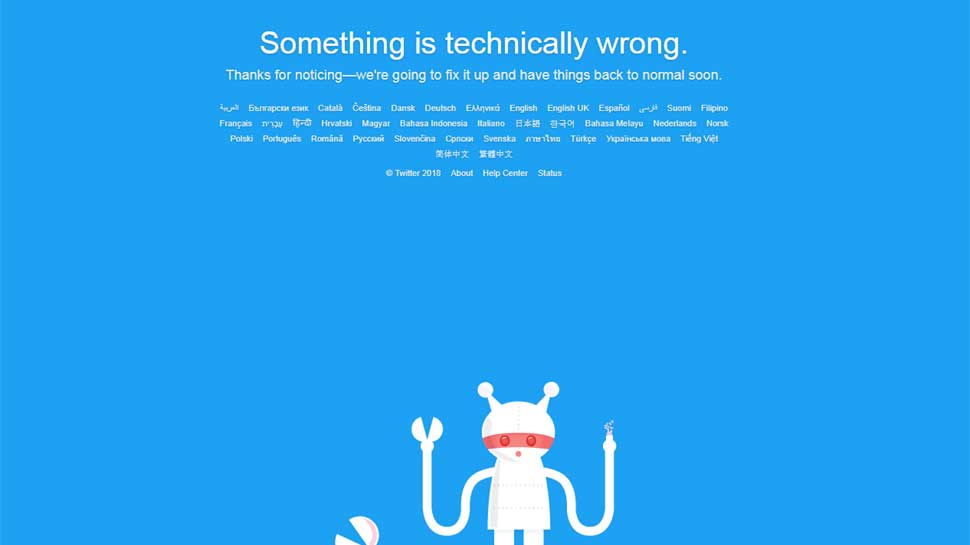 The problem persisted for five to ten minutes, triggering panic among its users and some confusion. However, it was soon back to normal.
This is not the first time when Twitter, the popular micro-blogging platform, went down. At many occasions in past too, Twitter went down for users in India, China, Japan, the United States and other parts of the world.
Among the several disruptions which Twitter faced, the most recent outage was reported on January 15, 2016.
When one tried to log into Twitter on the desktop or open the site, it reflected an error.
Twitter had then put out a response message on the outage.
Twitter's Support handle had tweeted, "Some users may have recently experienced issues accessing Twitter on mobile & web. The issue has now been resolved."
Twitter is a popular micro-blogging which allows users to publish short messages 'tweets' of 280 characters or less.
Twitter users are able to post their tweets from numerous devices and platforms, including the iPhone, Android, Blackberry, or Windows Phone devices and traditional computers.
Twitter was created by Jack Dorsey, Noah Glass, Biz Stone and Evan Williams in March 2006 and was launched in July of that year.
The micro-blogging service became an instant hit shortly after it was launched and its user base reached millions.
In 2012 alone, more than 100 million users posted 340 million tweets a day.