New Delhi: Veteran actor Paresh Rawal essayed the role of late Sunil Dutt Rajkumar Hirani's 'Sanju', based on the life of Sanjay Dutt, has been getting accolades from all over for his performance. 
Recently, during an exclusive chat with the Indian Express, Paresh revealed what actually prompted him to take the role. Paresh shared a letter with the publication that Sunil Dutt had written to him just hours before his death. The letter was typed on Dutt's letterhead, who was also a parliamentarian and bears his signature. It read, "Dear Paresh Ji! As your birthday falls on 30th May, let me wish you all the happiness, prosperity and good luck in life, May God shower his choicest blessings on you and your family."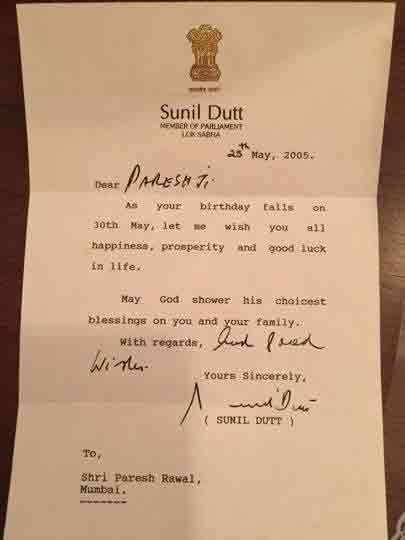 Paresh revealed that he had kept the letter with him all these years and had forgotten about it. In January 2017, Paresh, before heading to meet filmmaker Hirani for the narration of 'Sanju', had asked his wife Swaroop Sampat to look for some documents. Sometime later, the actor received a call from his wife saying that she found Dutt's letter in his drawer. 
As per Paresh, it was a sign for him to take up the role of Sunil Dutt in the movie. 
Talking about the letter, Paresh told the Indian Express that on May 25, 2005, the day when Sunil Dutt passed away, he called up home to inform his wife that he will be arriving late as he will be visiting Dutt's residence to offer his condolence. 
It was then when his wife informed him that there was a letter for him from Sunil Dutt, in which he has extended his wishes for Paresh's birthday. Surprisingly, Paresh's birthday falls on May 30, which was five days ahead of the day.
He added that he was left surprised by Dutt's gesture as they had never shared any holiday greetings in the past.
Hirani directed and jointly produced 'Sanju' Vidhu Vinod Chopra. The film follows the life of Sanjay Dutt, his relationship with his father, descent into alcoholism and drug addiction, arrest for involvement in the 1993 Bombay bombings, comeback in the film industry and eventual release after completing his jail term.  
Despite receiving mixed reviews, mainly for supposedly image cleaning of the protagonist, 'Sanju' has registered the highest opening for any film released in India in 2018.