Bangladesh skipper Shakib Al Hasan apparently broke the glass door in the wake of the Tigers' win against Sri Lanka in the recently concluded Nidahas T20 tri-series at Colombo's R Premadasa Stadium. 
In the penultimate match of the tournament, in what was also a virtual semi-final, Shakib gained a lot of bad name for himself. First, he tried to call his batsmen back from the field after what he considered erroneous umpiring calls against his team.
And then after Mahmudullah miraculously hit 4,2,6 to take the Tigers into the final with one ball to spare, Shakib, according to the caterers around, caused damage to the dressing room glass door in a highly excited state as shards of glass littered the place. However, it wasn't clear if the Bangladesh captain had really intended to break the door.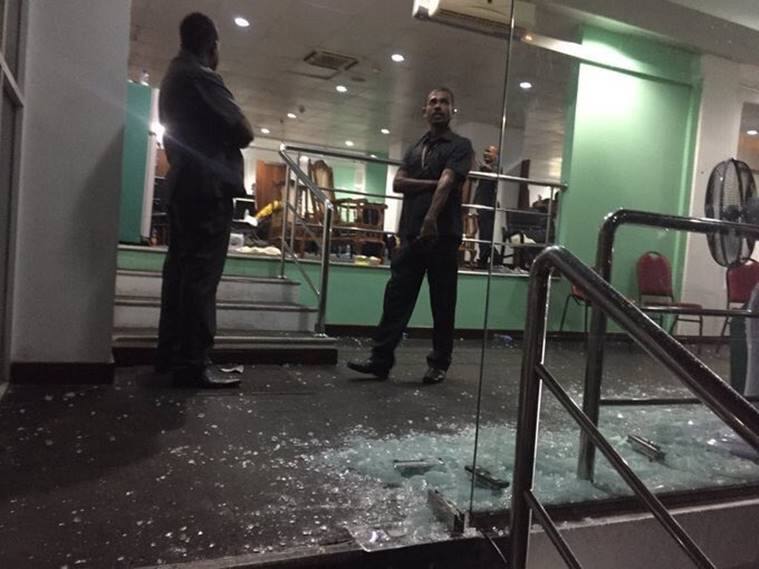 Shakib, along with reserve player Nurul Hasan, was later punished by the International Cricket Council (ICC). Both Bangladeshi players were fined 25 per cent of their match fees besides being handed one demerit point. 
"Shakib was found to have breached Article 2.1.1 of the ICC Code of Conduct for Players and Player Support Personnel, which relates to "conduct that is contrary to the spirit of the game," an ICC press release explained the nature of Shakib's offence the next day after the game.
Shakib himself was contrite ahead of the final which they lost to India on Sunday. "Many things happened that shouldn't have happened. I need to remain calm. I was overjoyed and excitement was there. I must know how to react next time. I will be careful," the all-rounder said.
"What happens in the field should never spill over off the field. To be honest, we are all good friends. We see each other in the Bangladesh Premier League and Dhaka Premier League. The two boards have great relations. We help each other a lot. Just like I would want my team to win at all cost, they would have the same feeling. I am sure that both teams will never let it go off the field," he added.