New Delhi: Ravichandran Ashwin on Friday wished former South Africa batsman Herschelle Gibbs on his 44th birthday, but the Indian offspinner's tweet was perceived as a damage-control measure after his Twitter spat with Gibbs a few days ago. 
Earlier this week, Ashwin took a match-fixing jibe at Gibbs when the South African replied to his tweet promoting a shoe brand.
However, Ashwin was quick to realise his mistake and deleted the tweet; and on Friday when he wished Gibbs a Happy Birthday, the Twitterati related his gesture to mending fences.  
Thanks bud have a good day

— Herschelle Gibbs (@hershybru) February 23, 2018
"Can't wait to flaunt them," Ashwin had tweeted on Monday, to which Gibbs jokingly replied: "Hopefully you will be able to run a bit faster now Ashwin."
Reacting sharply to the innocuous reply from the South African, Ashwin came out with a loaded tweet.
"Surely not as fast you did mate. Unfortunately. I wasn't as blessed as you were. But I was blessed with a wonderfully ethical mind not to fix games which put food on my plate," the offspinner tweeted.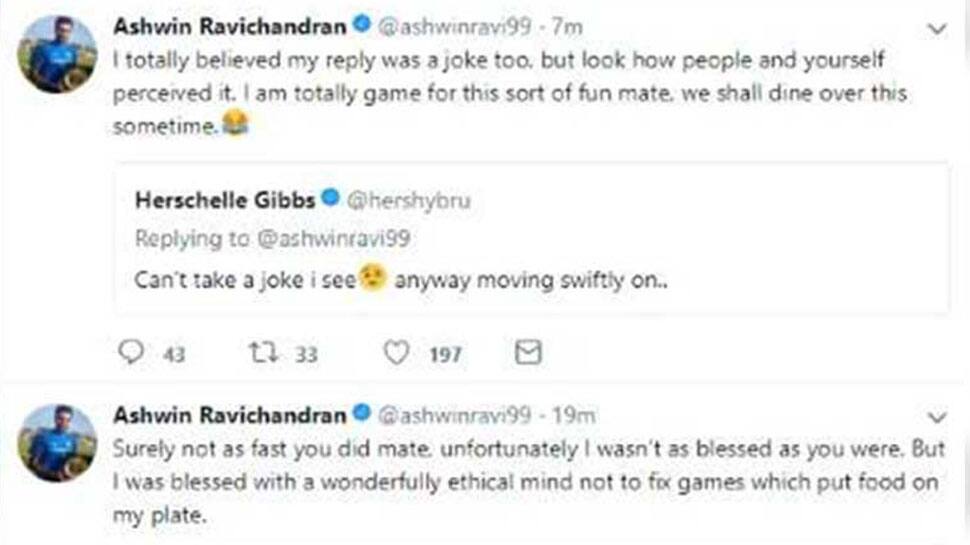 The offspinner resumed his damage-control measures by wishing Gibbs on his birthday, but the fans had some hilarious responses in store for Ashwin's gesture.
@hershybru reply now to Ashwin.. pic.twitter.com/fLRh9cXeQF

— Ram (@RamChennai2017) February 23, 2018
— Veera bhadra (@Veerabh99422576) February 23, 2018
Are you patching up with Gibbs

— Ramkumar Narayanan (@ramheyram) February 23, 2018
thank god for birthdays! it fixes most things ! maybe now a year older he will slow down a bit and might borrow those shoes from you!

— Bijoy George (@BGTheLegend) February 23, 2018
1st tweet was a conventional offspinner turning in disturbing the timber but this tweet was a carrom ball went wrong as a full toss, a 6 hitting ball and everything back in balance.

— Amogh Nanda (@AmoghNanda) February 23, 2018
U have let ur fans down Ashwin. Wish us on our birthdays too

— LostBoyJourney (@trollingsince09) February 23, 2018
Ashwin, who is India's No. 1 spinner in the Test format, is currently trying to work his way back into the limited-overs set-up. However, it seems to be an arduous task for the senior player with the two wrist spinners, Yuzvendra Chahal and Kuldeep Yadav, doing wonders in ODIs and T20Is.