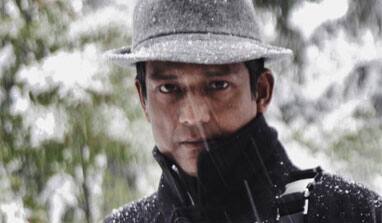 Arya Yuyutsu
With some very special performances in movies that have done immensely well, Adil Hussain has hit the Indian screens with a bang.
His roles as the father in Ang Lee's Oscar nominated 'Life of Pi' and as the husband in Sridevi's comeback film 'English Vinglish', have been met with a lot of critical acclaim and the actor already has hordes of scripts on his table.
Zeenews.com's Arya Yuyutsu caught up with Adil to ask him about 'Life of Pi', Suraj Sharma, the Oscars, and his upcoming projects in the first of a two-part interview.
To begin with, congratulations on two important roles in two great movies last year. Which one did you enjoy more?
(Laughs) You can't ask me to choose between the scenic beauties of Kashmir and Switzerland now, can you? They're both very special and very beautiful.
We'll focus on 'Life of Pi' first. It's been nominated for 11 Academy Awards (Oscars) and has already bagged a few other international awards. Did you anticipate all this when you'd just been handed the script?
I just had complete trust in Ang Lee. He being he, and I've seen quite a few of his films before working with him, so I felt that he's special. And when I read the script, it was amazing. But I remember thinking to myself: 'How the hell would he do this? How can he pull this off? One guy on a boat with a tiger, and some fish flying, and that's it!? How would he do that?'
There are large portions where the boy isn't even talking! But at the same time I know I've seen 'Crouching Tiger Hidden Dragon' (also by Ang Lee), 'Taking Woodstock', and 'Ice Storm' – an incredibly beautiful and subtle movie about teenage sexuality. And then there's 'Hulk' – a stark contrast. There's also 'Sense and Sensibility', a British drama that he'd done when he could barely speak much English, or so he told me. He would, at times, go to Kate Winslet and say 'less, less'. That's it. Then he'd go up to her and say 'more less'. And she'd be all confused.
So that was the quality of English he had but language was never a hurdle for him; he surpasses all that. He just speaks through visuals and something deeper from within.
So how did you find out about this project of his? And what made you sign on for it? Had you read Yann Martel's book?
Um, no. I didn't read the book until I heard from their casting director that there may be a chance to act in an Ang Lee movie. As soon as I discovered that there may be a realistic possibility of landing a role in it, I got myself a copy of the book and started reading. But even as I was getting through it, I got the script and then I just went through that at once.
So how was it, finally working under an acclaimed and renowned director like Ang Lee, who's already won Oscars and accolades aplenty?
He is a silent co-musician with an added responsibility of being the conductor of the most complex orchestra. You'll always feel that he's only with you, co-creating; but he's with everybody at the same time, with equal intensity and respect regardless of the popularity or stature of the actor.
He's so sensitive and the way he directs you is so silent. He'd whisper into your ear what he has to say. He'd walk all the way from the den where he would sit, with 500 3D screens watching the shoot, to where you were shooting, if he had something to tell you. He wouldn't just yell at his assistant asking him to convey the message; he'd always do so personally.
His language isn't just verbal though, it's some sort of energy transmission. And that makes you perform. That's why a first-time actor like Suraj (who played the protagonist Pi Molitor Patel) could give this sort of an amazing performance. It cannot be solely through intellectual coaching.
Coming to Suraj, I hear this is his first ever acting stint and that there's a very interesting story about how he came to be cast as the lead. Could you share that with us?
Yeah, it's a funny thing. Suraj (Sharma) has never acted before. And by that I mean, no acting at all. He tells me he's played a tree in a school play once but that's about it. In fact he didn't even come to the auditions for himself. He was just accompanying his younger brother who was auditioning for the role and decided he'd try out anyway. His younger brother had already acted in a couple of features – he'd played my son actually, in an earlier movie – so that's how it was. But Ang saw something in him and took him on, and Suraj has done fantastically well. He is also a very quick learner.
Now that you've worked with him, what do you think of his potential?
I not only worked with him on the sets, but Ang Lee had also asked me to work with him to help him get the gait of tiger for a particular scene. He had to learn the gait of the tiger and the sound of the tiger as well, which is a very tough thing for a human throat to do. You could end up losing your voice.
(A swift coaching lesson later where Adil tries in vain to make me produce that voice, we continue chatting)
I teach that animal quality and voice generation to students at NSD here and it takes them months to grasp. It took me over a month to learn it myself when I did. Suraj got it in one and a half hours!
As for his potential, it's huge! He's amazing. He's already being offered hundreds of roles but he's keen on finishing his studies first and then moving on to learning filmmaking. That's his dream.
I'm sure that as an actor, he's a great actor and he'll go really far. He doesn't look at it as a career and that's a very good thing about him. He got all excited by Ang Lee as a director so he went 'Oh my God! A director's trip is so much bigger than an actor's trip!' That's what I think. So with a guy like Ange Lee in front of him, he has his perfect role model.